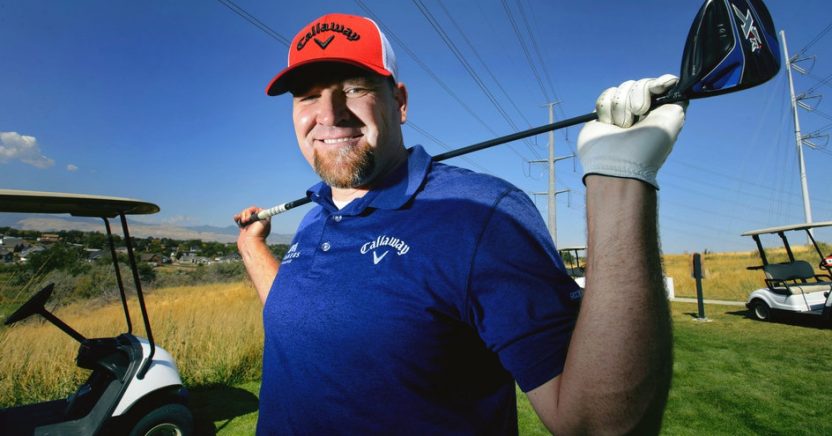 RYAN REISBECK

15 December 2017
GOLF NEWS TALKS TO LONG DRIVE WORLD SERIES CHAMPION RYAN REISBECK
How did you get into long driving?
I was 31 years old, and a friend of mine suggested I try it after we played in a local golf tournament together. So I drove 10 hours the following weekend to try and qualify for the World Long Drive Championship. I had played baseball at college in Salt Lake City, and then at the University of Utah, where I was a pitcher. They typically don't let pitchers hit in games, but I always loved hitting.
Did you play golf before?
My dad introduced me to the game when I was about nine or ten. I have memories of going with him to some of the local courses in the Utah area. When we play now he has the same warm-up and pre-shot routines that he had back then. But I never played junior golf or at high school, because it wasn't really an option while I was playing other sports such as baseball, basketball and football. I enjoyed golf as an adult, but basically I was a hacker and only played a few times a year, and some years not at all.
When did you realise that you could hit a golf ball farther than most people?
When a good friend of mine saw me hit and suggested it. I thought he was kidding with me at first, but when he made me go hit with his friend, another experienced golfer, and I could see that it wasn't normal to hit it so far.
For those who have never been to a Long Drive event, what can they expect?
It is a lot of fun! Unlike regular golf, you don't have to be quiet during play, and you can yell and cheer on the competitors while they are on the tee box. It really has the atmosphere of a party mixed with food, drinks and entertainment.
How do you prepare for events?
Physically, you are trying to summon the most out of your body, so you try to eat well, hydrate and get enough rest. I have a tendency to over practice, so I have to constantly remind myself to slow down and take breaks, so I don't wear myself out, and so I can peak at the right time. Mentally, I rehearse things in my mind and visualise what I want to do, but when it comes down to competition time you really have to block everything out and just perform.
What is your training regime?
Some guys focus on lifting heavy weights, but I have found that with my body type it is detrimental to my swing speed, so I focus on a well-rounded workout regimen that mainly focuses on core strength and mobility, which can be translated to flexibility. I'm a good-sized guy – I'm 6ft 4 and weigh 250lb – so strength isn't necessarily an issue, but flexibility, mobility and speed are what I am constantly focusing on. Five or six days a week in the gym is quite typical for me.
What driver do you use?
I use Callaway's XR16 driver. It's got four degrees of loft and is fitted with aPaderson Kinetixx shaft, with a XXXX stiff shaft.
What's your longest drive in competition to date?
It was 485 yards at last year's Mile High Showdown.
What are your top tips for staying in shape?
Eating the right things at the right times is very important. It isn't the easiest thing for me, because I really enjoy food, almost to excess at times. When I find myself regressing, I try to eat about a third smaller portion, which seems to work well for me. I eat a well-rounded diet, but keep my portions low and eat more often in order to keep my metabolism levels up.
What are the three most important attributes of a long drive competitor?
Firstly, you've got to have the speed to begin with, but after that you want to have the correct technique, otherwise you're just wasting any speed you have developed. You may hit a great drive every now and then with poor technique, but you won't last long in competition unless you just happen to be hitting well that day, which is a gamble. Thirdly, you need to have that winning mentality. This is hard to describe, but I would say it's similar to being willing to put everything on the line without holding anything back. You would think this comes easily to people, but fear and doubt can creep in or distraction can upend things if you don't have it.
Who are your golfing idols?
Because I don't have a very strong golf background as a kid I don't have any golfing idols, but I admire guys like Phil Mickelson, who always go for it. The movie Tin Cup epitomises my approach to golf and long driving. I would much rather hit the great shot and maybe lose, than lay up and for par and win. When I play golf I am always going for it, which sometimes gets me into trouble, but nobody pays me to play golf, they pay me to hit the ball a long way, which is a lot of fun.
What's the proudest moment of your career so far?
I would have to say winning the Rockwell Tour Championship event last year, because the field was so strong and I really felt like I had to battle the entire event.
What advice would you give to an aspiring youngster looking to take up the sport?
I think a lot of folks give up on long drive too early because they don't have the speed, but I found that it takes about a year of training to see real improvements in increasing your swing speed. Sometimes people think that where you are at now is about where you will always be, which is not true in my experience, so stick at it, because you will get faster.
Most long drivers seem to have a nickname. What's yours?
Growing up, my nickname was 'Bubba', but since I started competing in long drive some people started to call me 'The Big Deal' as a joke, and it's kind of stuck.
Ryan Reisbeck competes in the Long Drive World Series. For more information about upcoming events, visit www.longdriveworldseries.com
Stay up-to-date: