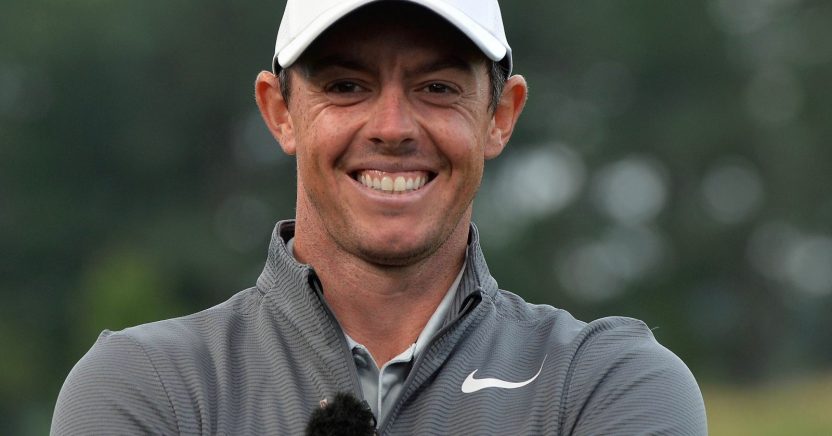 RORY MCILROY

17 October 2017
Rory McIlroy talks about his plans to come back fitter and stronger for 2018, following his first win-less season during his 10 years on tour
After the disappointments of the FedEx Cup and this year's majors, how pleased are you to finish off your season with a runner-up finish in the British Masters?
To be honest, I wasn't expecting much out of the British Masters, as mentally I had kind of wound down for the year, so perhaps that's why I played so well. The pressure was off me to perform, so maybe that worked in my favour. I treated it as a bit of a bonus, but it was a fun event, and it was great to be able to support Lee [Westwood] at Close House. It was also nice to earn a few world ranking points before I put the clubs away for the year.
What was Lee's reaction when you told him you were playing in the British Masters?
He actually asked me at Sergio's wedding back in July if I was thinking of playing, and, at that point, I wasn't, as I was hoping to be in the Tour Championship, taking the following week off, and then playing the Dunhill. But obviously I didn't make the Tour Championship, so I needed to add one more tournament to my schedule, and the British Masters was the obvious one. I was really happy to support Lee, as he's been a good friend of mine on tour since I turned pro. He's been a central figure in European golf for many years, and to see Sergio [Garcia], myself, and a lot of the other guys show up, speaks volumes about his popularity as a person and a player.
Obviously a lot of your fans are disappointed that you're taking a break from competitive golf. Can you talk about what improvements you want to see before you play again?
Yeah, I won't tee it up again competitively now until 2018. Basically, I just need to give myself a bit of time to recover from this injury that's been bothering me all year – but really just to work on my game a little bit, and reset everything. It's been a big year in my life away from the golf course, and I'm not saying that that had an effect on what happened on it. I feel like the injury held me back from practising. But if I can't take time off at this part of the year, when can I take any time off.
I think 75 per cent of the guys out here would say it would be nice to have some sort of an off season. I'm just giving myself an off season this year and looking forward to improving my health, improving my game, and becoming a better player in 2018.
Have you mapped out some sort of timetable?
I'm taking a ten-day holiday in mid-October, and then once I get back, I'm going to be doing quite a bit of equipment testing, and then I'll start to execute the plan that we have going forward. I don't anticipate hitting golf balls until the end of November, but depending on how I feel, it could be earlier than that. But I'm looking forward to just getting myself right, getting myself healthy, and then being able to practise as much as I want to feel prepared going into each and every tournament, instead of feeling like I'm playing catch up all the time.
What's been the motivating factor to keep playing when you were thinking about shutting it down altogether?
I want to play in the Ryder Cup next year, so obviously I had to play my five events in Europe in order to qualify. So that was obviously the big deciding factor. I've been quite close to the edge on minimums over the last few years, so I didn't really want to put the European Tour in another sticky position. So I thought, yeah, I'll play an extra one and not have to make them make the hard decision and have to answer to the membership about why I didn't play the minimum when I could have.
How close are you to full fitness and how much rest do you need to get to that point?
It's hard to put a percentage on it. I feel okay right now, but that's because I've had a few weeks off. So it's always been just a bit of managing it. Does it feel okay? Yeah, it feels okay, and I can do a little bit, and then I have to take a bit of time off, and then I can do a little bit again. But I think just a four- to six-week break without really doing anything, and really concentrating on rehab exercises and doing all that stuff, I'll be fine.
I just haven't given myself that little more prolonged length of time to let it fully heal and let it feel 100 per cent. I actually don't feel that far away. I feel better now than I did starting the FedExCup Playoffs, so that's a good thing, and that hopefully bodes well for these next few weeks in terms of rehab.
But do you still feel inhibited in the amount of practice that you can put in?
Yes, I do. I don't feel like I can go out there all day and practise. I feel at some point, I'd have to take a bit of time to let it rest, and I can feel it sort of stiffening up and getting a little bit sore. It's not as if I can go full bore at it like I want to. But hopefully by giving it that six or eight-week rest, I'll be able to fully practise and prepare, and not feel like I'm playing catch up at every tournament, because I feel like I haven't been able to do the preparation that will allow me to play my best golf.
Stay up-to-date: