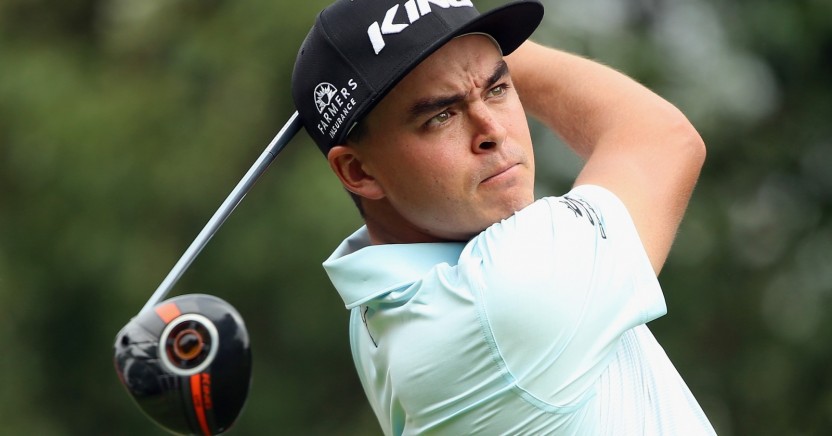 RICKIE FOWLER

4 December 2015
In an interview given at the HSBC Golf Business Forum in Shanghai, world No.5 Rickie Fowler reveals how he manages his life as a global brand
Interview by Andrew Cotter

It's obviously an exciting time in world golf, with so many young players such as yourself, Jason [Day], Rory [McIlroy] and Jordan [Spieth] vying for majors and world rankings. How much are you looking forward to competing against these guys for top honours in the years ahead?
Yeah, it's a great time in golf right now. There are a lot of good, young players playing well. The last three winners on the PGA Tour have all been young players – all in their 20s. And with the group of guys playing the best in the game right now, Rory, Jordan and Jason, the professional game looks to be in good shape. It's going to be a lot of fun competing with these guys.
There is obviously far more to being a top player than simply hitting balls and playing in tournaments. What does your life involve away from the day–to-day routines of playing golf?
Obviously, when it comes to the tournaments, I want to be prepared and ready to go play, but it's also fun being able to do some of the other things that go along with professional golf. From being involved with the commercial activities of sponsors, and the photo shoots that may go along with it, as well as being involved in charity events and fundraisers.
So I'm travelling quite a lot, but it's fun. It's all part of it. It's great to be able to give something back and help each other out. I played in Jordan's charity event last week, and I was able to play in the Irish Open last year, which benefitted Rory's foundation. So it's fun to be able to work together and help grow the game.
When you were coming up through the amateur ranks, and moving into the professional game, did you have any idea how much you might be required to sell yourself and sell the game to the wider public?
As a little kid my dream was just to play on the PGA Tour. But, over time, I learned that there was a lot more that went along with it. It's not just about playing golf. There is a lot of responsibility that comes with that, whether it is being seen as a role model, or someone who has the chance to help grow the game in some way.
Social media has had a huge impact on professional golf, and you're obviously a big player on social media. Is that something you enjoy, the interaction with fans?
Social media has opened up a whole new avenue for us to connect with fans, and for fans to be able to see what's going on day-to-day inside and outsides the ropes, whether it's in golf, or other sports or celebrities' lives. I'm able to kind of regulate what I want to show or not show, so if it's handled properly, social media can definitely do a lot for someone as an athlete or a celebrity. There's a lot of good that can come from it, if you get it right.
You're obviously hugely popular with a lot of younger golf fans. How important is for you to give them your time, whether it be engaging on social media, signing caps at tournaments or high-fiving fans as you go along the course?
Yeah, little things can mean so much to fans. I remember being at sporting events growing up, whether it was golf or something else, but even just a little acknowledgment went a long way.
It's really cool to be in a position now where I have a lot of young fans and get to sign autographs. Just to be able to do that, and have the chance of having an impact on someone's life, for what could take just a few seconds, is a really important part of being a professional.
I never really thought about those kind of responsibilities when I dreamed of playing on the PGA Tour, but it's something you learn about along the way. Playing on tour is a partnership. We take care of our stuff during tournaments, but work together with sponsors and partners for a lot of the other time in order to give us the opportunity to be able to play.
Given the demands on your time, I guess you have to be quite ruthless in what you do and don't decide to do. How do you balance out those demands?
My life is very structured at times. I mean, we're still normal people. I like to have some fun and enjoy some free time when it's right. But time management is very important when it comes to making sure that I'm ready to play come Thursday wee-in and week-out, and that goes with the off-weeks, as well. How you manage your time during the weeks when you're not playing can have a huge impact on how you play when you are in a tournament week.
What's the hardest aspect for you in your life as a tour player?
It's got to be the travelling. Last month, for example, I was over in Korea for the Presidents Cup, then I went to Japan for two days to do some stuff for Puma and Cobra over there, then I flew to LA for two days, went to Las Vegas, played in a charity event; then flew to Dallas to go do Jordan's event, and the went back to LA for a couple days, and then came out here to Shanghai. Luckily I enjoy travelling. I love seeing the world. I guess if I didn't enjoy that, this would be pretty tough.
You seem to have embraced the idea of being a global player, perhaps more than many other PGA Tour players. Why is that?
Yeah, luckily I'm in a position where I get to go play the best tournaments around the world. It's been fun to be able to go play tournaments in places where I've just thought about being able to go visit, and then get to play golf on top of it.
Like most of us, I guess you started out playing golf because it was fun. But now that it's your job, is it still fun?
I really enjoy every aspect of it. When I go home, I still just go tee it up and play with friends. I just love to play golf. I love the game. When there's more competition involved, the more fun it gets. And there's ways of making it fun at home, playing for lunch or pride. I've loved the game since I first started playing. Golf is unique in that we get to play in pro-ams and play on the same courses with regular golfers. The scores may not be the same but I'll give you a four handicap, and we'll have a match and we'll play a game together. That's such a unique and fun part of our sport.
It goes without saying that you want to beat the likes of Rory, Jordan and Jason every time you tee it up, but are you friends with those guys? Would you ever hang out with each other?
Yeah, we get to hang out quite a bit on the road or at home. Rory and I live by each other, so we'll play and practice once in awhile when we're in Jupiter together. Like I mentioned, I went to play in Jordan's event last month, and then I texted him before I went out there and said, 'Hey, you want to play on Wednesday?'  So I stayed the next day, and we went and played golf with a couple buddies. We enjoy being around each other, whether it's playing golf or grabbing dinner at a tournament. I feel like we're going to be able to do a lot of cool things together now.
There have always been golfers in the past who have naturally drifted towards the business side of things. I think of Greg Norman and, of course, Arnold Palmer. Can you see yourself sort of building your own brand or perhaps going into other avenues somewhere down the line?
Quite possibly, but right now I'm focused on continuing to play well, and hopefully that will open some doors along the way for me to be able to do different things in future. For now, I've just got to keep making birdies and we'll figure things out from there.
Stay up-to-date: