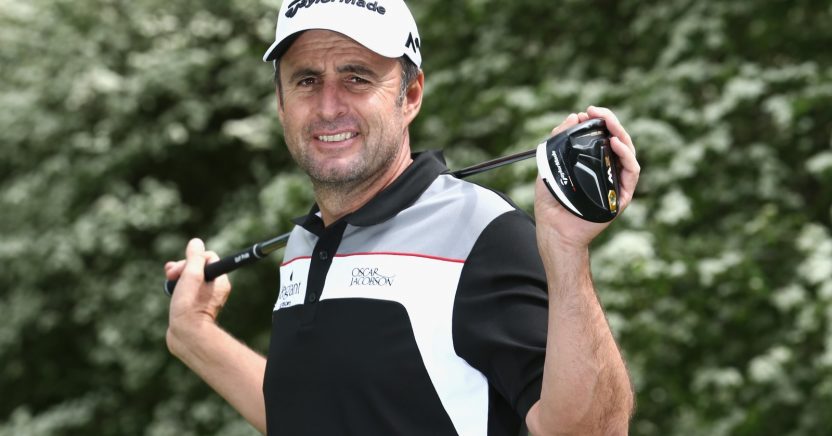 RICHARD BLAND

19 July 2017
NOW IN HIS 22ND YEAR AS A PRO, HAMPSHIRE-BASED RICHARD BLAND TALKS ABOUT KEEPING UP WITH THE YOUNG GUNS, HIS RECENT NEAR MISS IN GERMANY, AND HOW HE'S NOT YET GIVEN UP HOPE OF BAGGING A LONGED-FOR WIN ON THE EUROPEAN TOUR
Experience must count for something, judging by your recent return to form?
Yes, 2016 was by far my best year on tour since turning pro in 1996, which was very satisfying. I didn't do anything really outstanding – every part of my game was just in really good shape all year. You have the odd blip here and there – of course you do, that's golf. But you try and replicate that, and improve on it, and just hope the next season will be another good one.
You finished 2016 just outside the world top 100 too…
Yes, I think I was 102nd or 103rd – something like that. There's just so much to play for if you have a good start to the year. I was delighted to play well in the early rounds of my first ever WGC event in China in October last year, and I had six top-tens in some good events to finish 28th on the Race to Dubai – a big improvement on my previous best of 65th.
As you say, you were very consistent in 2016, but without winning. Are you more pleased with that consistency or more frustrated that you didn't quite manage to convert?
A bit of both really. I had a couple of opportunities – probably the British Masters at The Grove was my best opportunity, and the 15th hole kind of swung it for me there. Alex Noren was making a bit of a mess of it, and I was in a really good position – yet he ended up making birdie and I didn't! I know that was only one shot, but suddenly you go from one to two behind with just a few holes to play, so that was huge. He walked on to the 16th tee feeling a whole lot better than I did, and that probably won him the tournament.
It's quite fine margins out on tour, isn't it?
Yes, just look at Graeme Storm in South Africa at the start of this year. A few months earlier you just felt for him on the 18th green in Portugal, thinking that one of your mates had just lost his card. You could see that in his face – he knew it. Then suddenly he gets the nod because Patrick Reed wasn't going to meet the minimum European Tour requirements. Stormy moves back up a spot, keeps his card, and then comes out and wins in South Africa at the start of the year, beating Rory McIlroy in a play-off. Golf's a funny game!
Do stories like that motivate you to keep persevering?
Yes, Stormy's made the most of it and fair play to him. He's a lovely lad, who's had his struggles on and off the course over the last couple of years. It couldn't happen to a nicer fella, so it shows what can happen in golf. You can feel like you're right at the bottom one week and the next week you're holding the trophy. So we'll keep working and keep trying hard and hopefully it will come off.
Until last month's BMW International in Germany, this year hadn't been so good for you…
No, it hasn't quite gone to plan! I had six or seven weeks off over Christmas, and came back thinking my game wasn't a million miles away, but then ended up having a really poor run until the BMW.
How frustrating was it to come so close again there without winning?
I was pretty gutted, but I gave it a good run. I just got caught in between clubs on 17 and it was the only shot I didn't commit to all day. Even the poor shots that I hit, I was committed to them, and that was the only one I just didn't commit to. I'm proud of the two shots I hit in to the last though, but just didn't quite hole the putt.
It must have given you some encouragement for the rest of the season?
Yes, the form I'd been showing over the last three or four months, if someone had offered me second place, or a putt to make a playoff on 18, I'd probably have snapped their hand off! It was a big step forward for me, and I've just got to make sure that I finish the year strong, keep my card, and take my chances.
You've been on tour for over 17 years now – is the motivation and desire still as strong as ever?
Probably more so, because I'm 44 now, and I'm one of the older guys out here. Being realistic, I'm in the late autumn of my career, so I want to make the most of the time I've got left, however long that might be.
Do you work more on the fitness side now than when you first came out on tour?
Yes, but more to try to stay supple than anything, because you are getting a bit older, and there are a few more aches and pains now! I do some cardio work as well, as you have to try to keep up with the youngsters, but I'm never going to be a marathon runner! I just want to be able to play 18 holes and feel fairly fresh at the end of it all. In places like Malaysia, you've got to be fit and healthy, as it's a sweat bath out there, and you don't want to find your tank's running empty with four or five holes to play. There's no part of the game you can leave unturned nowadays – you have to work on everything because if you're not, someone else is, and they're going to go past you. It's not getting any easier!
Finally, do you get back to your old home club at Stoneham much?
I played once over Christmas with some mates, but I live up near The Wisley now and I'm a member there, so I don't get down there that much. But it's always nice – I've got lots of friends there, so I try and get back there when I can. The members are always great with me, and have treated me so well. So I do enjoy getting down there when I can.
Stay up-to-date: