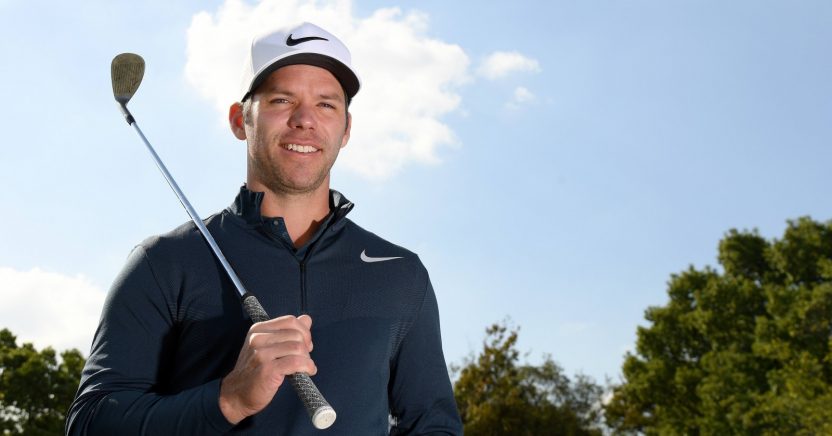 paul casey

13 November 2017
Paul Casey talks about rejoining the European Tour, his return to the world's top 20, switching equipment, and how family life has given him a new perspective on his career
It's difficult to explain to people how difficult it is to win on tour. In a lot of other sports, such as tennis, the same players win all the time. I've won 17 tournaments in my career, so I know how to win, but it has been three years since I won in Europe and eight since I won in the US. It can get frustrating, but I'm learning to stay patient. It doesn't get any easier though, with the new generation of players coming through, but I'm enjoying my golf more than I have in a long time, and I feel like I'm on the right path.
Consistency is obviously what most golfers are looking for, but it can only take you so far. I need to work out how to turn consistency into wins. Consistency is great, I love it, but winning is what we're out here for. I seem to play well on Thursdays, but not so well on Fridays and Saturdays. It's a puzzle.
My caddie, Johnnie McLaren, has played a big part in turning around my fortunes – so I've got a lot to thank Luke Donald for. Johnnie's been on the bag for coming up to two years now, and we've formed a really good partnership. I think we've worked out a good strategy for playing our way around a golf course. We're always questioning whether we're being aggressive enough or overly aggressive, and generally we manage to strike the right balance. He's been very good at quietening me down between shots, as I have a tendency to over-analyse things and talk too much.
I had to get used to playing with a lot of different equipment after Nike got out of the equipment business last year, but I feel like I've adjusted pretty well, given that I had to change everything in the bag, including my golf ball. I bleed Nike. I've been with them 13 years, and I'm going to try and be a part of the Nike family for as long as I can.
I've decided to rejoin the European Tour for next season so that I can be eligible for next year's Ryder Cup. The recent changes to the qualification criteria have certainly made it a lot easier to play a schedule on both tours. Thomas Bjørn has been working me very hard over the last few months, and he's a hard man to say no to – he's very big! But he's also been hugely supportive, and he's assisted in me making the decision with his confidence and his backing of me and my game. But at the same time, he's made no promises about my selection, and I know I'm going to have to carry on playing great golf for the next nine or 10 months in order to earn my place on that team.
I've missed being a member of the European Tour. Not being on it has always bothered me slightly over the last few years. Some people said it was a reaction to being left out of the Ryder Cup team in 2010, but that rubbish. I love a conspiracy theory as much as the next man, but It had nothing to do with it whatsoever. The number of events that we were required to play by both tours at that time made it very difficult to play both well and I suffered. My game wasn't there to do both successfully. And then with my son Lex being born I had a new priority, which was my family, plain and simple. So it was a selfish choice. Now it's doubly difficult being a father of two, but I spoke long and hard with my wife, Pollyana, about the decision, and I think ultimately the biggest thing is that I'm avoiding having any regrets about not rejoining.
I can't tell you how excited I am about the possibility of playing in the Ryder Cup, for multiple reasons. Firstly, I feel that with the level golf I've being playing over the last few years, I know that I can make a massive contribution on the golf course. I've got another four or five years of really good stuff left in me, but the clock is ticking. But what excites me more is the role I can play in supporting some of younger guys coming through. I've missed contributing to English golf, and if I should make the team it would be great to play alongside guys like Tommy Fleetwood, Matt Fitzpatrick and Tyrrell Hatton.
I love match play golf. I love the whole psychology of it. It's often about the guy who makes the fewest mistakes. I don't make a lot of bogeys, so I guess that's why it suits me better as a format than some other players. The guy that just keeps bogeys off his card is always in the hole, and someone who is always putting for birdie is incredibly tough to beat.
The Masters probably presents my best chance of a major win – I've had five top tens at Augusta. I've never really fared very well at the Open. I don't know why. Apart from when Louis Oosthuizen won at St Andrews in 2010, when I finished third – I've never
really been a factor.
I like to jump on my bike whenever I'm at home in Arizona. It's rare I don't do at least 150 to 200 miles a week. I must be a glutton for punishment, but I especially like the hill climbs. It's pretty extreme, but it makes me feel alive. It's not quite a midlife crisis – although I have just turned 40. Maybe I'll go out and buy a white Lamborghini when I reach that point, but it's not happened yet. 
My wife, Pollyanna, is fantastic and understands me so well. Those that have met her understand the positivity she carries with her. It's very infectious, and it's something that's nice to have around. I'm not that way and I need to be. She is very calm, and I think that's been a very positive influence on my golf and on my life in general.
Having children was a decision I didn't take lightly. I stewed over it for a long, long time. Becoming a dad is by far the greatest thing I've ever done, and has helped put everything else into perspective. The joys of parenthood are completely eye opening. You often see a trend where guys have played really well after becoming fathers, and that's likely because they have something to play for. Pollyana, Lex and Astaria are the most important things in my life.
I became an ambassador for UNICEF earlier this year, and have pledged to donate €100 for every birdie I hit on tour. Ultimately, if I play really well, I'm raising lots of money for kids and hopefully moving up the leaderboard. It's a win-win situation.
To donate to Paul Casey's UNICEF fund, visit https://pledgeit.org/paulcasey  
Stay up-to-date: