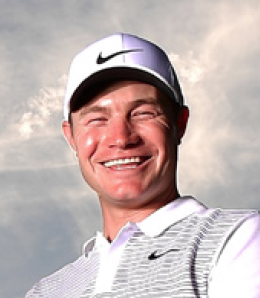 OLI FISHER

12 December 2018
Oliver Fisher hit the headlines this autumn when becoming the first player to break the magic 60 barrier on the European Tour, but life hasn't been a bed of roses for the young man who was tipped for greatness when he turned pro 13 years ago. Interview by Nick Bayly
After 46 years, and over 690,000 rounds of golf, the European Tour finally has its Mr 59 – Oliver James Fisher.
The 30-year-old from Essex broke the barrier in the second round of September's Portugal Masters, carding ten birdies and an eagle in a stunning 12-under-par effort that will go down in European Tour folklore.
There had previously been 19 rounds of 60 on the European Tour, starting with David Llewellyn in 1988, and with the most recent coming from Brandon Stone at this year's Scottish Open, but none had managed to break through to the magical fifties.
That the heroic feat should have fallen to Fisher, who, aged 30, with just one tour win to his name – and a current world ranking of 265 – shows the fine line that divides those who toil away in the mid-division of professional golf and those who float along in the rarefied atmosphere of the world's top 50.
Although blessed with a rare talent, Fisher has certainly had to toil to earn his spot in golfing history. When he turned pro in 2006, at the almost ridiculously young age of 17, he seemed to have the golfing world at his feet. In claiming fifth place at that year's European Tour Qualifying School – where he played as an amateur – he became the youngest British player to ever win a card to play on Europe's elite tour. Unable to buy a beer and probably not in possession of a razor, let alone a driving licence, Fisher was precociousness personified.
Coached by Crowlands Heath's club professional Chris Jenkins since the age of nine, Fisher had star quality stamped on him from the moment he lifted his first cut-down driver. Representing his club (West Essex), county (Essex), and country (England) at all levels, the Chingford-born youngster rose to wider fame when winning the Faldo Series Final in three consecutive years from 2003-2005, bringing himself to the attention of the six-time major winner in no uncertain fashion, and in the process cementing a relationship that has carried on to this day.
After winning the Essex Men's Amateur in 2004, aged 15, the following year Fisher became the youngest ever Walker Cup player, where he went unbeaten in his two singles matches in a narrow 12.5-11.5 defeat for GB&I. As soon as he walked off the course at Chicago Golf Club, the battle between the equipment companies to sign him to a professional contract began. That particular race was won by Nike, which, like Fisher, was only just establishing itself in the golfing world. Having a young and talented British player on its books was a key part of its marketing drive in Europe. Little did he, or Nike, know that it would be a full five years before his immense ability would turn itself into a winning formula.
Fisher's first full season on tour in 2007 was a tough challenge, but one he rose to admirably, finishing a respectable 76th in the Order of Merit. Jetting all over the world in search of starts took its toll, but it was all money in the mental bank, if not the one on the high street.
The following season he began to turn that promise into results, and came agonisingly close to claiming his first victory at the Open de Andalucia. After tying the lead with Thomas Levet over 72 holes, the pair went into a sudden play-off. Fisher chose to hit what he hoped would be a conservative 3-iron off the tee on the dangerous 18th hole, which featured water down the right-hand side – but the adrenalin coursing through his veins led him to flush it off the middle, and he watched in horror as the ball bounced through the fairway and into the lake. The wily Levet took advantage to claim his umpteenth career title, while Fisher was left to rue a missed opportunity.
Unbowed, he finished 51st in the money list in 2008, and looked set to solidify his place as a regular on tour. But then, in 2009, he inexplicably crashed. A total of 21 missed cuts saw him lose his card in a flash, and, after struggling at Tour School, he fell back to earth, and the Challenge Tour, with a bang. It was a lesson – if it needed learning – that nothing in golf is guaranteed.
"There are players like Rory [McIlroy] who have glittering amateur careers and move straight into glittering professional careers, but you have to be realisitic," says Fisher, whom I caught up with ahead of this year's British Masters at Walton Heath. "It's not something that happens very often. Myself, I have my share of hiccups."
The reason for Fisher's 'hiccup' back in 2009 was actually rather straightforward. Respected coach Pete Cowen was approached at The Open that year to have a look at Fisher's swing, and was shocked at how bad the young man's technique had become. "He's a tremendous player, but unfortunately he was going down the wrong road, and the harder he worked the worse he was getting," Cowen said at the time. "There's nothing more soul-destroying than that, but I think it was a case of misinterpreting information, rather than getting wrong information, and he had to understand what he was trying to achieve."
Most of the re-building of Fisher's swing was done by Mike Walker, one of Cowen's assistants, and a rise of 170 places on the world rankings in the following six months told its own story. He bounced back in 2010 by finishing 81st in the money list.
But then the wheels fell off again. He missed another 20 consecutive cuts from the end of 2010 until August, until, from completely out of the blue, he popped up to win the Czech Open – making only his fourth cut of the year in the process. With €250,000 in the bank and a two-year exemption secured, Fisher could set about getting his career back on track.
It's a measure of Fisher's popularity that there wasn't a more celebrated winner on the European Tour that year. His victory was greeted with a good deal of backslapping from players and caddies alike, and the Champagne that doused him on the final green was drunk in even more quantities in the bars of Prague later that night, as the tour made its way back to the airport. Some even missed their flights home as the celebrations ran long into the night.
Fisher's popularity is as much to do with his refusal to moan about his misfortune during those dark days and the positive attitude he has shown in the face of such adversity.
"Having got my card at the age of 18, it's fair to say I had very different expectations to what I have subsequently achieved," he says. "I would certainly have hoped to won more than one tournament, but it's a tough school out here. Every week there are 150-odd losers, and you quickly realise there's an awful lot more goes into doing well out here than simply hitting the ball.
"It took me a while to get to grips with all that's involved in becoming a good player. There were times when I was way too hard on myself, always looking to change things in the search for perfection, and it only made things worse. So these days I'm working on some different things to try to make myself better, and to score better – that's the main thing."
Although he confesses to having thought about giving it all up during his lowest ebb, golf is pretty much all he knows, so there was nothing to fall back on – there was no Plan B. "The more I thought about it, the more I realised there was nothing else I could do," he says. "It was a terrible time. There I was, working my butt off, and asking myself over and over, 'Why isn't anything happening?'"
The answer was to believe in his abilities, and to trust that the spark that Nick Faldo, and so many other knowledgeable observers had seen during his early career, was still there.
After retaining his card through 2014 and 2015, he kept it by the skin of his teeth at the end of 2016, bagging a top-ten finish at the season-ending Portugal Masters to secure his playing rights for 2017 at the very last gasp. Last year was a much more consistent season, with 21 cuts made form 27 events and a respectable 84th on the money list.
This season has seen more of a struggle, with 15 missed cuts from 28 events, but a runner-up finish in the Qatar Masters in March, where he was pipped to the title by Eddie Pepperell, all but sealed his card for the season in a single week.
After a disappointing summer, Fisher returned to the Victoria Course for the Portugal Masters in late September with no recent form to speak of, having missed the cut in three of his previous four events, and certainly no expectations of ripping up any records. Starting with a steady level-par 71, he began the second round eight shots off the lead, and needing a good round to make the cut.
"I knew I needed to get off to a fast start to try and make the cut, so I was chuffed when we managed to birdie the first three holes," he recalls. "Then I managed to hole a bunker shot on the fifth for eagle, so I was five under through five. I missed a couple of chances on seven and nine, so I could have quite easily been out in nine under. I got on to a run around ten, 11, 12, so then I was thinking 59 was very much on the cards, especially with the par fives at 15 and 17 still ahead of me."
He adds: "The big hole for me was 16. I hit a poor shot into the green, and had a tough decision to make whether I chipped it or putted it. I went with the putter and left it a long way short, but managed to hole a 20-footer for par. After that it was just about hitting a couple of good drives on 17 and 18, which I did, and I just tried to enjoy it really. My caddie Guy [Tilston] did a great job, and it was really satisfying to become the first player to get that 59.
Asked whether he would swap that record score for winning the tournament – he finished seventh behind good friend Tom Lewis, Fisher flashes back: "Definitely not. Not many people are going to remember who won the 2018 Portugal Masters next year, let alone in ten years' time, but hopefully a few will remember who shot the first 59 on tour."
Having been knocking around the circuit for a dozen years now, Fisher is hoping that his time at the coalface will soon start to pay off. "I feel like I've got an awful lot to look forward to, as I've built up all this experience and I'm still only 30. The most important thing is where I want to go, not what's in the past. This is a great time to be on tour, with all the exciting English talents around, and I definitely want to be part of that conversation."
Few would deny him that chance. Certainly not the man they now call 'Mr 59'.
Stay up-to-date: