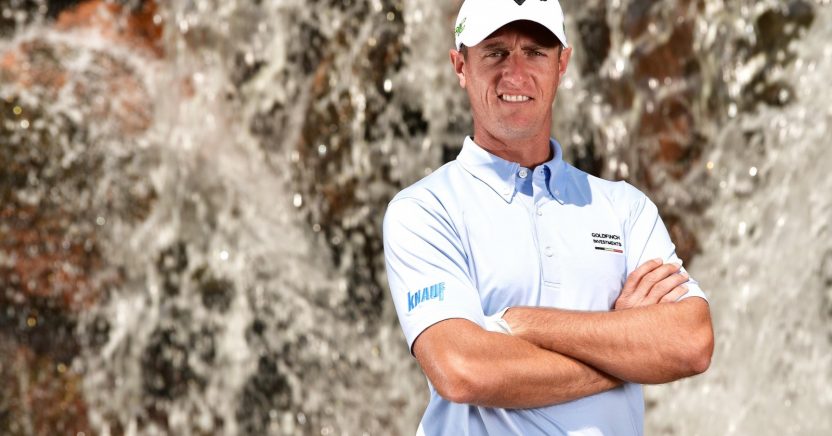 NICOLAS COLSEARTS

26 April 2017
Golf News catches up with the laid-back Nicolas Colsearts, aka 'The Belgian Bomber', and finds out about the 35 year olds' recent return to form, his career highs, the Rio Olympics, and his role in inspiring a new generation of his fellow countrymen on tour
Last year was your best since 2012 in terms of your Race to Dubai ranking. How did you rate 2016?
I thought it was pretty consistent – I had a lot of 20ths and 30ths that could easily have been top tens. I drove the ball better than the previous couple of years, and maybe putted just a little bit better, and that kind of made the difference.
You played 31 tournaments last year. How do you find all the travelling?
I've been doing it for 20 years, so I don't really mind. It didn't really feel like I was playing all the time. Okay, the last part of the season was pretty much one tournament after the other, but I'm not very good at sitting on my backside at home for five weeks – that's not really me. I always prefer to be out there playing.
It's five years since you won the China Open. Are you surprised you've not won more?
In a way, yes, but in another way, I didn't really have the game to. Maybe I could have won last year, but between 2014 and last year, I don't really think I put myself in winning situations enough.
At 34, you're arguably reaching your golfing prime? Do you still feel like that?
I don't really know, because my career could have been very different early on. You go through waves. Everybody has a couple of years here and there where they go through a bit of a slump, and I've been around for 15 years, which is just a lot of golf. There are always going to be high and lows during a career of that length.
When you won the Volvo World Match Play in 2012, you beat four Major champions en route to victory in Schwartzel, Rose, Lawrie, and McDowell. The layout at Finca Cortesin must have really suited you.
The course did suit me, and it was a bit of a shame that they changed the venue the following year. I was playing really well on that course, and I was able take advantage of my length off the tee, and the short shots I had in to the greens. I defended my title the following year at Thracian Cliffs in Bulgaria, where, due to the nature of the design, everybody was hitting their second shots from the same spot, so that didn't really help me. But I was playing really well in 2012, and the Finca Cortesin really suited my game.
What is your over-riding memory of the Ryder Cup in 2012?
Winning the only point of that Friday afternoon fourball session [with Lee Westwood] against Tiger and Steve Stricker, and just the look that my teammates gave me. You could see on everybody's faces just how much it made a difference on that first day. That was pretty cool.
You represented Belgium with Thomas Pieters in the Rio Olympics. What was the golf experience like, and, as a big sports fan, what was that whole Olympics like?
Yeah, it was pretty good on two counts for me. One was being very proud to represent my country in the Olympics, and the other was being proud just to be there, because I'm a huge sports fans. I got to see different athletes and different countries that you never really get to see, and sports that you don't really understand that well, because their only real exposure is at the Olympics. So, it was quite interesting to see this melting pot of different nationalities coming together in one big celebration of sport. I think that you learn a lot from watching other elite performers in any sport, and the different situations they face and the way they react to them.
Thomas [Pieters] enjoyed a breakthrough season last year, and an impressive Ryder Cup debut. How closely have you been involved with his progress?
I have been quite closely involved, but not publicly. I think I've played a part in many ways. He was always good, but maybe at the start things would have been a bit different if I hadn't been around.
Belgium has another exciting young player now in Thomas Detry. How much attention have you paid to his career, and have you been something of a mentor to him too?
The same thing, maybe more so, because Thomas and I have the same coach. I mean, somehow, these guys have been looking up to me for years. Pieters is up and running now, so he doesn't need me any more, but Detry might still be into asking me for advice here and there.
Do you foresee an explosion of Belgian tour pros going forwards?
No, I think that's it. I don't really see any other ones coming through any time soon. Maybe in a couple of years, but not right now. It's funny, because I was on my own for 15 years, and now there are three of us. That's quite a big change. For a small country like Belgium to have two Ryder Cup players in four years is quite astonishing.
Has that registered with the Belgian public?
No, the general public has no idea. People don't realise how good you have to be to be in a Ryder Cup, and how good a player you have to be to play well in a Ryder Cup. I don't think people really understand, and the people who perhaps do understand, kind of take it for granted.
If you hadn't been a golfer, what would you have done to pay the bills?
I have no idea. I probably wouldn't have paid them! My first passion in life is sport, and always has been. My great grandfather represented Belgium at basketball and water polo at the 1920 Olympic Games, so my family has a strong connection wit sport, and I was driven into a sporty education from an early age. I played around five different sports on a weekly basis until I was 16, dropping tennis and squash on the way, and played hockey until I was 18. I really miss team sports, and always thought of myself as a very good asset in any team event.
If you were offered tickets to any sporting event in the world, which would you take?
Probably that second Monday at Wimbledon. That seems like a pretty good gig!
You're a big music fan. Who did you last see live?
I don't really do concerts, but I went to a music festival in Sydney last year – a bunch of DJs playing somewhere in the middle of a forest and that was pretty good. Music is the best company when travelling around the world. My iPod is in a constant state of evolution, but about 70% of it is deep house music. I also listen to a lot of podcasts – they're the places to go to find new trends.
You played both the European and PGA Tours in 2013 and 2014. What did you learn from your experience of trying to play both?
That America is not a country I can stay in for seven weeks in a row. I'm just not comfortable being there for that length of time. Everything's too 'samey' out there, from the restaurants to the hotels. Everything's a little too serious in the States for my liking. In Europe you can make fun of someone and no-one minds, but in America you can find yourself cracking a joke and someone might take it the wrong way. We're much more sociable on the European Tour, whereas if you walked into a restaurant at a tournament hotel in America, you might find eight or nine American golfers all sitting at different tables. That wouldn't happen in Europe.
Do you have any new clubs in the bag for 2017?
Yeah, the new Callaway Epic driver – the Sub Zero Epic. That's pretty good. My misses are probably not quite as big, and I think it's going to have a decent impact on my game. Distance is the same as usual, pretty much, but when you're already pitching it over 300 yards, it's kind of pretty difficult to find something that pitches it 350!
Stay up-to-date: