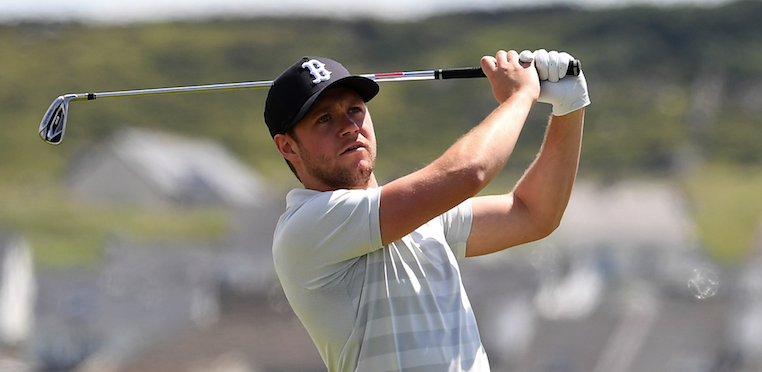 NIALL HORAN

25 September 2019
Niall Horan, one-fifth of boy band One Direction, is combining his solo singing career with a golf business, following the setting up of Modest! Golf Management in 2016. Here, he explains how he first got into golf, and why he decided to get into player management
When did you first get into golf?
I started from a really early age back home in Mullingar in Ireland with a group of friends. I loved the sport back then and loved staying up on Masters Sunday watching the final round with my dad.
What do you love about the game?
Everything. It's a great way to escape for a bit, to turn my phone off and relax. I enjoy playing and meeting new people and the challenge of working hard to try and improve my game.
How much time do you get to work on your own game?
My game is doing okay – my handicap is around 8. I'd like to get it down to five, but it'll take a bit of work to do that. The clubs go everywhere with me on the tour bus, so I always try and find somewhere to play or practice between concerts.
What's the best golf course you've played?
Augusta National. It's a truly magical place, and I count myself very lucky to have played there. I loved playing Royal Portrush too, and was so pleased that it got to host The Open this year. The whole week was a huge success, and, of course, it was great to have an Irish winner in Shane Lowry. I'm sure it won't be too long before it comes back there, the crowds were incredible.
Why did you decide to set up Modest! Golf Management?
I really felt, along with my management company, that we could offer something different for some of the young golfers coming through. My management company has looked after young talent for many years, and then we brought in Mark McDonnell and Ian Watts into the company, who between them have 35 years' experience in the golf industry.
Our focus is 100% on our players. This isn't about me or anybody else. This is about our players. This is their time, their careers, and we're there to support them as best we can every step of the way. Long term, we want to develop a small, very talented stable of players across all tours. We're a boutique company and want to sign a small number of key talents and really support them on their journey.
What sets Modest! Golf apart from other management companies out there?
We give our players time to flourish over the period of their contract. We give them as much support in year three as we do in year one. It's important players know they don't need to panic if it doesn't happen in year one, although obviously it's nice if they hit the ground running.
Ultimately we can't teach these guys to play golf, that's up to them, but we're set up to deal with everything else off the course.  We've negotiated deals with many top brands; from Coca-Cola, Pepsi, McDonalds, Mercedes and Honda among others, so we know how to maximise earnings for a golfer off the course, as well on it. We are here to create both commercial and playing opportunities for our players. I also like to think that I can relate to young players making their way in the game, and how to handle their public profile.
Modest! Golf's first signing back in 2016 was an Italian amateur called Guido Migliozzi. What attracted you to him?
Guido was one of leading amateurs in Italy, and at the time he was a fresh-faced 19-year-old talent. He comes from a really supportive family, works hard, and has a genuine passion for the game. Now aged 22, he got his European Tour card at the end of last year, and has already won twice this season, winning the Kenyan Open in March and the Belgian Knockout in June. He looks like comfortably qualifying for the Race to Dubai's Final Series and is knocking on the door of the world's top 100. He's an incredible talent, and it would be great if he could make the Ryder Cup team in Rome for 2022. We also signed Tyrell Hatton in June. He's by far our highest profile signing to date, and it's a sign of how far we've come in such a short space of time that a world top 50 player has joined our team.
How exciting was it to sign the Maguire sisters, Lisa and Leona, last year?
Signing Lisa and Leona Maguire, our first two Irish players, was very exciting. What both girls achieved in the amateur game is unbelievable and it was huge honour for the girls to choose us to represent them.  As you would expect, they had a number of choices, so we were very happy that the came with us, and we are looking forward to helping and supporting them in the next chapter of their careers and beyond. We have always wanted a small ladies division, however, we had to wait for the right talent. Leona and Lisa are everything and more in terms of what we look for in a player. Their attitude, ability, work ethic and how they both carry themselves both on and off the course is exactly what we expect in a Modest! Golf player. They've been on our radar for a long time, however, with the way the college system in the US works, we've had to wait patiently before we were able to make any approach. 
You've played your own part raising the profile of golf in Northern Ireland with Modest! Golf's management of the Challenge Tour's NI Open since 2016. This year's tournament at Galgorm Castle was remodeled as the ISPS World Invitational, and transformed into a mixed event with women and men playing for the same prize money. How did that come about?
We always wanted to get involved with the Challenge Tour and put our money where our mouth is, so to speak. I'd also heard what a first-class event the NI Open has been for a number of years. It was described to me as the closest thing you will get to a main European Tour event, and for us that's exactly what we wanted to be involved with. We've been involved with NI Open for the past three years now, and the tournament has got bigger and better every year, woth more top players, bigger crowds, and more sponsors.
We got into golf with the aim of developing the next generation of players, whether they be men and women, so by supporting a tournament like the World Invitational we are helping to bring that goal to fruition. We have created the opportunity for women to perform on the same stage as men and compete for the same prize fund, and I was delighted that so many women pros took part in it. It was such a fun week, with lots of events outside of the tournament itself, with live music acts and more. Just by looking at the crowds, it definitely seemed to attract a much younger, new audience.
In addition to running events like this, how do you think golf in general can broaden its appeal to younger audiences?
I think the game needs at times to be made quicker to encourage younger people into it. The European Tour has kind of led the way with some new tournament formats, and they've done a good job with their social media activity, but that needs to feed down more to the club level. Golf's a great game for all ages and all genders. It requires skill and dedication and also gets you outside meeting new people and keeping you active.
Stay up-to-date: