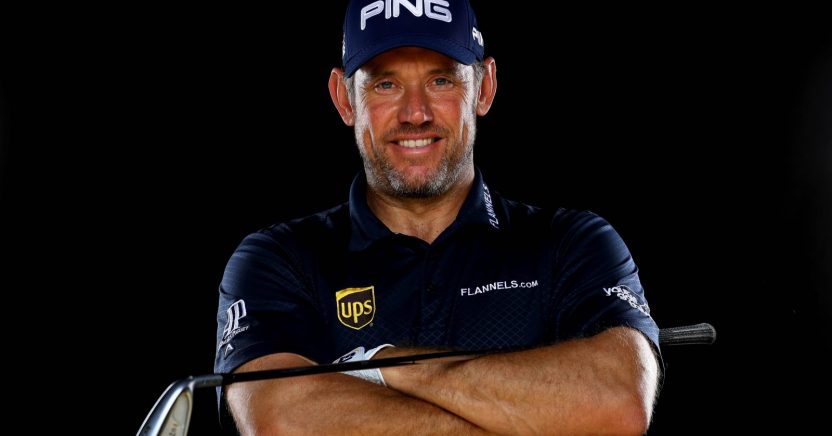 LEE WESTWOOD

18 August 2017
While Augusta's green jacket may have eluded him once again, Lee Westwood has another Masters' title on his mind this year, when he plays host at next month's British Masters, which is being held at his home course, Close House in Newcastle
Having spent two decades in the golfing spotlight, rising to world number one, European number one, and earning a place among the most decorated Ryder Cup players in history, Lee Westwood is accustomed to being in the media and public spotlight.
A hugely popular figure among British golf fans – the cheer that went around the first tee at last month's Open Championship at Royal Birkdale was evidence of that – the 44 year old from Worksop is one of the most successful English golfers of the modern era, with 23 career titles and over €30 million in prize money banked from since he turned professional in 1994.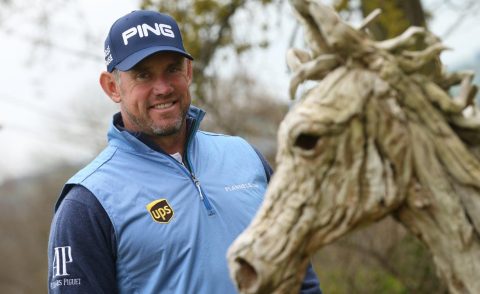 While the father of two has graced every corner of the globe in the pursuit of golfing glory, Westwood likes nothing more than playing in front of a home crowd, and the galleries won't come more homely, or more partisan, than when he tees it up at next month's British Masters, which is being held at Close House in Newcastle – the club to which he has been attached since it first opened in 2011 – and on a championship course which he helped design.
In hosting the tournament, which is supported by Sky Sports, Westwood will be joining a growing list of British golfing stars to have carried out the same role, which was first started by Ian Poulter at Woburn in 2015, and followed up by Luke Donald at The Grove last year. Unfortunately neither player managed to win their respective tournaments, but that's not putting off Westwood, who played in both those events, and won the British Masters in 2007, when it was held at The Belfry.
"The guys who've hosted tournaments have said it's tough to host and play well, given all the off-course commitments during the week, but I hope to buck that trend," said Westwood. "The Colt Course looks good, the tweaks we've made should test the players, and everything is falling into place really well. The team at Close House is putting a huge effort into making sure everything is perfect. Between them, the European Tour, and Sky Sports, it's going to be a fantastic tournament."
He added: "The event will be a great showcase for the North East, and I know the players who are already confirmed are looking forward to coming up to Newcastle, sampling the famous hospitality and playing the golf course."
Among those players committed to attending are the two most recent US Masters' champions Danny Willett and Sergio Garcia, who will both be huge draws to local fans, with the Spaniard a particular catch, given his rare sorties in Europe these days.
"Sergio is certainly a great addition to the tournament," said Westwood. "I've been friends with him for a long time. He's just a nice guy, and he's such a fan favourite. The response so far from fans has been brilliant, and the tournament is getting very well supported with sponsors. The field is shaping up nicely, so it will be a great week, and I'm really looking forward to it."
As well as hosting the tournament, Westwood has played a big part in the changes that have been made to the Colt Course to test the best players in the world, alongside golf course and estates manager Brian Clark and architect Scott Macpherson.
"We've made a few tweaks, added some length where it was needed, and changed some bunkers," Westwood said. "We've also brought the rough in over the summer, which I'm sure the members will be cursing me come September."
Westwood admits the changes should give him an advantage over his tour rivals following his regular visits, and that this year's practice is sure to be useful as he looks to improve on his third place finish at The Grove in 2016.
In another tweak to the format, this year's event will be preceded by a special junior event, the Junior Masters, which will see qualifiers from seven events across the North of England compete on Close House's Filly Course on the Tuesday of British Masters' week, with the winner receiving the trophy from Westwood himself, and joining the professionals in Wednesday's pro am.
"I was keen to get the juniors involved in the tournament and was inspired by something similar at last year's Italian Open," said Westwood. "There was a big group of kids on the putting green who were playing a tournament on the course next door, and to see the juniors mixing with the professionals and getting some tips was really inspiring.
"To get the kids involved and let them meet their heroes will be a great memory for them, and they will get a card in their hands and put a score down in a big event as well. We need to inspire kids to become the next Lee Westwood or Danny Willett, and give them more opportunities to play golf."
As well as being attached tour professional, Westwood now has a home in Newcastle and is enjoying life in the North East, as he concentrates on playing the European Tour and spending time with his son Sam and daughter Poppy.
"I love living in Newcastle, everyone is really friendly and I have a lot of friends in the North East. Newcastle is a great city, and I enjoy my time here a lot. Close House is also a big part of my life now; I've put down roots in Newcastle and I plan to stay here. The kids are in great form right now. I played in the pro am at Fancourt in South Africa with Sam at the start of the year. We finished fourth in the team event and had a great week.
"Helen [Storey, Lee's partner] caddied for me in Abu Dhabi as well, with Billy being unavailable. That was a good experience, though it's a while since I've done my own yardages. It was a little bit different without Billy but Helen settled right into caddying and did a great job."
As a committed family man, Westwood is now concentrating his time on the European Tour and is currently lying 27th on the Race to Dubai in what is his 23rd year on tour. "I played alright last season, with a good finish in the Race to Dubai [13th], and a move up the world rankings," said Westwood, who is fast closing in on 500 European Tour appearances. "It was a little bit disappointing to go without a win, but I played some good golf. I didn't miss too many cuts, had plenty of top 10s, and came close again at Augusta."
So far this year, Westwood has once again drawn a blank in the majors, although he has enjoyed creditable results for someone nearer the end than the beginning of his career – finishing 27th at the Open, 55th at the US Open and 18th at the Masters. He has also played consistently well on the European Tour, posting seven top-20s, including eight in Abu Dhabi at the beginning of the year and 10th at the French Open in June, and missing just one cut – all of which has taken him to 54th in the world rankings.
"I'm hitting the ball well, my game feels sharp, and I'm looking forward to the rest the season," he said.
With the major season over for another year, Westwood is looking forward to turning his attentions to the British Masters, which is sure to be the pinnacle of his six-year association with Close House, which began with opening the Colt Course in 2011 and has seen him become a huge part of Close House's history. "To have the golfing spotlight on Close House will be the highlight of my year. I want to do a good job that week as host, and I hope everyone enjoys what is going to be a special occasion for us, the team and the North East."

Stay up-to-date: