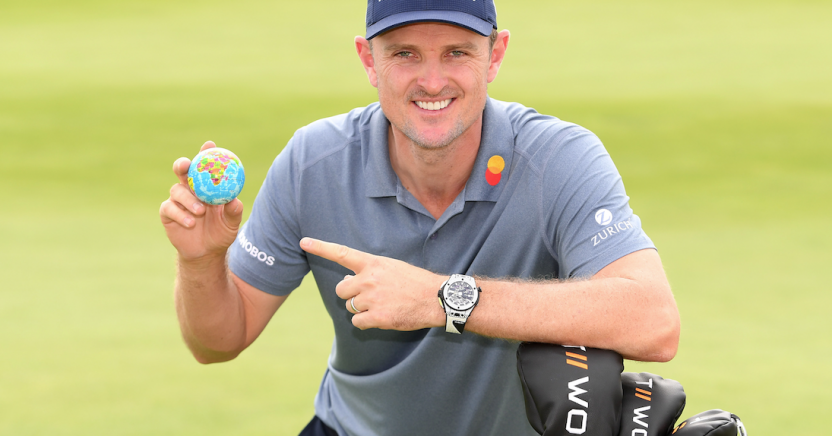 JUSTIN ROSE

11 March 2019
After scaling the heights of the world rankings, it is adding to his major tally that is driving Justin Rose ever forwards
Starting off the year ranked No.1 in the world, did you feel any added pressure to keep the train rolling down the track, so to speak, and what did it feel like when you finally reached that No.1 spot last year? 
I'd always hoped and believed that one day I'd get there, but it wasn't really on my radar until perhaps May last year, at the Players Championship, where there was one of those unlikely scenarios that it might be a possibility if I won the tournament and Dustin [Johnson] finished 45th or worse. And I was like, 'Wow, I'm getting close'. 
Once it's on the radar it becomes a goal. But obviously you only get to No.1 by playing consistently good golf, and that's always been my goal – to try to get the best out of my game week-in week-out. But once it presented itself it became a big goal and it's been a fantastic milestone in my career to have got there. But I feel like having got there now it's about sort of letting it go a little bit, in the sense that I to need to focus on other goals now, and if I achieve those other goals then I'll remain at the top. But I'm delighted I was able to get there.
How difficult has it been to maintain that level of play?
Yeah, you have to keep looking forward. You have to keep trying to improve. I can't control whether I win a tournament or not, but you can control the variables at your disposal. So when I look at my game, I'm always looking at where I can I fill the gaps. There are statistics you can use to locate your areas of weaknesses or you can just use gut feel about where can you get better.
I always put a lot of hard work in areas that I can get better. Last year, I put in a lot of time on my putting. That turned around and that really helped me play the consistent golf that got me to No.1.
You also need to understand what's working, and then when things line up, and you have a little bit of luck as well, those are the weeks that you typically win.
When you look at last year's performances, what are the specific areas you feel that you can improve on?
I think my wedge play from 160 yards is the key area. My mid-to-long iron play has always been a strength of mine, but I would say my wedge game is where I feel I can improve most this year.
You put 11 new clubs in the bag over the winter following your joining Honma Golf. How much has that helped refocus your mind on your overall game?
Well, of course, there were a few unknowns to begin with, and there's always a settling in period when you make these kinds of changes. But I believe that I've made some good decisions, and some good changes, and I feel confident about things. So equipment-wise I'm in a great spot, now it's just about going out and playing and getting comfortable with it.
How delighted were you to come out for your first event of the year and win at Torrey Pines?
Yeah, it was great to get that win under my belt as early as I did. A lot of people were questioning my decisions, so it was good to put an end to any doubts that I'd suddenly lose it all. I mean, listen, to outside observers I'd changed from playing probably one of the biggest equipment brands in the sport to a fairly unheard of brand, certainly in the western world, but I had a lot of confidence in where I was going and how I was going about it.
I always knew Honma had a great club-making pedigree. They've made wonderful clubs for half a century, and I always knew they were going to be able to build me exactly what I wanted, and that was the key – what I wanted. I was going to be able to have a lot of input into the look, the design, the feel of my equipment, especially my irons, which gave me a lot of confidence.
I've been working on this since last summer, but even so it was nice to come out and be able to play with confidence in my clubs, and my game, and hopefully answer a few questions.
Obviously the majors are going to be a huge focus for you in 2019. How do you think that the new schedule with them coming in a four-month stretch from April will suit you, especially given your current form?
I said to my caddie, Fooch, that I think I'm ready for a big year in 2019, and he looked at me, like, 'Was 2018 not big enough?'. I was sort of half-serious. With all the changes that have been going on, I've definitely got a second wind, if you like, a renewed enthusiasm about my whole game. It's freshened me up as well, and given me incentive to work harder, and really try and improve. All the changes that I have made have been around pushing myself to become an even better player, and looking for the sort of small ways in which I can do that.
At 37, do you feel like you are just entering the prime of your career?
Yeah, I really do. I feel fit. I feel strong. I'm hitting the ball really well. I have the benefit of many years of experience under my belt now, so, yes, it's the best of both worlds. Now is a time for me to really go on and achieve what I hope are my dreams. There are times in your career where you can chalk it up to experience, and there are times in your career where you have to just go and do it. I'm definitely in the 'do-it phase' for sure.
How much do you think what you went through in the very early part of your professional career – with all those well documented missed cuts – helped shape you into the player you are today?
Very few careers, whether in sport or any other line of work, are simply a straight line to the top. There are going to be ebbs and flows, but if you track it over time, as long as there's a progression going forward, as long as I'm improving, I'm going to get there eventually. Talent plus hard work has to equal something good in the end.
Perseverance is I think one of the key words in all of sport. I don't think you get to the top without perseverance. There's no real secret. There's no one piece of advice they can give, but you've got to be on your own journey. I would say, don't compare yourself to other players at certain ages.
For me, I think I had the talent, but I suppose but it's taken me a long time to believe in it myself. It's all very well for someone to tell you, oh, you should believe in yourself, but that has to come from within for it to be authentic and for it to mean something. My journey, such that it is, has taken awhile and there was a lot of scar tissue, too, from those 21 missed cuts, but it definitely added a few layers of skin that helped protect myself.
My advice to young players is play at the lowest level you can, provided you're still improving. I think that that, confidence-wise, you're always just able to protect yourself and be able to move forward. But you know, if you do turn pro too soon, and if you have tough, tough experiences too soon, yeah, it's hard to come back from.
Stay up-to-date: