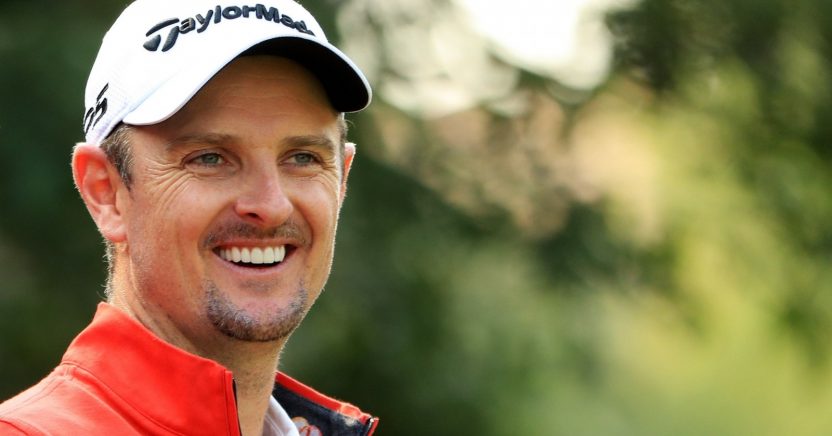 JUSTIN ROSE

11 December 2017
Despite missing out on the European No.1 spot, Justin Rose finished off 2017 in a blaze of glory, and the 37 year old has more of the game's biggest prizes in his sights next year
It was obviously not the outcome you wanted in the Race to Dubai, but how proud are you of the fight you put up for the title?
It's obviously very disappointing not to get the job done. At the start of the week, I set myself the goal of winning the tournament, and that way I was in control of my own destiny. That's the way I wanted it, as by not playing in South Africa, I kind of made winning a requirement. For 63 holes or so I was in control, and felt like I was going about my business, but then other players started to make a charge on the back nine and, after going out in 32, I expected to post a low number. But I kind of stalled around the turn. I felt like I needed to make something happen, and when that happens you can get out of rhythm, and try too hard. And that's kind of what happened. I missed a couple of birdie chances at 10 and 11, and got frustrated with that, then dropped shots on 13 and 15, and it kind of unravelled from there. I missed the fairway on 18, and although I still had a chance to make an eagle to win the Race to Dubai, the tournament was already gone. I've had tough losses in the past, and you absorb it, and you move on. It's part of golf.
How much has it fired up your will to win the Race to Dubai again in the future?
I feel like I will be competitive for a few more years to come, so it would be great to get it done again. I think I gave it a great run towards the end. I don't think it will affect the way I organise my schedule as such, so I just need to focus on playing better in the majors, World Golf Championships, European Tour events, and the Rolex Series, and see if I can get it done another year.
When you won the Order of Merit in 2007, you were a similar age to what Tommy Fleetwood is now. Can you recall what it was like to win it at 27, and what it did for you going forward?
Yeah, I still think it's one of my biggest achievements in the game. Any time you beat world-class players over the course of a year, it means a lot more than it does winning in a week. It stands up, and I think I did it only playing 12 events that year, which is unbelievable. I don't know really how it happened. I played well in the right events – in the majors and WGC events that year – and it was very rewarding to come to Valderrama and really play well when I had to. To see my name on a trophy alongside those of some of Europe's greatest ever golfers – Faldo, Seve, Sandy, Woosie and Monty, and guys like that – is very humbling. It's an impressive list. And when I won it, it felt like I had really achieved something to justify some of that early hype that I had after being the 'Birkdale Boy'.
You must have been delighted with the run of results that took you into that position to challenge for the money list. What do you think put your game into winning mode?
I've put a lot of work into all areas of my game this season, especially with my posture and managing my swing following my back injury, but putting has been a big focus for me this year. Putting is what translates playing decent golf into playing winning golf. If I look back at my wins in China and Turkey, I putted really well. I putted very solidly from inside six feet. I didn't give away too many cheap shots there, and I also made a few 20-footers.
I don't think about my putting as much as I used to, which is a sign that I must be much more confident about it. I changed to sort of a claw-style grip over a year ago, and it has taken that time for it to become more natural. It means that I can focus a lot more now on the skill of putting, rather than the technique of putting. By that, I mean green reading, and then just doing performance drills on the putting green, rather than constant stroke work. I think that my putting feels a lot more simple in my head.
When I watched back on TV the putt that I holed to win in Turkey, my putting stroke looks a lot different than it did two years ago. But it's now become my stroke. I'm not trying to do that. It's just happening. So I guess the hard work is beginning to pay off.
How do you think the disappointment of losing out at the Masters shaped the rest of the season?
You're going to have putts that miss and you're going to have putts that go in, and you're going to win and you're going to lose. The overriding thing as a player is that you have to commit to your process. You can't let the situation dictate how you hit the putt. I thought I did a good job on the 18th hole at Augusta, because I was very aware of the magnitude of the situation, and I promised myself that I would just hit a good, free putt and I did that.
I was faced with a similar length putt to win in Turkey, and although it's hard to compare the two situations, they were both putts to win big tournaments, and I stuck to my processes, and the putt dropped and I won. The putt in Turkey was a lot easier than the one I faced at Augusta, but I'm pleased that I stuck to my stroke and it went in.
What is the main motivation for you now? Prize money, trophies, or world ranking points?
I think obviously when you're playing tournament golf, there is always a big difference in prize money between winning and finishing second, but there's a bigger difference in feeling and emotion. Winning is the fun part. Fortunately, I'm at a point in my career where money isn't the motivation; it's holding the trophy. Before my wins in China and Turkey, the Olympics in 2016 was my last win. It had been a while, and I had not won on the PGA Tour for two and a half seasons. I had three or four second-place finishes this year, so I was more interested in the win than anything else that came along with it. World ranking points are a bonus. You need to win tournaments to make inroads on the world rankings, but, as I said, winning is what I do this for.
How much of a goal of yours is it to get to world No.1?
I wouldn't say it's front and centre of my thoughts, really. I've been very much aware of wanting to win more, but I feel like that was always going to be the next level for me. Winning another major would be another step forward in my career, but I think winning more regularly would also be a step forward, and that's what I'm focusing on, and it's nice that it's begun to happen. But the key is for me to keep that going now. As we see, it's what Dustin Johnson did. It's what Justin Thomas has done. It's what Jordan Spieth has done – and they have really created a bit of a gap at the top of the world ranking by doing that. Right now, I'm still three or four wins behind those guys. So I need to continue to win. Then, if I start sniffing around the top, if I start getting close in points, then absolutely, it will become a huge objective to get to No.1. But I need to focus on what's going to get me there.
You seem to have an inner calmness out on the course these days. Has that just come with experience and age?
Well, yeah, I think I look calm, but inside I still get pretty nervous. But those are the fun nerves that you hope for. I think I've learned that just because you're nervous it doesn't mean you're going to hit bad shots. I try to relish that feeling. But to win tournaments these days you can't be defensive anymore. You can't really make pars and hope to be moving forward. Guys are pushing so hard these days, and there are so many quality players. You have to have an aggressive mind-set if you are going to win tournaments, and that has been a big change for me.
Can you assess whre think your career is so far and where you believe it can go?
If someone said to me: 'If you could do it all over again, and you could wipe the slate clean right now, and do it all over again, would you?', I'm not sure I would. It's been 20 years of hard graft, and I've achieved a lot. I've won a major championship. I've won Olympic gold. I've won a lot of other tournaments. I've had some great moments. To kind of try to do all of that again from a clean slate would be a daunting task. I'm happy with where things are at, but there's a lot more I believe I can achieve. I think I'm coming into a nice part of my career where there's a lot of experience under my belt and there's a lot of learning that's being done. I feel fresh, I feel healthy, and, perhaps more importantly, I feel motivated. I've always said I'd like to be a Hall of Fame player. Who makes that determination, I don't know, but that's kind of what I'm working towards.
But I've also heard Phil Mickelson say that the time to think about all that stuff is when you're done and you can really look back and enjoy all your victories. There's plenty more to achieve. The minute you start to think about what it looks like when you retire is the minute you soften up a little bit. So my mind's not there. My mind is about just trying to get in the conversation, I suppose, and keep winning.
Finally, how do you like the way the European Ryder Cup team is shaping up?
I really like it. I'm already getting excited about it. The rookies that we had on team last year are no longer going to be rookies. They have a lot more experience under their belts, and hopefully all of them will get on the team again. We have a lot of English players playing really well at the moment, but there's a lot of talent on the European Tour. Tommy [Fleetwood] would be a great addition to the team, just down to the fact of how he plays his golf. He can play fourball, foursomes; he makes putts; he hits the ball beautifully. He's a great guy, and he'll really contribute in the team room. I'd also love to see Alex Levy make the team. I love the flair with which he plays. He seems to play aggressive golf, and being a Frenchman, the local crowds would really get behind him. But there's no point talking it up too much. There's a lot of golf to be played between now and September. But, so far, so good.
Stay up-to-date: