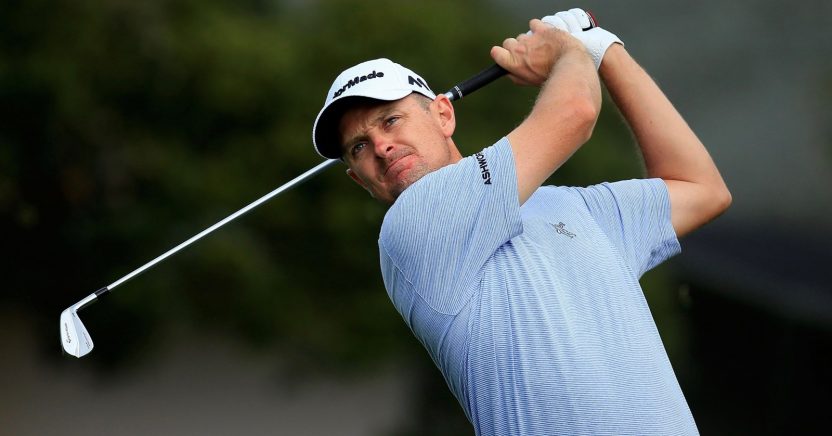 JUSTIN ROSE

20 April 2016
Although it seems like he's been around forever, 35-year-old JUSTIN ROSE says he's not prepared to settle for life as a single major winner
Looking at the top of the world rankings right now, golf looks like a young man's game. How does that make you feel?
Yeah, there's definitely been that an evident shift the last year or so. Especially with Rickie [Fowler] stepping up and winning tournaments, and beginning to fulfill his potential. I think it's really great for golf to see those guys step up. But I don't think it's all about youth. There are plenty of guys in their mid-30s and 40s still playing pretty well. Bubba [Watson], Henrik [Stenson[, Adam Scott, Zach Johnson, and I might include myself, we're right behind them, doing our best to remind them that it's not just a young man's game.
I still feel, at 35, that my best golf is still ahead of me. I'm still in that sort of sweet spot where I'm feeling fit and fresh and feeling young. I'm also feeling experienced, and hopefully I can use all those attributes to still play my greatest golf yet. So, it's inspiring to see what the young guys are doing, but at the same time it's also motivating to try and keep pace with them.
You're No.8 in the world, and a major champion who is playing good golf, but do you feel like your under the radar as a player now?
Obviously, professional golf is in a great spot right now, with the world No.1 trading around, with Jason, Jordan and Rory vying for that top spot, and that's fine with me. I think that I've been steady, but I haven't really produced the sort of fireworks that would put me in the forefront of people's minds when it comes to big tournaments. I feel like all of my backroom work this year has been fantastic and my preparation has been coming along nicely. I'm possibly under the radar, but I'm certainly feeling pretty good about my game.
With the Ryder Cup and the Olympics on the schedule, it's going to be a hectic season for a lot of top players. How are you planning your season to avoid burning out?
The way things currently are set up, it looks like it's going to be a kind of 'week on, week off' type of year. If you're a guy who likes to play the week before a Major, I think you're going to have a tough time building a schedule. The Majors come so thick and fast in the summer that, for me, it just looks like it's a week on, week off, week on, week off, type of flow. I think that that's the way I'm approaching it. Trying to stay fresh, working in small sprints, and trying to fit in down time as best I can.
Is your career now all about focusing on the majors?
Winning the US Open at Merion was a product of that thought process and me beginning to take the majors more seriously. I think you need to get to the point in your career where you can maybe sacrifice one or two other things to solely focus on the Majors. I would say I still am not at that point where it's just the Majors that have my complete attention, but certainly, I build my year around them. Every decision I make year round is to stay fresh or to do well in the Majors. I think those are really what I'm chasing down now going forward I do feel a lot more comfortable in them, because I think coming into anything prepared, you feel a lot more comfortable and confident.
Were you able to take any positives from finishing second behind Jordan Spieth at Augusta last year?
Essentially I was beaten by an all-time great performance, so I was able take a lot of confidence from that; knowing that in any other year or many other years, that level of performance would have been good enough to win. If you get beaten by a better guy on the week, you tip your cap. But I know that what I was able to do last year tells me that I've got what it takes to win the Masters, and any other major tournament in the future.
It seems like an age ago that you were striding up the fairway at Birkdale at The Open in 1998. What do you remember of that time and what advice would you give to someone like Ryan Ruffles, who has just turned professional at 17?
I think when I was 17 and the youngest guy on Tour at that point was 23. So I felt a little bit out of my depth from a peer group point of view. But I think that now there's definitely more young guys out on Tour and you can fit in much easier. Ryan's obviously a great talent, but I think he should have less of a hard time with that than I did. I'm twice his age and yet I'm still looking forward and thinking I have my best golf ahead of me. So for him to keep the big picture in mind is the best advice I can give him.
What you do remember of your first major as a professional?
It was the 2002 US PGA Championship at Hazeltine, which was actually my first tournament in America. It was a momentous event for me, because it was actually the first and only time my dad got to see me play a professional event in the States. He died only a month after that. So it's a bittersweet memory. But I played well. I finished 17th. It lit the fire in me that this is where I wanted to play my golf. I enjoyed the atmosphere, I enjoyed the style of the course, I enjoyed the energy of the Major championship. I think that was positive experience sort of led the way for me to very early in my career wanting to move to playing on the PGA Tour.
Do you ever look around at the players you grew up playing with in those early days and compare how your career paths have gone?
I have always felt throughout my career that I was two or three years ahead of my class. I guess the guys I grew up playing with were always older than me, the Paul Caseys, the Luke Donalds, guys like that. Obviously, I saw myself in their age group, even though I was much younger, but I was always playing at that level from an early age. So when I look back on those days, I didn't really have any natural rivals that are still with me right now. It was always more the guys that were two or three years older than me that were my rivals back then, that I maybe feel like they still are now.
You talked about keeping up with the younger players. How much time do you work on your fitness and who are you working with to keep you match fit?
Justin Buckthorp is what I would call my performance coach – he's much more than a fitness trainer. He looks after my nutrition and pretty much everything that goes into performing well. He's built a brand around what he does, which is called 360 Health and Performance, and there's many aspects to what he does. He also finished his Masters in nutrition, which he's been working really hard on, so I'm getting all the benefits of his knowledge and we use that in many different ways. Obviously, through getting fitter, stronger, but staying healthy. The gym is obviously very important place to be, but it can also be a dangerous place to be if you're not doing the right things. So having someone you really trust to help you navigate through that is very important and I certainly trust Justin. From the other point of view, we look at the holistic approach to health and nutrition and dealing with the little things that go on, like allergies and stuff like that. Especially in the run into the majors, we do certain things to try and sort of engineer my performance that way.
Are you at the stage in your career where you're able to pick the courses that you play best on and try and get the most out of those events?
I think I've reached a point where I've at least earned the right to be a little more selective in terms of where I play and how I play, and what suits my game and what doesn't. I've done the hard yards out here on tour and hopefully you put yourself in a position where you can give yourself a better chance by going to places you like. You only have to look at a player like Phil [Mickelson] to see how that works. He had a lot of close calls in the majors in his 20s, but it was only in his 30s that he really started winning his majors, having built up all that experience earlier on in his career.
How much focus are you putting on the Olympics, and what will it mean to you represent Great Britain in Rio?
To have the honour of representing Team GB at the Olympics is something I'm very excited about, assuming I keep things together and qualify. That being the case, I'm planning on going down to Rio early, taking in the opening ceremony, and treating it as a once-in-a-lifetime experience. Should my career look something like 'Justin Rose, multiple Major champion and Olympic gold medallist', I will be pretty happy with that. It's tough to compare it to a Major championship, but I think it holds itself on its own.
How important is the Ryder Cup to you?
Very important. It's a goal of mine every time it rolls around to make the team. This year, even more so. I've played in three Ryder Cups, one at home and two in America, and I'm keen to be a part of another team. So, yeah, it's very important for me to make the team this year. Being on the winning team at Medinah and at Gleneagles was just amazing. I was fortunate enough to win a major and went out and celebrated with close friends and family, but when you celebrate as a team, wow, there's nothing better than that. It doesn't really matter what your individual record is because the joy of winning as a team is basically what it's all about. If the team loses, you can look at your individual record and try and take some comfort from it, but it's all about winning as a team.
You're going to be one of the leading contenders at the BMW PGA Championship at Wentworth next month. How good would it be to add the PGA title to your CV, and how funny is it to see 30-foot images of yourself all over London advertising the tournament?
I'm not sure I'm ever going to get used to seeing my face plastered over large parts of London, but I'm delighted to be part of the launch for this year's tournament. It's a great opportunity to bring this fantastic tournament, and the fact that it's such a short distance from the capital, to the attention of a huge London audience. The PGA Championship is a tournament I grew up with as a kid, as we lived close to Wentworth and my dad used to take me every year. It's a fantastic tournament that's always featured high on my list of priorities. I would love to lift that trophy at the end of May.
Stay up-to-date: