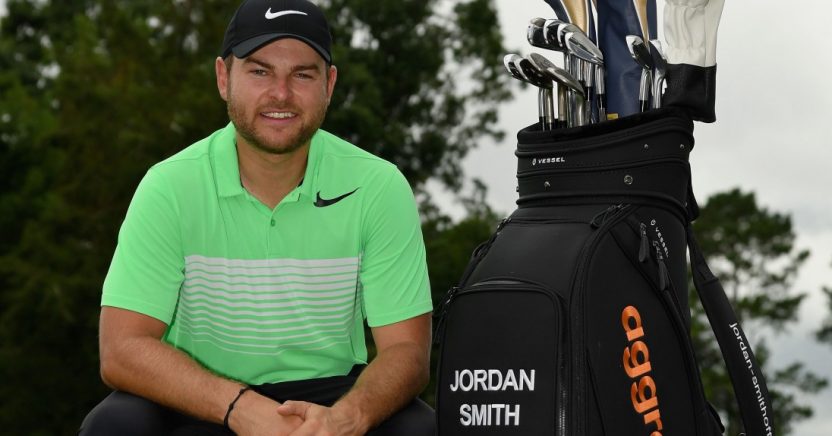 JORDAN SMITH

18 September 2017
Since turning pro in 2014, Jordan Smith has jumped from the Europro Tour to the Challenge Tour to the European Tour in successive seasons, winning at all three levels, and last month played in his first major, taking ninth play in the PGA Championship at Quail Hollow. To say the 24-year-old Bath man's career has been meteoric is something on an understatement
How many times have you had to adjust the targets that you set yourself at the beginning of the year?
It's all been a bit surreal, to be honest. I had a really good start to the year, and the first aim was just to secure my Tour card, which I managed to do. And then the second goal was to win an event, which I've managed to do. I've loved it. It's been nerve-wracking at times, but I've really enjoyed it.
Winning on your first year on tour is a dream for all players. What was the reality like at last month's Porsche European Open, where you beat Alex Levy in a play-off?
Sleeping on an overnight lead is never easy, even more so when you're trying to win your first European Tour event. I was a little nervous and that showed over the front nine, but I pulled myself together on the back nine and really battled hard, and was really pleased with the up-and-down on 18, which at least gave me an outside chance. Once Alex missed his putt on the 18th, I knew we had to start again, regroup, and just go with it. The whole week tee to green was probably the best I have played all year. I struggled a little bit on the greens at times, but it all came together at the right time.
How much did winning events in the lower leagues help with your mindset out there?
Winning tournaments at any level is never easy, so the more times you put yourself into those kind of situations the better you are able to handle it. I guess winning on the EuroPro Tour and the Algarve Tour helped my confidence earlier in my career. Getting in that situation of being in contention was great, so I was ready to go when I arrived on the Challenge Tour. It was a bit of a bigger stage, but I won the second event of the season, so it was nice to get that one in early. I had quite a consistent year, I didn't miss too many cuts, and I think I have just carried that form into this season. I've grown in confidence every week that I've been out here.
You began the season out in South Africa and played alongside Rory McIlroy in the SA Open. What was that like as an experience for a European Tour rookie?
Playing in front of such big crowds was a massive learning curve for me, and, of course, it was great to be able to play alongside such a quality player as Rory and know that I have got the game to compete. Both Rory and Graeme [Storm] had some kind words to say to me afterwards, and it sort of helped me realise that I do deserve to be out here, and that I have what it takes to challenge for tournaments when I'm on my game.
You played in your first major at last month's PGA Championship, and managed a top-10 finish. What was that experience like?
It was awesome. I loved every minute of it. I just tried soak it up and take everything in. The whole set of the tournament was incredible. You fly into the airport, you are given a car and a nice house for the week, and we were really looked after. The grandstands are much bigger, the crowds are larger – and a lot rowdier – and the golf course was a lot tougher than we play for regular tour events. I didn't have a lot of time to plan for it, as we only found out I'd got in the week before. I managed a few practice holes with Rory on the Tuesday, and was kind of thrown straight into it.
I think if you'd have told me at the beginning of the week that I'd bag a top-10 finish in my first major, I'd have bitten your hand off. I drove the ball well, hit lots of fairways, found lots of greens, and gave myself lots of birdie putts and, on the last day, in particular, the short game kicked in, and I made lots of up and downs at vital times. I played in some really good groups, and ended up playing some really good golf, so overall I was really happy with the week. I'm also really pleased that I'll be back to play in it next year, regardless of my world ranking.
How did you first get into golf?
I watched the Masters on TV with my dad when I was about 12 or 13, and badgered my dad, who wasn't a golfer, to take me down to my local club at Bowood. When I was 16 I started taking it more seriously, and I got into the Wiltshire squad. Then I was invited to the south west training squad. I got into the county finals playing for Wiltshire at Ganton and holed the winning putt – the first time that Wiltshire had won it. Then I got invited to England training. So, it's all happened incredibly quickly really. I keep having to pinch myself. I only turned pro a couple of years ago.
What's the reality of being a pro?
In my final year as an amateur I went to Asian Tour Q-School and European Tour Q-School just to get that experience. I didn't get through any of them, but it really helped me learn what professional golf is like. It taught me how to play under pressure. It's completely different to amateur golf. I enjoyed it. The standard on the Europro Tour is very high. You have 15 or 20 guys who are always up there at the top. You're not playing on immaculate courses every week and the weather isn't the best, but the standard is good. You're driving around the UK staying with players you've played a lot of amateur golf with, so it's also good fun.
What about the step up from EuroPro to the Challenge Tour?
It's a big step up. Obviously there's more travelling involved, playing in a different country each week. It was a steep learning curve, but I quite enjoy being away from home, so the travelling didn't bother me.
And what about the step from Challenge Tour to European Tour?
I think it's a bigger step from EuroPro to Challenge, but now, on the European Tour, I'm playing with players that I used to watch on the TV – legends of the game. Sometimes I feel a bit star struck and don't know what to say, but essentially we all out there to do a job, so you haven't got time to be staring around at your heroes.
Talking of stars, how often are you mistaken for Jordan Spieth?
I don't look anything like him, but there have been a few cases of mistaken identity because of the similarity of our names. The best was in Oman last year at the Challenge Tour Grand Final. I won the rankings and the guy that announced me on the first tee called me 'Jordan Spieth', so that wasn't the best of starts. Still, there are worse players to be confused with.
Stay up-to-date: