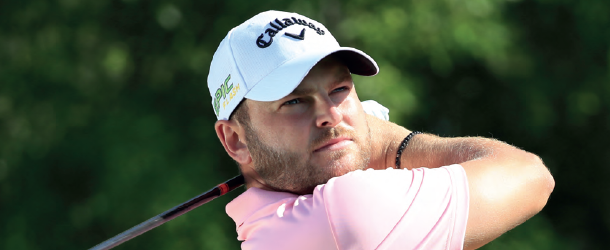 JORDAN SMITH

11 March 2019
Since turning professional in 2014, Jordan Smith has risen through the ranks of the EuroPro Tour and the Challenge Tour, before breaking onto the European Tour in 2017, where he won the European Open just six months into his rookie season. Now in his third year at the top level, the 26-year-old from Wiltshire is looking to continue his upward curve
You won four tournaments in your first four years as a professional, winning at every level from the Algarve Tour, to the EuroPro Tour, Challenge Tour and the European Tour. Have you always had a knack for winning?
I guess winning on the EuroPro Tour and the Algarve Tour helped my confidence. Getting in that situation of being in contention is great at whatever level you're playing in. I was ready to go when I arrived on the Challenge Tour. It was a bit of a bigger stage, but I won the second event of the season, so it was really nice to get that one in early. And then winning on the European Tour was another huge hurdle. 
What do you remember of that week at the Porsche European Open?
Sleeping on an overnight lead is never easy, even more so when you're trying to win your first European Tour event. I was a little nervous and that showed over the front nine on Sunday, but I pulled myself together on the back nine and really battled hard, and was really pleased with the up-and-down on 18, which at least gave me an outside chance. 
Once Alex [Levy] missed his putt on the 18th, I knew we had to start again, regroup, and just go with it. The whole week, tee to green, was probably the best I played all year, so it was amazing to come away with the win.
You started out on the EuroPro Tour in 2014. What was life like in the lower leagues?
I really enjoyed it. I was driving all around the UK, and staying with players that I'd played a lot of amateur golf with. The standard is very good. You have 15 or 20 guys who are always up there at the top. You're not playing on immaculate courses every week, and the weather isn't always the best, but the standard is good, and it teaches you how to grind out a score.
What was the step up to the Challenge Tour like? 
That was a big step up, even more so than from the Challenge Tour to the European Tour. Obviously there was a lot more travelling involved, playing in a different country each week, and playing in different climates and course conditions. It was a steep learning curve. Thankfully I don't mind the travelling, and quite enjoy being away from home.
The step up to the European Tour in 2017 was more of a mental leap – accepting that I was good enough to play alongside some of my heroes that I had grown up watching on TV. I felt a bit star struck at first, and didn't know what to say to all these legends of the game who were coming up and chatting to me!
Although you didn't win in 2018, you had a pretty consistent season, with four top-10s and finished inside the top 50 in the Race to Dubai. How did you rate your performance overall?
Coming off such a good season in 2017, I came out expecting too much, rather than going out and just enjoying it and letting things happen. Looking back, I put too much pressure on myself, and it kind of backfired. So I sort of eased off in the second half of the season and the results started to turn around. I finished third in China and then third in the British Masters at Walton Heath. I put myself into a really good position to win the DP World Championship in Dubai, as I was just one off the lead after 54 holes, so it was disappointing to throw in a 74 on Sunday. Still, it was a decent end to the year, and I know that the more I put myself into these sorts of positions in the big events, the better I'll be able to handle it in the future. 
Did you manage to recharge the batteries over Christmas?
I played in Mauritius in December, and then I took the best part of six weeks off. The schedule is almost non-stop now, so you've got to take the breaks when they come. So I went on holiday and came back feeling refreshed and ready to go. I feel like my game is in good shape, and I am excited for the year, as I have changed club manufacturers, joining Callaway Golf, and I have been working hard on little bits and pieces. I am feeling good for the year.
What does it mean to have big brands like Callaway knocking on your door?
Callaway is a huge brand in the world of golf and has a rich pedigree of successfully supporting the careers of young players on the European Tour. The 2019 product line is fantastic and I'm genuinely excited to see how my game develops this year and beyond.
It must have been pleasing to get off to such a solid start in Abu Dhabi, especially given that it was a Rolex Series event.
Yeah, I played pretty well out there. I have always liked the course, and I got myself into a good position after shooting 66 in the second round. It was slightly disappointing not to go low over the weekend, but 11th was a decent start for my first event of the year.
What are your goals for 2019?
Just to keep on doing the basics well, not trying to force things too much, and see what happens. I obviously want to keep on improving, and hopefully get into the big events and test myself against the world's best players. That's what it's all about.
Finally, how often do people confuse you with Jordan Spieth when they hear your name?
I don't look anything like him, but there have been a few cases of mistaken identity because of the similarity of our names. The best was in Oman at the Challenge Tour Grand Final in 2016. I won the rankings and the guy that announced me on the first tee called me 'Jordan Spieth', so that wasn't the best of starts. Still, there are worse players to be confused with.
WHAT'S IN JORDAN'S BAG?
Driver: Callaway Epic Flash Sub Zero Driver (9°)
Fairway: Callaway Epic Flash Sub Zero (13.5°)
Utility: Callaway X Forged UT (18°)
Irons: Callaway Apex MB (3-PW)
Wedges: Callaway MD4 (52°), Callaway Mack Daddy PM Grind (58°)
Putter: Odyssey Toulon Palm Beach
Ball: Callaway Chrome Soft X
Stay up-to-date: