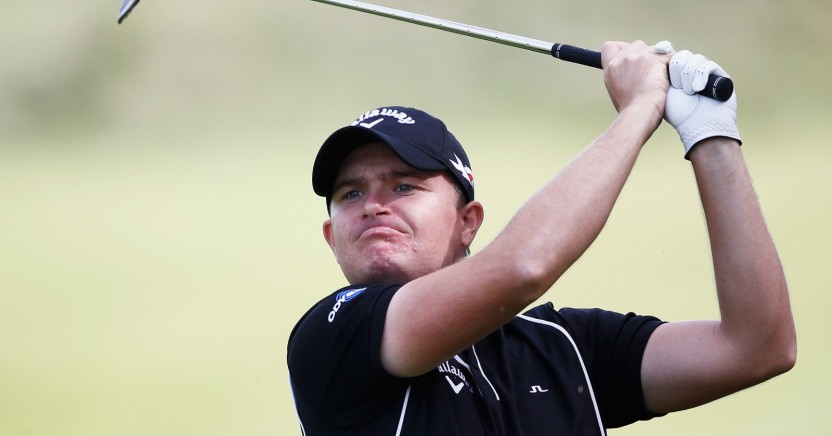 JAMES MORRISON

24 June 2015
Nick Bayly catches up with Surrey-based tour player James Morrison just a week after his stunning victory in the Spanish Open
Your last victory came at the Madeira Open in 2010, while you lost in a play-off for the Spanish Open that same year. You obviously have a taste for golf in Spain?
I guess so. The Spanish Open is always one of the best weeks of the year. It's always on a great golf course, with great crowds. I lost to Alvaro Quiros in a play-off in 2010 and now I've won it, and it will be dear to my heart forever. It feels amazing. It's been five years since my first win and I had a lot of chances in between. I just drew on my experience and got over the line. I ground out every single shot, and I tried my hardest. It shows that all my hard work is paying off, and it's nice to show everyone that I can do it. I've always believed in myself, and every time I've got in contention I've kind of semi‑faded away and still finished in the top-10s but kept learning. I very proud of myself that I'm learning every day, and I'm standing up to the plate and being counted.
Did you have time to celebrate in Spain?
No. I literally did a few interviews, jumped in the shower, got a taxi to the airport, and flew back home before going to Wentworth on the Tuesday. I had a glass of wine with family and friends that week, but I couldn't call it a celebration as such. Hopefully I'll have time to reflect on it when I get some time off after the Nordea Masters, but it's a busy time of the year, so there's really not much time to sit around patting yourself on the back!
You played the last round in Spain with David Howell, a fellow St George's Hill member. What was it like having him breathing down your neck?
David's a good friend and a great competitor, and I knew he would keep the pressure up on me, so in many ways it was good that I was paired with someone like him, rather than a rookie or someone else who I didn't know well, as I knew he would be on my case. We traded pars early on, and then I managed to chip in from off the green on the fifth and that got me going; and then David dropped a couple and I had a bit of daylight. I played really steadily on the back nine; the wind was up and the conditions were really difficult to make a charge, so I knew that it would take a brilliant round to peg me back.
During your post-round press conference you talked about 'sticking to your processes' during the final round, what does that mean?
It's nothing technical – it's more about the old clichés of taking each shot as it comes, forgetting what's gone before, and staying focused on the shot in front of you. I used to get a bit frustrated with poor shots and let them bother me, but I've been working hard with my mental coach to look for the positives and concentrate on focusing on what I can control, rather than what I can't. Small things really, but they've really helped.
Did you look at the scoreboards around the course during the final round?
A lot of players in contention say that they don't look at leaderboards, which I often think is rubbish, but I genuinely tried to avoid looking at any scoreboards through the round, even to the point of looking down or in the opposite direction. I only knew my lead was three when I reached the 17th.
What did it feel like to stand on the 18th tee with a three-shot lead?
My immediate thought was that I wanted to make it four. I had a figure of 10 under par in my mind as a target to reach, so I needed a birdie to achieve that. My caddie went off to get some water while we were standing on the tee, and I pulled out the driver and left it by the bag, so when he came back he knew that was what I had in mind. I had hit driver all week, and didn't want to change that routine.
Your drove the ball superbly all week and putted brilliantly. Is that made the difference that week?
No one putts badly and wins a tournament, but it did all seem to come together. Although my results hadn't really shown it – five missed cuts in the last three months – I felt that I had been doing the right things. I had an okay season last year [88th in the money list], finished fourth in Africa in December, and then sixth in Abu Dhabi, and felt that I was playing better than my scores were showing. So for me it was just a case of staying patient and keeping on looking to find those extra few percentages. I'm certainly driving the ball better than I've done for a while – I reckon I'm at last 20-30 yards longer off the tee than I was 18 months ago, which is partly down to improved physical fitness and new equipment.
You had a long list of people to thank after your win. Who else is in Team Morrison?
My caddy is Martin Seddon. He's been on the bag for the last two seasons and we work really well together. My coach is Hugh Marr. He's got an academy at Reigate Hill, but I do my practice sessions with him at The Wisley. I'm attached to St George's Hill, but the practice facilities at The Wisley are great. There are quite a few tour players up there now, so it kind of drives you on seeing what the other players are up to. I play a few practice rounds there with Ross Fisher, who's a good friend. It's good to get in some properly competitive practice rounds – although he always seems to take the money! My mental coach is Lee Cromblehome. I started working with him at the Scottish Open last year, and he's really helped me get the most out of myself.
Are you one of the gym bunnies on tour?
Not exactly. I knew the physical side was one area that I was needed to work on, so I spend about six hours a week in the gym working on my fitness. I've had Crohn's Disease since I was 16, which affects the digestive system, so I've had to manage that and plan my diet accordingly. Touch wood, I've had no issues for a while now, and I've been working with a personal trainer, Justin Buckthorp, to really knuckle down on my diet. I'm not quite there yet, but we're getting there. Justin works with Justin Rose, who has been a great role model for me. Rosey literally leaves stone unturned in the quest to improve, and if I'm to get to the next level, I have to have a similar mentality. Everyone on tour is so good these days that you need to be doing that much more in order to keep up. It's gaining those little advantages off the course that I haven't done in the past that will hopefully take me there, and diet and fitness is all part of it.
Did playing well in the BMW PGA Championship on the back of the win give you confidence that you can keep the momentum going?
Definitely. With or without the win, the BMW is one of the biggest weeks of the year on the European Tour, and a good finish there can really turn your season around. There were obviously a few hangovers from the previous week – not literally – but it was great to come to the tour's biggest event on the back of a win and play as well as I did. After winning a tournament, it generally kind of goes one of two ways for most players – you either keep playing well for a few weeks or you sit back and relax and don't turn up another month or so. My main aim was to get back to work as quickly as possible and almost pretend like it never happened. On the flip side, it was great to come back to England, and to a venue like Wentworth, and have so many players and friends come up and congratulate me. It made it all sink in that much more.
Did your friends turn out in force at Wentworth?
It's always good to see friends and family at events, although sometimes it can work against you, as you slip out of the normal routines, especially when you're staying at home. For instance, we had a power cut at home after the first round, and we no electricity for 24 hours. I had to have a cold shower in the morning. It's a hard process really to be at home because when you're away so much, you want to be in your own hotel room and you've got your own routine.
So all things considered, you have must have been pleased with your 11th place finish?
Yeah. A top 10 or so is always a good result any week, but even more so a tournament as strong as the PGA. Apart from the third round 75, it was a really good week, and sets me up a for a good run.
Now that you're ranked 25th in the Race to Dubai, have you reassessed your goals for the rest of the season?
I'm not setting myself any overly ambitious targets. If I can get into the top 20 in the Race to Dubai rankings I'll earn automatic qualification for The Open – so that's clearly a priority. Everyone wants to play in The Open, especially one at St Andrews, so that's going to be a main aim. Other than that, if I can break into the world's top 100 by August I'll get into the US PGA Championship – so they're both short-term things to aim for.
How has having a family changed your life on tour?
It's been great. While Finlay is still young enough – he's three this month – he and Jessica have been travelling with me to some of the European-based events, which is great to take your mind off a bad round. It's a cliché, but having a family shows that there's more to life than golf, and it helps you stop worrying about missed putts and such like – although it comes with the added responsibility of having some extra mouths to feed!
Stay up-to-date: