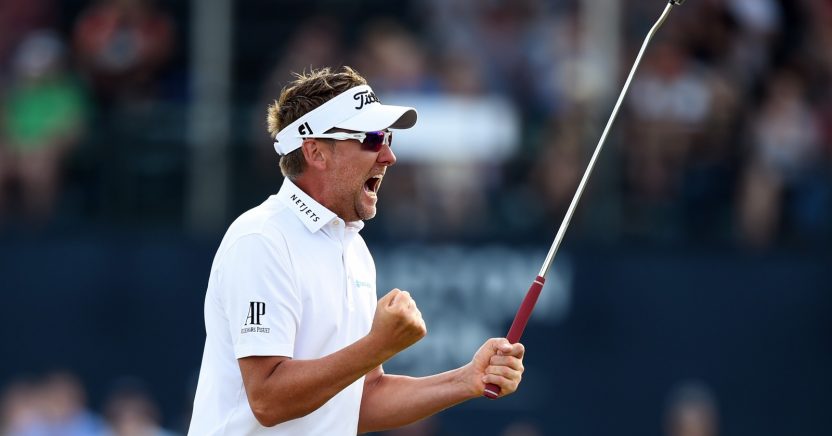 IAN POULTER

21 May 2018
Ian Poulter might be entering the twilight of his career, but after winning his first PGA Tour stroke play event to move back into the world's top 35, the 42 year old certainly won't be going quietly into the night when there's a Ryder Cup to be regained
You write Ian James Poulter off at your peril. After suffering a heavy defeat in his quarter-final match in March's WGC Dell-World Match Play (a victory at which would have secured him an invitation to the Masters), IJP's critics – and there are many – were preparing to dump his career back in the file reserved for 'players whose star burned a shade or two brighter than the sum of their actual achievements'.
But then back he came. In the depths of despair, after narrowly missing out on securing a place in the season's opening Major, Poulter arrived at the Houston Open knowing that only a win would be good enough to chalk up his 13th appearance at Augusta in the last 14 years.
And blow me down with a feather, he only bloody well went and did it. Shrugging off all the Twitter haters who labeled him a 'bottler', along with some other unprintable names, Poults laid it down to them, and the rest of field, to enter the final round vying for the lead, following rounds of 73, 64 and 65.
Holding a narrow lead at the turn, after four birdies in eight holes, his hopes of teeing it up at Augusta alongside Tiger et al soon appeared to be crumbling under an onslaught from little known Texan Beau Hossler, who birdied four holes on the back nine to set the clubhouse lead on 19 under. 
After been marooned on 18 under par for seven holes, Poulter arrived at the 18th needing a birdie to force a play-off with Hossler, with the Twitteratti once again poised to unleash their venom. Only this time Poulter refused to go quietly. And in the style that European Ryder Cup fans have come all too used to seeing over the last decade or so, the former Hertfordshire club pro nailed a 25-foot putt to force extra holes. With a clenched fist thumping his chest like a gorilla on heat, this was Poulter at his irrepressible best. Even those who have found his peacock strutting hard to stomach over the years, found themselves willing on this most Marmite of golfers to finish the job.
And finish it he did. Nailing a drive down the middle of the fairway at the first extra hole, Poulter watched on as Hossler put his approach into the greenside bunker. Sensing blood, Poulter, the winner of 16 previous professional titles, stepped up to his second and hit a 5-iron to within 25 feet of the flag for a certain par. Hossler – without a win, and looking tense – thinned his bunker shot into the water, and that was that. One of the game's greatest match play performers had done it again, and the naysayers were left to choke on their words one more time.
It was redemption of a sort for the man who started the 2016/17 PGA Tour season on a medical exemption, following a foot injury, and only kept his card after a miscalculation in the points scoring system earned him a late call up for the Players Championship, where he went on to finish second and secure his playing rights for this season.
Teeing it up at Augusta last month, a not surprisingly weary Poulter performed well enough to make the cut, although the fact that he finished 44th, seven places below Tiger Woods, with whom he was paired for the third round, will perhaps stick in the craw, given their shared – and well documented – history.
Woods and Poulter have history with a capital H. For it was Poulter who infamously laid down his professional credentials in such candid, if somewhat ludicrous, terms, almost a decade ago. "The trouble is, I don't rate anyone else," the Englishman said in an unguarded moment, while giving an interview to a UK golf writer who probably couldn't believe his luck. "Don't get me wrong, I really respect every professional golfer," he went on. "But I know I haven't played to my full potential and when that happens, it will be just me and Tiger."
Taken out of context, the level of abuse aimed at Poulter for the comment was unfair. The prospect of pursuing Woods – Poulter, remember, was a five-handicap player more accustomed to selling chocolate bars than competing with leading amateurs when he turned professional – would provide him with deep motivation. He was merely making this public.
"If people do play well over a period of two years, you can get to number two in the world. You can't reach Tiger," Poulter later explained. "It would be a dream to see Tiger and then me in the world rankings as you look down. What's wrong with that? Is it being rude? Is it being disrespectful to everybody else? I don't think so."
Woods might just have raised an eyebrow, as he had plenty more to concern himself with at the time, but Lee Westwood was known to have had great fun with Poulter's claims; he dubbed his fellow Englishman 'No 2'. Woods approved and was later to slap his pretender down in public. "Poulter is always right, isn't he?" said Woods after Poulter predicted he wouldn't finish in the top five of the 2011 Masters, when in fact the four-time Augusta champion tied for fourth.
There's more. In his book The Big Miss, a brilliant chronicle of his time coaching Woods, Hank Haney reflected on the time Poulter shared Woods's private jet back to Florida from a PGA Tour event. "Can you believe this dick mooched a ride on my plane?" read a Woods message to Haney. Poulter offered an entirely different version of events – via his own autobiography – but the sense remains of needle between the two players.
Not that Poulter is unused to getting abuse from fellow players, or indeed fans. Just last year, while in contention for the Players Championship title at Sawgrass, Poulter came in for some stick from an unlikely quarter. As he tried to chase down leader Si Woo Kim, he shanked his approach at the final hole, and had to make a walk of shame through the crowds to locate his ball and attempt a recovery shot. 
Faced with a 120-yard pitch from under the trees with a tiny gap to aim at, Poulter would have had to pull off a miraculous, Seve-style recovery in order to have had any hope of pitting pressure on Kim, who stood on the tee with a three-shot lead. While sizing up the shot, Poulter accidently bumped into a woman who was carry two glasses of beer – the contents of which, in the crush, ended up all over Poulter's face just as he was preparing to play one of the most important shots of his recent career. Not knowing whom she has just bumped in to, Poulter later recounted that the woman quickly apologised, saying 'I'm so sorry', before she realised who it was. "'No, I'm not sorry. It's you,' she said. 'I f****** hate you'."
Poulter, to his credit, quickly regathered his thoughts, and executed the shot to within an inch of perfection before calmly holing out for a remarkable par. "To hit a shot like that was probably the best response I could have delivered," he said. "It's a stupid game sometimes, isn't it?"
Stupid, indeed, but that anecdote says so much about Poulter's psyche. As does the fact that while the rest of us were worrying that he was on the brink of taking at least a double-bogey, thus hurtling down the top ten, then he had a completely different mindset.
"I honestly didn't think about anything else but holing it," he said afterwards. "Kim was on the 18th tee and I was playing my shot thinking: 'If I can put this in from here, there's going to be a huge roar, and he's going to hear it and might stick his drive into the water'. Well, it didn't quite happen. But I gave it a good go."
Of course, Poulter is all about giving it a go. He has been ever since he was a schoolboy when his teacher told him he had absolutely no chance of becoming a professional golfer. He heard the same when he was working in the pro shop at Jack O'Legs Golf Centre in Hitchin – which later became Chesfield Downs – selling Mars Bars and cans of coke. "Yeah, I do seem to like it when I'm written off," he says. "It gives me more motivation to actually go and do it; to be able say 'see, you were wrong about me'."
At the start of this season, many experts were drawing a line through Poulter's name, declaring that he would never grace the leaderboards again. He played just 13 events in 2016, because of a foot injury, and missed the Ryder Cup. Europe were without their talisman, and the talisman was seemingly without his reason for sporting existence. But not once did he think the odyssey could be ending. "Did I hell," he says. "Yeah, there were moments in January and February last year when I entered panic mode, because I didn't have forever to secure my playing privileges on the PGA Tour and, with my ranking down in the 150s, I was facing the prospect of missing all of the majors. But I still believed that I'd make it all the way back up there, and I still believe I will. Hard work fixes most things in my opinion. No one has given me anything for free in this game. No one gave me my Tour cards in Europe or the United States."
He continues: "I just get so fed up of people saying: 'Why are you acting like a flash git when your game has gone to pot? Yeah, I enjoy the trappings of success – the nice cars, the lovely house and attending big sporting events. But I've never lost sight of how that came about, and I never will."
Currently lying 26th in the world rankings, and just one place outside of automatic qualification in the world points list standings for the Ryder Cup team, the prospect of Poulter earning a remarkable sixth Ryder Cup appearance for Europe remains a distinct possibility. And if he should fall just short, it will be a cold-hearted captain – and Thomas Bjørn might well have ice running through his veins – that would deny Poulter the opportunity of having another pop at the Yanks.
Having won 13 out of a possible 18 points following his five appearances, Poulter has long been seen as Europe's Ryder Cup 'postman' – and with good reason. He has been on the winning side four times, only tasting defeat at Valhalla in 2008, where he came away with four points from a possible five – a score only matched by his performance at the Miracle at Medinah in 2012. His perfect singles record only ended in 2014 at Gleneagles when he halved his match with Webb Simpson.
After missing out on consideration for the 2016 matches at Hazeltine due to the aforementioned foot injury, only time will tell whether Ian Poulter has enough in the locker to make one last push for Paris, but there will be no-one – and I mean no-one – trying harder to make the captain's choice a hard one should a wildcard be required. 
Stay up-to-date: