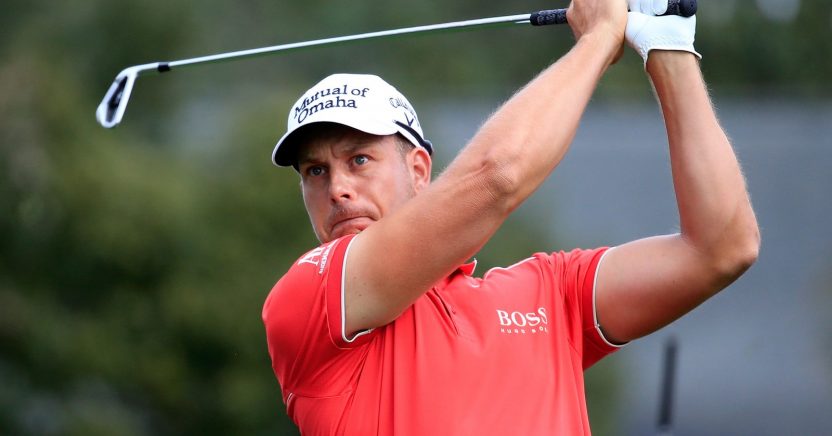 HENRIK STENSON

20 April 2016
Despite turning 40 this month, evergreen Henrik Stenson shows no sign of losing his competitive edge, as he seeks to secure a longed-for major and play a leading role in September's Ryder Cup
You underwent surgery on your right knee at the end last year. How's that holding up?
I had a keyhole surgery at the beginning of December. It all went well. The knee looks fine on the inside, but obviously it took some time to recover. I had the same operation on my left knee in 2011, so I know how long it takes to heal up properly. It was a challenge to get back to walking back then, and it was the same this time round. Initially it felt fine hitting balls, but just getting back to walking normally and putting it to the test of walking 18 holes five days in a row was the real challenge. I felt OK at the Desert Classic in Dubai, but it was perhaps wishful thinking to go from doing nothing for three weeks to walking for 10 days in a row, so I had to withdraw from the following week's event in Qatar. I'm still not a hundred percent, but it's good enough to play, and it doesn't hurt hitting shots, but it tends to seize up a little if I sit in the same position for too long, like when I'm driving a car. Hopefully, within three to six months it should be back to normal.
How would you sum up your performance in 2015?
Performance-wise, it was a very good year, especially as I didn't feel like I played to my full potential a lot of times, but I still managed to put myself in contention and have strong tournaments. But at the same time, it was a little disappointing not to leave that year with a win or two. But sometimes someone throws a 50-foot putt at you or a couple of them, and other times I didn't have the things go my way and missed one shot. In Boston, in particular, when I was going head-to-head with Rickie [Fowler] and I was in good position to win. Things didn't work out, and I dumped one in the water on the 70th hole and there was no time to recover. It was a little frustrating, but at the same time I take big positives when I managed to perform with what I felt like was not my best game. I just have to stay patient, and try and up that a little bit, and hopefully it will go my way this year.
What are your main targets for 2016?
We've got a big, exciting year ahead of us – a lot of golf to be played and a lot of big events. On my wish list, of course, is to be challenging and hopefully winning a major championship, but the Ryder Cup is also very high up on that list, and playing in the Olympics is also a priority, and giving myself a chance to do well there. It's always special when you play the Ryder Cup – you represent your continent, and in the Olympics, you represent your country. It will be an incredible honour to play for Sweden, and I hope I can do myself justice.
Which would you rather win, a gold medal in the Olympics or a major championship?
That's a simple question, but a difficult one to answer. I'd obviously take both, but in an either/or situation, it would have to be a major. I think the Olympics is still new for us, and we're not quite sure how it's going to pan out, and how it's going to feel to play there. I'm very excited about it, as I haven't been to an Olympic Games before – so it's going to be great experience, but I guess if I had to choose, I might take a major championship by a couple of per cent, as it's something I've been chasing my whole career. However, if I win the gold medal, I might tell you differently!
Staying on that theme, would you rather finish third in The Open or win a bronze medal?
I'll take the bronze medal. It's something a little more tangible to show for your efforts, rather than just some more prize money.
If there was one athlete or sportsperson you could meet in the Olympic Village in Rio, who would it be?
It would be kind of neat to sit down and have lunch with Usain Bolt. It would probably be a quick lunch though, as he does everything quickly and we golfers are used to having to eat fast between rounds, so it might be a tight race between us!
Given that it's such a packed season, how much have you had to re-jig your normal schedule to ensure you remain fresh?
There are one or two tournaments that I would normally have played that I've had to take out this year, especially around the summer. I've got the Open Championship, then a week off, the PGA Championship, a week off, and then it's the Olympics, another week off, the FedEx Cup – it's a lot of stopping and starting. I feel like it's a little bit tougher to get a good rhythm to the schedule, but at the same time, I've got a few more periods in the springtime where I've got longer breaks, and I can be at home and working hard at my game to be ready when it matters.
With four members of the world's top five under 30, do you feel a bit old now at 40?
Definitely not. Well, the body certainly starts to feel it, I guess, but in my mind I'm still probably somewhere mentally between 15 and 18, and I'll try and stay that way for as long as I can. You never really grow up – you just learn how to act your age in public. Of course, it's normal in every sport for new, younger players to come into the game, although it seems that each new generation seems to get better at an earlier age. The new players have all this new technology that we never had when I was starting it out, which helps in some way. I'm still competitive, and I've still got things I want to achieve in the game, but I'm also aware that it has to happen in the next three or four years – I'm pretty certain of that. But I don't feel old, no.
There are clearly going to be some new, younger faces in the European Ryder Cup team. Will you be acting as a mentor to these younger guys?
I'm sure we're going to get two or three new faces on the team, absolutely. I think it's good. We have some talent coming up, and hopefully they can keep on becoming better and better players. And also as they progress, they can get the experience of playing more in the majors and World Golf Championships, and play a bit in America at times and strengthen up, because we're not going to be around forever. It's going to be a challenge at Hazeltine, but I'm sure we will be up to it.
Is the Ryder Cup captaincy a role you'd like to do at some point in your career?
I certainly wouldn't turn it down, and it's definitely something I'd like to do. The way things are going, you need to serve as a vice captain before being given the main job, so we'll see how things pan out. There are still a few more Ryder Cups that I'd like to play in.
You lived in Dubai for a long stretch of your career, and now you're based in Florida. What were the main benefits of basing yourself in these places?
Well, I was based in Dubai for just over ten years, from the early 2000s until 2012, something like that. In those days I played mainly on the European Tour, so I was playing in all those tournaments on the Desert Swing, as well as those in the Far East and Australia, so Dubai was pretty much at the centre of it all and was the obvious place to be. And during the wintertime, conditions out there were perfect for practice – 75 degrees, clear blue skies and excellent practice facilities. It was very convenient to be there and I felt to keep my game at a high level I wanted to be somewhere where I could practice all the way through the winter. Sweden was certainly not an option.
Now that I'm playing more on the PGA Tour, it was just an obvious move to come out to Florida. The weather is pretty much the same as it was in Dubai over the winter, and it's perfectly placed for travelling to the West Coast or over to Europe, and again, the practice facilities in and around Orlando is second to none. I've been there three or four years now, the kids are settled in schools, and we're all very happy. 
Stay up-to-date: