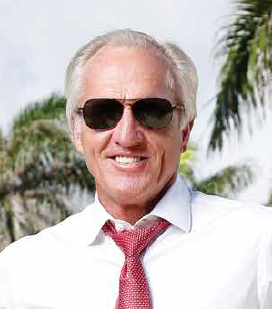 GREG NORMAN

14 December 2015
He may be entering his seventh decade, but Greg Norman is still a force to be reckoned within the global golf business, as Jeremy Ellwood discovered when he met the formidable dual Open champion at one of his favourite design projects, Sandals Emerald Bay in the Bahamas
Did turning 60 bother you at all?
It's a cliché, but age is just a number to me. I feel fitter than I did when I was 40, and I'm not just saying that, the cardio figures tell me that I am. So turning 60 not something I dwelt on. I'm in a happier place than I've ever been, the businesses are doing well, and I'm feeling great.
Are you glad you played in the era when you did, or would you like to be mixing it on tour with Jordan and Rory et al?
A lot of the fun comes from being around other players, which has gone now, because they all go off in their own planes once the tournament is over. We didn't have private aircraft back then. We got together, three or four or five guys, we'd play backgammon on the train or in the airport, drinking a couple of beers waiting for the next flight. Or you'd rent a car and drive somewhere. When I was fortunate enough to get a plane, I gave guys a lift. That's what I really loved about the behind-the-scenes part of our sport. Now a lot of the top guys call up NetJets and it's 'See you next Tuesday on the practice range'.
If you'd had today's technology in your heyday would it have changed the way you played?
If I was 25, and playing with today's equipment, I'd still be long and be hitting driver all the time, too. When I was in my heyday, being one of longest, straightest drivers allowed me to be aggressive on every course. And I had a good short game, so those two things together meant that my iron play didn't really matter. I attacked every pin because 90% of the time I knew that if I missed the flag on the short side, I could get up and down. Today, the courses are set up differently and the length of these guys means they can hit it 350 yards, be in the rough, and come out with a wedge rather than a 5-iron, which makes it a bit different.
Just how much has equipment changed the game?
They did a TV series called Big Break a while ago here at Emerald Bay, and I did a test while I was there. I brought my old persimmon MacGregor driver, which I used on tour for 15 years, and hit a balata ball and one of the current balls, because they wanted to see the difference in performance. I hit both with my old MacGregor and the difference was something like 50 yards – so there's your answer, and that doesn't even take into consideration using a modern driver.
Were you really into equipment when you played?
I made all my own clubs. I would do all of my own whipping and shafting. For me to play professional golf, I had to pass the club pros' exams and that involved making clubs. I ground my own hosels, and got the heel how I liked it. I still have a couple of clubs from my original Spalding days when I'd actually go into the factory to grind them. I used to love it. I still have my old two-inch belt grinder at home and the big metal-wheel grinder. You've got to keep those!
What was it like playing with Seve in both your primes?
Seve had to work extremely hard on his driving. When you start dropping down here [demonstrates Seve's swing], all of a sudden you're dropping further and further and the club is getting way in behind you. That's when you get that big snap hook. It was truly ugly to watch. He, and maybe Ian Baker-Finch, were two of the worst drivers I've ever seen! You'd get off the course and think he'd shot 80, but he'd actually shot 68 or 69, and you'd think, 'How the hell did you do that?' Seve would be all over the place, but would average two chip-ins a round.
Was it frustrating getting beaten by him?
Yeah, it was, but it also taught you to play your own game, and not watch what other players are doing!
When you entered the back nine at Birkdale in 2008 still in the lead, did you think you could win The Open again?
Absolutely. You know what killed me there? I had to sit down and wait 15 minutes for my tee-shot at 10. We had nowhere to go, so we sat down on one of those huts and it was so exposed. I think that killed my concentration more than anything else, even though you should get used to it. But I hadn't been playing a lot of golf.
How much of a surprise was that week?
You have to remember I wasn't going over there and saddling up thinking I could win. As a matter of fact, the week before I was up at Skibo Castle – I always went there to practise – but it was rainy and cold and I actually said, 'I think I'm going to withdraw next week.' I hadn't had time to practise and wasn't in the mood for it. But when I got there on Monday, I actually thought I was going to have a good chance because the weather was going to be horrendous. So I just stuck with my game plan, and putted well too for some crazy reason, having not practised.
Is it only a matter of time before a 50-something wins the Open?
Yeah, technology is on their side now. An over-50 could never win Augusta, because they play that thing too long, and the greens get way too fast. At The Open, 11.5 on the Stimpmeter is still quick, but when it gets up to 14, the 50-plus guys have a hard time with that. But yes, I can see it happening on a hard, fast golf course.
Earlier this year you accused some tour pros of not being ambitious enough. Do you stand by that comment?
I do. Most Tour pros don't really want to reach the top, not down deep, not in a sport where 20th place can pay six figures. Certain players are happy just going through the motions. They don't want to be the leader – they would rather be sheep. They enjoy grazing in the field and getting fat. In 1986, I became the first player to win $1 million in a season. Some of the guys thought it was crazy money, but now you get $1 million for winning a run-of-the-mill tour event. 'Crazy' is relative, but the Tour's prize money structure is set up to let even halfway decent players make a comfortable living. That was never my style. I saw endorsements, branding and business opportunities as the real trophies, not titles and prize money – and you can only get them when you're at the very top.
Jason Day is on record as saying he wants to be the best in the world. Is that an Aussie trait or just part of his character?
To say that you want to be the best in the world is a big statement to make to yourself, let alone to say it publicly. But if by saying it out loud provides the motivation for him to go out and do that, then fair play to him. He's certainly got the talent to do so.
Do you have high hopes for golf's Olympic return in 2016?
My hope is that it's successful in the eyes of the IOC, so they vote it back in again. What I'm afraid of is that they've chosen the wrong country to bring golf back in to. I wish it could have been in Australia or England or the US. The format's the right format – 72-hole stroke play – but it's spread out over two weeks, which is going to be hard. The cost of televising it is way more than any other sport in the Olympics, because you need to televise 18 holes, so NBC is going to have to have more cameras there. You've got to have the broadcasting team there for two weeks, plus the production team, so the cost to the IOC of putting on golf for two weeks is going to be very expensive.
What's your best advice to amateurs trying to improve?
Stay within your limitations. I think amateurs try to get 100% out of every shot. Quite honestly, the best players in the world, we never get 100% out of every shot. We probably play within 75-80% of our capabilities. We're always playing for our misses – so we're always saying, 'Now, if I'm going to mishit this shot…' Amateurs don't think like that, but that's how you should play – you have to map it out. I'd rather be 30ft below the hole here, for example, than 10ft above the hole over there.
What do you think of the anchored putting ban?
I think it's great news. I always hated it when I first saw players doing it back in the late 1980s. The golf swing is not a hinged swing – the golf swing is a swing. So I think it's a very positive move.
What do you think golf clubs should be doing to attract youngsters to the game?
Many clubs need to shift their whole attitude towards kids. They need to shake up their dress codes and their whole attitudes to how today's kids behave and interact with each other. If a kid wants to get in a golf cart and play music on their phone while they're playing, let them do it, absolutely. The traditionalists will say you can't do that. But if you want your club to survive, if you don't want the burden of maintaining it out of your own pocket, you have to bring in youth. If someone wants to play nine holes, fine – but let the son play with his father with his headphones on. Let them dress a little bit differently. Where's the harm in that?
You've built up a successful course design and clothing business, are there any other areas of business you'd like to move into?
Last year I launched the Great White Shark Opportunity Fund, an asset-based financing company that helps small businesses. I never imagined doing such a thing, but with some of the things going on economically throughout the world, we saw an opportunity. I could have left it alone, but opportunity may not always be there. You have to at least consider ideas when they come across your desk.
My goal is to grow my brand on a global basis. I'm a fan of what Ralph Lauren has done with Polo and the horse logo. He built a brand, and then pushed it in every direction. Lauren thinks vertically, and that's what I'm trying to do. My course design business holds the key. When someone comes to me with millions of dollars to design a course as part of a property development or resort, I know I can leverage it by, say, stocking the cellars with my wine, the pro shop with Greg Norman Collection clothing, the kitchen with my Greg Norman Australian Prime steaks. They're already investing in the value of my brand, so why not add some scale to it? I think it's a great model, and with 70 designs under my belt, so far so good.
Jeremy Ellwood was a guest at Emerald's Bay Resort in Grand Exuma, Bahamas, a 500-acre luxury ocean-front resort that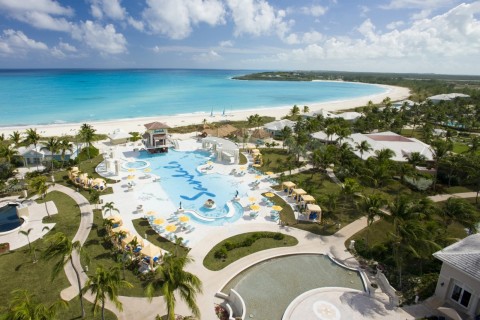 boasts an 18-hole Greg Norman designed course, 250 rooms and suites, a spa, seven restaurants and six bars. For the latest packages and more details visit www.sandals.co.uk
Stay up-to-date: