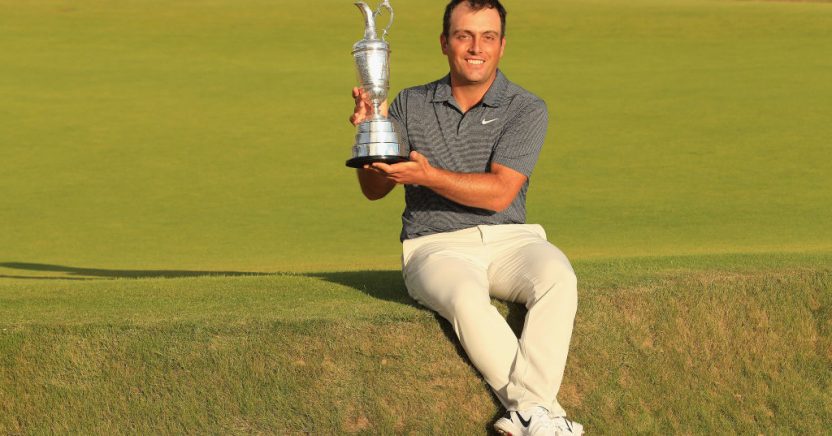 FRANCESCO MOLINARI

25 July 2018
After capturing his – and Italy's – first major championship, the world is at the feet of the softly-spoken FRANCESCO MOLINARI, who tamed golf's toughest links course, and a Tiger, en route to Claret Jug glory at Carnoustie
You arrived at the Open in great form, how confident were you that you could translate that to a major championship, and at a course like Carnoustie?
I knew I was coming into the tournament having played some good golf this summer, but my record around Carnoustie was terrible, so that didn't make me too optimistic about my chances of winning. But I just tried to not think about that and focus on hitting good shots hole-byhole and day-by-day. I felt ready for the challenge and that I had the mental strength to cope with whatever the week threw at me.
What is your overriding emotion at having won the Open and become the first Italian to win a major?
Amazement and relief. When you look at the names on the Claret Jug, it's just amazing to stand here and see my name up alongside them. What can I say? I'm so proud to be the first man from Italy to win a major. And being called 'Champion Golfer of the Year' sounds pretty cool, too.
How do you think your success will be received in Italy?
I'm not sure me winning the Open will make up for Italy failing to qualify for the World Cup, to be honest, but hopefully it will raise my profile a little bit. My recent run of form has been big news back home in Italy, but to achieve something like this is on another level.
Hopefully, there will have been a lot of young kids watching on TV, like I was watching Costantino [Rocca] in 1995, when he came so close to winning against John Daly at St Andrews. And hopefully it will inspire them to take up the game, or believe that through hard work they can also achieve great things in whatever sport, be it golf or whatever, or any other line of work that they chose to follow.
Given the windy conditions during the final round, what was your game plan?
Having looked at the forecast the night before I knew it was going to be blowy and that I'd need to adapt to the changing conditions. It was never going to be a day about making lots of birdies and eagles, for me it was all about cutting out bogeys and making lots of pars. I was three shots behind the leaders starting out on the final round, so I knew that it was going to be tough to catch so many players, but I just tried to do my own thing, and not focus too much on what others were doing behind or ahead of me.
I was conscious of trying not be too aggressive, and play the percentages, but to go the whole weekend bogey-free was unthinkable, to be honest. I think I managed my game pretty well, hitting the fairways and the right spots on the greens, and staying out of the bunkers. That really was the key, as those bunkers were very punishing. I'm proud of the way my game stood up under the pressure.
What effect did playing with Tiger Woods in the last round have on you?
Playing with Tiger was another challenge because of the crowds and everything, but I felt really calm before we teed off, and tried not to get caught up in all the excitement around him. It wasn't like it was a match play situation, as there were so many other players in contention, so I wasn't trying to match him shot for shot. Whereas in the past I have been guilty of focusing too much on what the other guys are doing, this week I really felt in control of my own game and kind of blocked out what was going on around me. That comes with experience, I guess.
You've been working with Dave Aldred, one of the UK's foremost sports coaches, in recent years. Can you describe what the impact of working with him has been on your game?
Dave has been a great addition to the team. He's probably a personality and a figure that I was missing, and the whole team was missing. So I think he has pushed us all a little bit more. You can see the results, the difference that he's made. He's worked on a lot of things mentally, on my game, on my short game, on my long game.
Before he came in, I felt my practice lacked a bit of direction. I have a really good swing coach in Denis Pugh, a great fitness guy in Rob [Goldup] and Pello [Iguaran Valle] my caddie, but there was probably a missing link between swinging well and scoring well. Dave filled that gap and I can't really thank him enough.
What else do you think has been the key to your success in recent months?
I worked out a long time ago that I needed to play to my strengths to succeed on tour. Although I'm not a short hitter off the tee, I've never been that long, so if you can't be long, you need to be accurate, and have good course management. So I don't try to hit the ball too hard. It is better for me to be further back in the fairway than further up in the rough, so I work hard on finding the right line from each tee. I try to focus on a really small target. In golf, you need to make the margin of error as wide as you possibly can, and the best way of doing this is to aim for a specific spot, rather than a general area. Other than that, like I said, I've worked really hard on my short game, and that seems to have paid off.
How good does it feel to have nailed down your Ryder Cup qualification?
Just a few months ago I was too far back in the standings to be seriously thinking about it, so now it feels great to potentially be in the team. Paris National is a course I love, and where I have a pretty good record, so I'd love to be there, and hope I can bring something to the team.
You're going to be 40 when Italy hosts the Ryder Cup in 2022. How hopeful are you that you might be there as a player rather than in some other capacity?
I would say having Italy as the host nation almost doubles my motivation to be there. I need to make sure I stay in good shape, and keep my game in good order, then you never know, I might surprise a few people! It would be obviously amazing to be part of it as a player, but otherwise
it would be incredible to be part of it in any other capacity. I played the course at Marco Simone a fair few years ago now, but it's a really good design, a parkland course. It's a solid track and I'm sure it'll be a great challenge for all of the players once the redesign is complete. It's a great chance for Italy and for the Ryder Cup to showcase Rome as one of the great European cities.
FRANCESCO MOLINARI'S WINNING BAG
DRIVER: TAYLORMADE M4 (8.5)
FAIRWAY WOODS: TAYLORMADE M3 (13)
IRONS: TAYLORMADE P790 UDI (3), TAYLORMADE P790 (4), P750 (5-PW)
WEDGES: TAYLORMADE MILLED GRIND (50, 56), HI-TOE (60)
PUTTER: BETTINARDI DASS BB0
BALL: TITLEIST PRO V1X
Stay up-to-date: