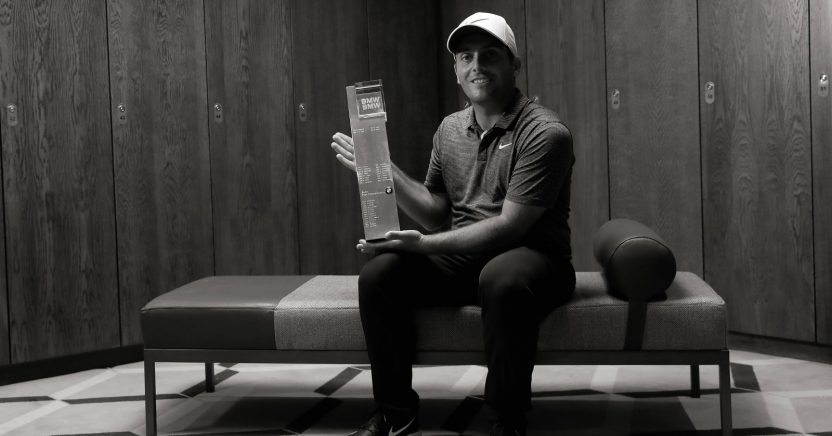 FRANCESCO MOLINARI

19 June 2018
Golf News catches up with FRANCESCO MOLINARI following the biggest win of his career at the BMW PGA Championship at Wentworth
You certainly served your apprenticeship at the BMW PGA Championship, having had six top-10 finishes, so did you feel like you were overdue a win?
No, it never felt like I was due one, or deserved one, but it was great to come out on top. Obviously, I've been close a few times, especially last year, so it was great to finally get it done. To be honest, when I saw that I was five shots behind Rory [McIlroy] after two days, I thought it was going to be really tough to catch him, but the wind getting up on Saturday probably helped me, and I played really solidly on Sunday, and had just enough in reserve to get me over the line.
What is it about Wentworth that brings out the best in you?
I just love playing the West Course. Clearly it suits my eye, and I just enjoy the atmosphere. The crowds are always great. It is a challenging course, but I think if you hit good shots, you can make a few birdies here and there. It rewards good shot making, and punishes bad, which isn't the case with all the courses we play on tour.
What do you think is the strongest part of your game?
I don't know, I think I do most things pretty well. I don't want to sound too arrogant, but when I play like this, I think I do everything well. My chipping was good; my putting was good; I hit some great iron shots. Obviously, you miss some putts in 72-hole tournaments, but I think I showed over the course of the week that when my game is on, I can do pretty much everything as well as the top guys in the world.
What was going through your mind when Rory's eagle putt was heading towards the hole on the last green?
You don't want to know! Well, obviously I was hoping he'd miss it, because I really didn't fancy a six or seven-footer to win it after all the hard work that had gone before. But that's the way the closing holes at Wentworth are set up – no lead can be big enough when you've got two par fives to finish. I tried to stay aggressive up until the 16th, and from there it was simply about making pars. Once I hit my tee shot into the rough on 17, it was always a lay-up, and I didn't get the wedge close enough to have a proper chance. And at 18 I was just trying to make five. I thought if I make five, hopefully he's not going to make two and tie me. I didn't hit a great lay-up, leaving myself right in between clubs. I didn't want to go long with the flag where it was, so I got a bit lucky when my ball stayed on the front of the green. Thankfully, I walked off with the five, which is what I set out to do. 
How proud are you of the way you kept it together on the back nine? 
I was proud of the way I kept focusing on my own game, hitting good shots, staying patient, and playing the same quality of golf that I played pretty much all week. It could have turned into sort of a match play situation, but I never let myself think about it in those terms, and played each shot on its merits, rather than worrying about what Rory was doing.
It's never easy when you have to defend the lead, and, obviously, Rory could play pretty much free of any pressure, because he just wanted to win and to come at me. So it was tough in the end. I felt like I was in control probably up until 15, 16, and then, over the last two holes, it was more about digging in than anything else.
I'm not the best match play golfer out there, but I'm not that bad either. I certainly didn't feel intimidated by Rory. Sometimes I just get too drawn into what the other guy is doing, but that wasn't the case this time. 
How pleased are you to have made so few mistakes on what can be a very punishing course when you get out of position?
I think the last bogey I made was at the 10th hole of the second round. So to play 45-odd holes without a bogey around the West Course is impressive, even by my high standards. I'm joking, of course, but when the wind is swirling and the greens are firm, it's not easy to keep a bogey off the card.
Have you allowed yourself to think about possible Ryder Cup qualification?
Before the win I was too far back in the standings to be seriously thinking about it, but Paris National is a course I love, and where I have almost as good a record as I have at Wentworth, so I'd love to be there. But there's a lot of great players fighting for places. I've obviously put myself in a much better position, but we'll have to see. To be honest, the Ryder Cup has not been uppermost in my thoughts this season. Trying to play well on both tours is challenging enough, without having to worry about the Ryder Cup. I just need to keep doing my own thingm and hopefully things will take care of themselves before October.
You're going to be 40 when Italy hosts the Ryder Cup in 2022. How hopeful are you that you might be there as a player rather than in some official capacity?
I would say having Italy as the host nation almost doubles my motivation to be there. I need to make sure I stay in good shape, and keep my game in good order, then, you never know, I might surprise a few people! It would be obviously amazing to be part of it as a player, but otherwise it would be incredible to be part of it in any other capacity. I played the course at Marco Simone a fair few years ago now, but it's a really good design, a parkland course. It's a solid track, and I'm sure it'll be a great challenge for all of the players once the redesign is complete. It's a great chance for Italy and for the Ryder Cup to showcase Rome as one of the great European cities.
Stay up-to-date: