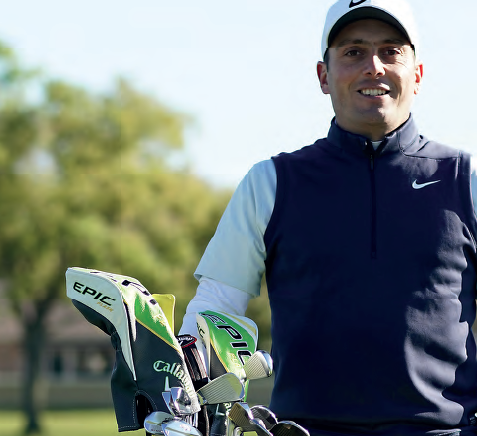 FRANCESCO MOLINARI

11 March 2019
Francesco Molinari's brilliant 2018 season, the highlight  of which was a stunning victory at The Open Championship, was achieved through sheer hard work and a dedicated team of coaches who have brought out the very best in their supremely talented pupil
How are you approaching the new season, given all that you achieved last year? What goals have you set?
I'm feeling great. Obviously, it's different to show up this year as the Race to Dubai champion, and a major champion, but I'll try to put up a good defense of those titles, and I'm looking forward to the season. I know it's not going to be easy to repeat, but it's a long season and I'm glad to finally get started, as I've had quite a bit of time off over the winter.
I think the only way to follow up last year is to focus on my own improvements, and try not to get too outcome-focused. We all know in golf there are a lot of good players, and the margins are very small, so I might play as well as last year but not win any tournaments. I need to be aware of that. I need to measure myself not so much on the wins, but on how I feel on the course, how I play, and that's going to be the goal for the season, to try and improve what I feel like I can still improve and maintain what I was doing well last year.
What do you think were the key factors behind your success last year and your all-round improvement?
There certainly wasn't any kind of magic wand, that's for sure. It's been a lot of hard work over a number of years from myself, and the team around me, and eventually it all came together.
I worked out a long time ago that I needed to play to my strengths to succeed on tour. Although I'm not a short hitter off the tee, I've never been that long, so if you can't be long, you need to be accurate, and have good course management. So I don't try to hit the ball too hard. It is better for me to be further back in the fairway than further up in the rough, so I work hard on finding the right line from each tee. I try to focus on a really small target. In golf, you need to make the margin of error as wide as you possibly can, and the best way of doing this is to aim for a specific spot, rather than a general area. Other than that, like I said, I've worked really hard on all aspect of my game, especially my short game, and that seemed to pay off. 
You've definitely added some yardage to your long game in recent seasons. How have you achieved that, and how much has that helped you compete on the long courses you face on tour?
It's been a combination of physical and mental factors really, and it's certainly not happened overnight. Physically, I've been worked really hard with my strength and conditioning coach, Rob Goldup.
There's not too much science behind it – if you want to hit it longer, you need to be stronger, so I definitely spend a lot more time in the gym than I did ten years ago. It's about creating clubhead speed and for that you need muscles and you need flexibility. I've gained about 10mph in ball speed in the last couple of seasons, which has given me an extra 20 yards.
It's also been a mental challenge, as sometimes you tighten up when your staring down at a narrow fairway with a driver in your hand, and it's hard for your brain to let go and allow yourself to hit it as hard as you can, rather than just try and place it in the fairway. It's about trusting your swing and your process.
Your relationship with your swing coach, Denis Pugh, goes back a long way. Can you describe how he has helped you and your game?
Denis is by far the longest-serving member of my team. We started working together in 2003, when I was still only an amateur. He's been a massive influence over those 15 years, not only on my golf game, but also as a friend. He has helped me in so many different ways. Hopefully we can carry on together until the end of my career and we can both retire happily!
You've been working with Dave Aldred, one of the UK's foremost sports coaches in recent years. Can you describe what the impact of working with him has had on your game?
Dave has been a great addition to the team. He's probably a personality and a figure that I was missing, and the whole team was missing. So I think he has pushed us all a little bit more. You can see the results, the difference that he's made. He's worked on a lot of things mentally, and on all aspects of my game, especially my practice routine.
Before he came in, I felt my practice lacked a bit of direction, and one of Dave's main principles is to make practice less repetitive and more relevant to what I'm trying to do on the course under tournament conditions. Spending hours on the driving range hitting hundreds of golf balls is not the answer. Mentally it's not very challenging and your brain isn't really engaged. Dave introduced lots of drills, whether it be for putting, chipping or driving, where I have to complete a certain challenge and stay there until I do it.
Say, for instance, it might involve holing ten consecutive three-foot putts. Some days I might do it in ten putts, some days it might take a lot more, but it adds an element of competition to practice that is vital to stop it from becoming boring.
That takes care of the mechanics, but how do you cope with the pressure? You always look so calm on the golf course. Even when you were leading at The Open and during the Ryder Cup, you seemed to have this serenity about you. 
I think you can learn to cope with these situations if you're prepared for it. Of course, a weekend hacker probably isn't going to cope very well if he's leading The Open, but we, as pros, build through different stages of our career to get there, and, for me, the way to deal with it is to simply focus on my process and the things that I've prepared for at home, and not to get sucked into what is going on around you. I had to really do that when I was playing with Tiger at Carnoustie, as there was naturally a lot of excitement around him, and I just had to focus on doing my own thing.
In addition to winning the Race to Dubai, winning back the Ryder Cup in Paris obviously topped off a magical year for you. What was that week like, and what was it like being part of 'Moliwood'?
It may sound strange, given what else happened in 2018, but winning the Ryder Cup was the highlight of my season, and it was a week that I'll remember for the rest of my life – along with the other two Ryder Cups I've played in. There was an incredible atmosphere in the team room in Paris, and it was amazing to be a part of. Tommy and I had a lot of fun – the whole Moliwood thing was slightly surreal, but we seemed to just feed off each other as a partnership. It was great to get those points on the board for Europe.
You've put a whole new set of clubs in the bag for this season, and signed an equipment contract with Callaway. How have you settled into the new clubs?
I joined Callaway because I've been so impressed by all of its equipment. The ball speed gains that I'm getting from the Epic Flash driver are unbelievable, while the switch to the Chrome Soft X ball was also a really easy decision to make. The ball speed was up with the driver, while the performance from tee-to-green, especially the improved feel and control, is exactly what I want. Around the greens the Chrome Soft X felt a little bit softer than my previous ball, so it was a bit of a no-brainer for me. I've also got Odyssey's Toulon Madison putter in the bag, which features a new Stroke Lab shaft. It's really stable, and I'm getting more consistency in the rhythm and the tempo of my stroke, so hopefully that's a combination that's going to help me make a lot of big putts. 
You've announced plans to focus your schedule playing more on the PGA Tour this season. When will we see you back in Europe again?
If I learnt one thing last season, it is to be a bit flexible with the schedule when playing two tours. I would like to play the British Masters in May, especially with Tommy [Fleetwood] being the host, but it depends probably on the first couple of months of the season. The BMW PGA Championship at Wentworth always used to be the first tournament for me in Europe, but that tournament moving to September has kind of thrown things out a bit.
Stay up-to-date: