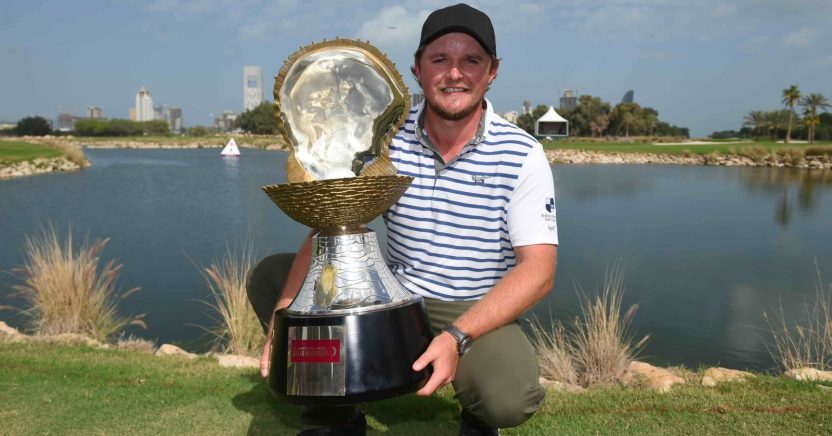 EDDIE PEPPERELL

10 December 2018
With a breakthrough win in Qatar, and a second career title at the British Masters, Oxfordshire's Eddie Pepperell has finally reached golf's top table – and he's quite enjoying the view. Nick Bayly went to meet him.
After six years on the European Tour, and plenty of excellent results, it's hard to describe this season as a breakthrough, but do you feel that this year has marked a significant turning point in your career?
Yes, of course. Breakthroughs don't necessarily have to involve a win, but in a game where you are often really only judged on your victories, it was definitely a breakthrough to win my first European Tour event in Qatar. And then winning again at the British Masters was another breakthrough of sorts. That moved me into the world's top 50, and the opportunities that comes with that, so yeah, it's definitely been a breakthrough season in terms of the level of my play and the results that have followed. Finishing second in the Scottish Open and sixth at The Open were also breakthroughs in my mind, given the quality of the fields, so it's been a very consistent season, as well as a winning one.
You've had a few chances to win since you joined the tour in 2011, but did you ever think that it would take this long to get your head in front?
To be honest, I didn't really have any expectations of how long it might or might not take. Obviously I had some good opportunities to win in 2014 and 2015, and then 2016 was a bit more of a struggle, but I've had some chances, but I wouldn't say I had a lot of great chances. So to actually go out to Qatar and win, going into the final round with a lead, was great.
Sometimes the margins are so fine between second, third and a win. It's tough to win out here, but it's also tough to be consistently a top-ten or top-five player. By and large I've achieved that quite well in my career, but I'd just never managed to win. In my mind, it didn't show that I wasn't a winner or I needed a breakthrough win. I'm just a consistent golfer and I knew my time would hopefully come, and now it has – twice.
What was your overriding emotion when the winning putt dropped in Qatar?
Pure relief was the main emotion, and I think that came across by my reaction. I certainly wasn't dancing around the green. When Ollie [Fisher] was over his putt, it ran through my mind that I had a play-off before and lost it. I won one on the Challenge Tour when Jeppe Huldahl holed a good putt on the last to force a play-off and I thought, 'this is going to a play-off here'. And then when Oli missed I thought 'my parents are going to be going metal', so there was a lot going on mentally before that tap-in. I didn't feel totally comfortable with my swing during the final round, so it was a bit of an ugly win and I'm quite proud of that.
Having got that first win under your belt, how pleasing was it to get the second ticked off just six months later at the British Masters?
I always felt that once I got that first one out of the way, I would be able to feed off that confidence and win again. To lead from the front for pretty much 72 holes was mentally very tough, and I was really pleased with the way I coped with that pressure. The final round was a real grind, with the wind and the rain, but I had just enough in the locker to see me home.  The crowds were great, and I certainly had a lot of support out there. I knew Walton Heath well from my junior days, and have twice qualified for the US Open there, so the course had good memories for me – and even better ones now.
Do you feel like you've done anything different this year?
Not really, it's just been about consistency. I changed my coach the week before Qatar – I'm working with a guy called Simon Shanks, which is admittedly not a great name for a coach, but he's definitely kept me more on the straight and narrow. I'm not a very technical player, but I'm a bit more consistent off the tee – mainly because I've often been hitting a 3-wood – but it's been all-round better. The key thing for me this year has been hitting good iron shots into the greens, as that means that I don't have to putt that well to score well, and when I do putt well I can pick up shots against the field.
It sounds like you're not the kind of person who sets too many goals, but how will you reassess things now that you're qualified for the majors and World Golf Championship events?
I think it's probably going to mean I'll get a better TV draw on Thursdays and Fridays, but it doesn't really mean too much in that sense, nothing has changed really – it's just that I'm now a winner, and that will lead to certain things. I'm hoping that now I've won two tournaments I won't be afraid to win again, and I'm definitely looking forward to doing that, and hopefully on a bigger stage. I've got no plans to join the PGA Tour or anything, but I'm looking forward to testing myself against the world's best players on a more regular basis. I'm certainly not setting goals for this year, next or 20 years ahead. I'm happy just rumbling on.
You've been on a bit of a health kick this year. How has that impacted on your play?
Yeah, I saw some pictures of myself at The Open on TV, and I thought that for a 27-year-old professional sportsman that I looked a little unwell. My energy levels at certain tournaments this year have been low, especially in hotter climates, so I wanted to lose some weight. I couldn't give up wine or chocolate, so I've basically cut out carbs – bread, potatoes, rice, pasta – and started eating more fatty foods – avocado, salmon, eggs and meat. I'm feeling a lot mentally brighter, and that's really helped my concentrations levels.
Can we talk about those dark days of 2016, when lost your tour card and had to win it back at qualifying school?
I said at the time that I didn't think what happened in Portugal  – losing my European Tour card – would define me as a player or a person, and that's just the way I see life. I don't react much to the lows and I don't react too much to the highs either really – sometimes I wish I did. I knew I was a talented golfer and you don't become a bad golfer overnight, or in the space of three months. I know I have got some ability, but for me it's about unlocking that and working with the right people and working on the right things. I've done that clearly in the last 18 months and been rewarded for it. There's every chance I could make another bad decision in six months time and fall off the face of the earth, that's just the nature of golf and that's just how difficult it is.
When did you first realise that professional golf might be a career route?
I wasn't smashing down doors as an amateur, but I won my fair share of tournaments, and beat some decent players, and, to be honest, once I turned 16 or 17, I didn't think I would do anything else other than play golf for a living. However, it wasn't until I turned pro that I realised how difficult it might be to earn a living from it, but it helped me knuckle down to the responsibility of becoming a better player.
I started out on the Challenge Tour in 2011, and then won in France in 2012, and that was the catalyst that got my career going. I won my European Tour card at the end of that season, and it's just been a steady, if not quite smooth, progression from there.
You had a bit of a reputation as a hot head when you were a youngster. How have you managed to curb that, and how much do you think that a fiery attitude is a help or a hindrance as a pro golfer?
Yeah, I did have a bit of a temper as a kid. I got banned form my club, Frilford Heath, for six months when I was a 15 when I damaged a green with my putter during the club championship after I'd missed a five-foot putt. My dad took a bit of stick from some members, who thought he needed to have a word with me, but I think he took the view that although it was completely the wrong thing to do, it showed that I cared and that I had a bit of competitive fight in me.
There are lots of players that have that intensity, people like Sergio [Garcia], Jon Rahm and Tyrell Hatton – not to criticise them in any way – but that's the kind of personalities they are, and that's how they play their best golf. Golf is a very frustrating game at all levels, and especially when you're playing for money, but I like to think that I've learned a bit of composure of the years, and although that anger is still within me, I kind of channel it in a more positive way.
You've garnered quite a big social media following with your blog and your Twitter feed. How important is all that to you?
It's hard to say really, but it's something I really enjoy, and although the blog isn't as regular as it first started out, I'm hoping that I will carry it on. It's funny in that it was much easier to write the blog when things were going badly, and it's become more difficult the better I've been playing. As a reader, I much prefer to read a review of a bad restaurant or a bad film than a good one, so it kind of feels like to write about how well I'm playing might come across as smug or whatever, so it becomes less about how I'm playing and more about things that are going on around my life, rather than all about golf.
Twitter is a whole different thing, as it often starts a conversation that you can't control. I enjoy doing it and put quite a bit out there about myself, but almost everything on there is a joke, generally at my own expense. Hopefully some people like it, but it needs to be taken with a large pinch of salt. I'm certainly not trying to present myself in a certain light, or to please sponsors or the tour, or whoever, it's just a bit of fun.
You've not had a hat sponsor for a while. Might that change now you're moving in higher circles?
I don't know yet. To be honest, it's not something that bothers me one way or the other. I'd like to earn enough money from playing golf, rather than being a vehicle for someone else's brand, but I know that it goes with the territory. I'm open to offers, but it's not a priority for me right now.
But you've got a putter sponsor in Bettinardi now, so that must be pleasing?
Yeah, I've bought four of their putters with my own money over the last few seasons, so I'm glad that I won't have to keep paying out for new ones now, although Core Golf in Oxfordshire might have lost a customer! I've tried a few different Bettinardi models, and the Studio Stock 8 is the one I keep coming back to.
You've put Mizuno's new JPX 919 Tour irons in the bag. Is it common for you to change clubs mid-season?
Not really, I was using the previous version, the 717s, before, so it wasn't a massive shift in looks or performance. I had a chance to test them out the week before the KLM Open in September. They suit my eye and the numbers were as good if not better than my old set, so I saw no reason not to put them straight in the bag. They've got that element of forgiveness that I look for in an iron.
You were just outside the automatic qualification for the Ryder Cup team. Did you ever feel like you were in with a chance of a wildcard?
It was never expectation of mine that I would make the team or get a pick. Thomas [Bjørn] would have been mad to have picked me, so no, I wasn't frustrated or even disappointed to miss out. I finished second in Portugal, which was after the cut-off point, and won a couple of weeks after, so I didn't time my run very well.  Of course, I would be delighted to get the chance to play in it in 2020, and in the years to come. I would be intrigued to find out how I would react to being in that kind of environment. I'm not normally one of the guys who gets hugely excited on the golf course, so I'd be interested to see how that affected me.
I played in the GolfSixes tournament with Matt Wallace earlier in the year, and that got the competitive juices going a bit. I don't play much matchplay golf, but I was pretty good at it as a youngster, and I enjoy the battle, so yeah, the Ryder Cup is definitely on my radar.
You will most likely find a letter on your doormat before Christmas inviting you to attend the Masters. How exciting is that?
I don't know how I feel about it yet. Nothing feels that different to be honest. I don't go around thinking about myself as world top 50 player, or that I'm this or that. I just want to go about playing golf, getting better and being as good as I can be. Contrary to outward appearances, I'm not a lazy player. I'm highly focused when I want to be, and work hard at my game. I may go about it in a different way than some other players, but my desire to be one of the best golfers in the world is definitely there.
Stay up-to-date: