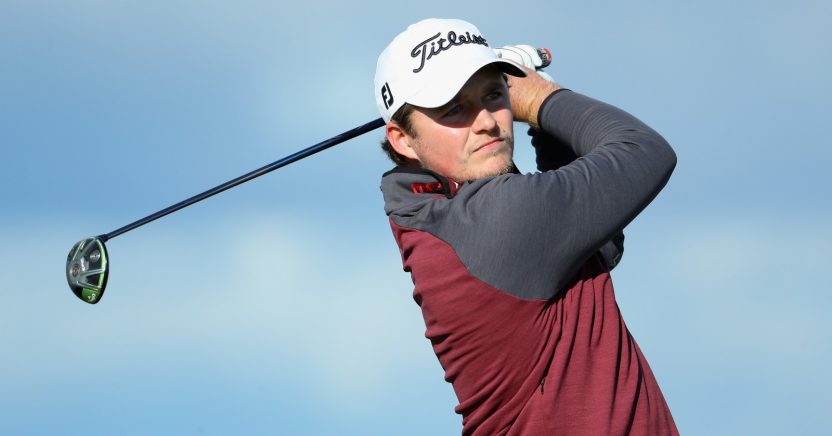 EDDIE PEPPERELL

15 December 2017
After enjoying his best ever season on the European Tour, Oxfordshire's Eddie Pepperell explains how he got his game back on track following last year's trip to the dreaded Q School
After a slow start to 2017, you came to life in the second half of the season, finishing 16th at the US Open and bagging half a dozen top-ten finishes. What sparked the improved form?
I think it been coming for a while, to be honest. I was striking the ball well in the early part of the year, but the putter was pretty cold, which is the reason why the results didn't come earlier. But the putter was a little more consistent in the middle part of the season, and that showed through in my results.
I also took on a new caddie, Mick Doran, midway through the year, and he has made a really positive impact. He was on the bag for the KLM Open and the Portuguese Masters, where I finished third both times. We had a great game plan and we committed to it. My game was good for two or three weeks – I think I shot ten consecutive rounds in the 60s from the end of the Czech Masters to the beginning of the British Masters, and bagged three top-five finishes, so that was the most consistent I've played for a long, long time.
So you went from thinking about a possible return to qualifying school to focusing on the Race to Dubai final series?
Yes, it was a timely turnaround.
Did that allow you to play more aggressively?
I've always felt that I've played my best when I've needed to. Sometimes you can get complacent if things are sewn up. Listen, the idea of getting to Dubai doesn't excite me now, because I've been there twice before. I don't just want to be competing in these top events, I want to be winning them. I believe I'm good enough to, and I'm finally getting my game back to a level where I'll be able to. It sounds ambitious, but you've got to set yourself high targets.
Thinking back to the US Open, does the international qualifier held at Walton Heath somehow play to your advantage, as you've come through there before?
I think it's the third time I've been to Walton Heath and I've qualified twice, so it has certainly been a happy hunting ground for me. I think if you go to Walton Heath and play well, you've definitely got a good chance [of qualifying], because there aren't that many people there, and they're not all going to play well.
How much of a confidence booster was it to perform as well as you did at the US Open?
Confidence is a funny thing, isn't it? I'm not going to try and explain it, or we'll be here a while, but I try not to think too much about it. I don't know how much I play off confidence. Anyhow, the US Open was huge for me. Crikey, just to play good golf again in that environment was massive. But, for me, it's little things like not shooting over par out there that were most rewarding about the experience. I look at that kind of stuff more than I do playing in front of big crowds. Frankly, I've always loved showing off, but it was having the skill set to go out there and not shoot over par and finish in 16th place, that was really positive. Bogey-free rounds excite me the most, because I feel like I'm going to have days where I shoot seven or eight under par, but it's those days when things aren't going your way, and you still get round the course in level par, that show you how good you are.
So is it more about making your bad rounds better than how good the good rounds are?
Yes, and I think the way that I've been able to do that is by putting a strong 3-wood in the bag. If I get a tee shot that I'm not overly comfortable with, I can now pull a club out of the bag that I'm totally comfortable with. Generally speaking now, I'm able to keep the ball in play with a 3-wood, whereas I've struggled to do that with the driver for a number of years. But because I'm getting the ball in play so much more, the strength of my iron play comes into its own, and from there it's just a case of how well I'm putting. That has been streaky this year, and I still want to improve it, but it's getting better.
I also feel there's a lot more consistency throughout my game in terms of shot patterns. I've hit very few shots where I've looked up and been surprised by the start line. I'm a big 'start line' kind of a guy. If I'm starting the ball on line, I feel I can play really good golf. When I'm not, when I'm struggling, I'm starting the ball in quite a specific window.
How much shorter off the tee are you with the 3-wood than your driver?
It's not that much shorter, because it's so strong – it's a 13˚ Callaway Epic 3-wood – and, if I hit it right, it goes pretty much as far as my driver, which is about 280-290 yards, so it's a great club, and has been an awesome addition to my bag this year.
How close do you feel you are to getting your first win on Tour?
I honestly don't know. I think Portugal was probably the closest I came this year. I was two shots behind the leader going into the final round, but ultimately would have had to shoot a 62 to win it, so it wasn't really on. My recent good results have been kind of sneaky, backdoor top-fives. They are nice, obviously, but I wasn't in the lead or really in contention going into the back nine on Sunday. I feel like there's nothing in my game that's getting in the way of me winning tournaments. The game is pretty solid. I just need to make it happen.
Twelve months ago, you were at Tour School trying to regain your playing rights, and now you'll be playing in all the top European Tour events next season. Does the struggle you went through last year make where you're at now more enjoyable?
Not really. Of course, I'd rather be playing in the Race to Dubai finals than be at Q School in Spain, but you know, it's golf, isn't it? I'll always enjoy playing good golf, whether I'm playing on the Euro Pro Tour or the European Tour. It doesn't really matter too much to me. I just want to feel comfortable on the course and hit good shots. That's where I get most of my enjoyment out of golf.
But you must take some pride in the way that you've bounced back…
My dad and I predicted that 2017 would be my best year – and I'm glad to have proven us both right. People react to the bad, and I had a bad year in 2016, but I have come back, and from June onwards I have been playing really good golf. I'm certainly optimistic about the future. I want to do what I've done over the last six months over the next 12 months. With the access I will have to the bigger events next season, I feel there's a big opportunity for me to really kick on and see where it takes me.
Stay up-to-date: