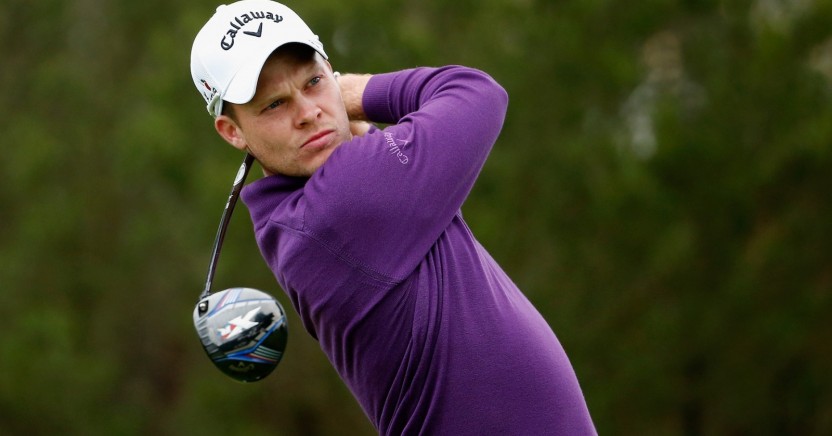 DANNY WILLETT

19 May 2015
Following a win in South Africa, an impressive Masters debut, and a third place in the WGC Match Play, Danny Willett is in the form of his life and leading the next generation of young English talent on the world stage
Most young boys will remember waiting for the sound of the garden gate opening on the morning of their birthday, followed by the reassuring thud as a bundle of cards hits the doormat with the promises of untold riches – usually a £5 note from Grandma and a gift token to spend in WH Smith from my godfather, in my case.
At 27 years of age, Danny Willett is probably a little bit too old to get excited about his birthday these days, but the day the postman delivered a rather important letter from America in March will stick much longer in his memory than any birthday wishes from distant relatives ever did.
As the delivery man casually popped the envelope in question through Willett's letterbox, he was unaware that inside was golf's equivalent of Willy Wonka's golden ticket: an invitation to play at the Masters.
It was a letter that Willett had been waiting a long time to receive, after qualifying at the end of December. "I saw the postie coming up the path, and although I was in the middle of a session in my gym, I couldn't hold on to see if it had arrived," he says. "I had and to open it and see it; well, it just felt awesome. It's funny, at the end of last year I was trying to play down trying to qualify for Augusta. But it was obviously a big thing for me."
While most other professional golfers had put away their clubs for the festive break, Willett was involved in an excruciating battle with his friend Tommy Fleetwood for the final Masters' place. Willett's stunning victory at the Nedbank Challenge at Sun City had hurtled him to 50th in the world rankings, with the top 50 at the year's conclusion being Georgia bound.
Yet while Willett, in the week before Christmas, finally turned it in for the campaign, Fleetwood launched one last desperate effort on the Asian Tour. Willett could do nothing more. If Fleetwood came in the top 17 at the Dubai Open, it would be him eating the turkey with azalea trimmings.
Exhausted, Fleetwood missed the cut and, back in Yorkshire, Willett could stop pressing the refresh button on the leaderboard. "Up until then everyone was doing their calculations and, no, I couldn't relax," Willett says. "Tommy missing the cut did take the pressure off, but it was a tough situation. Not only are we good mates, but we share a manager [Chubby Chandler] and I didn't want to rub it in. Not about something that he'd dreamt about, like I had. Tommy came up to me in Abu Dhabi, which was our first starts to this year, and said 'Well done'. So then we had a bit of a laugh about it and I could engage in a spot of banter."
Once the joking subsided, Willett knuckled down to the serious task of tackling his first visit to Augusta. His preparation went remarkably well, bagging a tied 12th in the WGC-Cadillac Championship at Doral in March, and a top 30 at the Arnold Palmer Invitational, while his only blemish came at the Houston Open, where he could perhaps be forgiven a missed cut with one eye on the following week's event in Augusta.
As things turned out, Willett acquitted himself admirably on his visit to the season's opening major. Paired with 1987 Masters' champion champion Larry Mize and Australian amateur Byron Meth in the opening two rounds, he fired two 71s to progress to the weekend, where a messy third round 76 followed by another sub-par 71 saw him finish tied for 38th – albeit 19 shots behind winner Jordan Spieth.
Willett was more than satisfied with his week's work. "Any time you play all four rounds of a major you have to be happy, especially when it's the Masters, and it's your first one," he says. "The more you play Augusta, the better your chances are of getting around, so for my first time it was a pretty good effort."
He adds: "I got there on Sunday and tried to take it all in on the practice days, so that when the time came, I was ready to focus on scoring rather than looking all around. I was in the second group out on the Thursday, and there were already 20,000 people on the golf course."
Aside from the great memories, Willett also got to take away some crystal glassware, when he eagled the iconic par-five 13th on the opening day after holing a monster putt. "That was pretty special," he admits. "The ball is somewhere around your kneecaps when you're hitting that second shot, so it's always hard to hit a fade into a back-right flag, so I just tried to make sure it didn't get too far right. Anywhere on that green, you know it's going to be a stupidly breaking putt. The putt was fully 50 feet, and it tracked all the way. You dream of boxing one across that green when you're a kid, so to actually do it was brilliant.
"Overall, I hit a lot of good shots, but it's easy to get out of place, and before you know it, you've racked up a double bogey."
Willett took that confidence with him to a different format of the game three weeks later, when he teed it up in the WGC Cadillac Match Play at Harding Park in San Fransisco. Having not played match play golf since his amateur days, Willett had no real expectations, but he took down Ryan Moore, Andy Sullivan, Lee Westwood, Tommy Fleetwood and lost to Gary Woodland in the semi-final before beating Jim Furyk in the third-place play-off. His weeks work saw him pocket $646,000, and, perhaps more significantly, earn a temporary membership of the PGA Tour – opening up the chance to play more events in America.
Now ranked 38th in the world, and a clear second behind Rory McIlroy in the European Tour's Race to Dubai, Willett is leading a new generation of English golfers who looked pumped and primed to follow in the spike-marks of Messrs Rose, Westwood, Donald and Poulter.
Among the younger generation of fellow home-grown talents include two of the men Willett beat in San Francisco – Fleetwood and Sullivan – along with the likes of Tyrrell Hatton, Eddie Pepperell, Oliver Fisher, Matt Baldwin, Andrew Johnston and Matt Fitzpatrick.
And it is Willett, possessing that air of confidence that comes with playing amongst the elite, who believes he can be at the vanguard of this latest St George surge. "England golf at amateur level has always been good, but there was a time after the Westy, Donald and Rose crowd when the transition level to the pro ranks was not so great. But there appears to be a new wave. It seems to happen in five- or 10-year stages. You get Westy, Luke, Poults who are a similar age and now me, Tommy, Sully, a few others are a similar age. What are our prospects? We'll see. Out of this group, though, I think we'll see some really good golfers emerge – maybe this year, maybe next. Hopefully I will be heading that. We're all working hard and all aiming high. It would be amazing if we could get a couple of world No.1s like the last wave, or a major winner or two."
There's no doubting that Britain's got talent, and there can also be no doubting the credentials of the mentors. "We do play practice rounds with the likes of Westy, and it is invaluable picking their brains," Willett says. "When you play with them, and get advice from them, you realise they're just normal guys. It removes some of the mystique about the top golfers."
In truth, Willett is not the type to be intimidated by his elders, as he showed when beating Westwood in the match play format at Harding Park – and of course when he boldly stared down Donald in Sun City in December to win the Nedbank Golf Challenge, which was his second European Tour title, to go with the BMW International he won in 2012.
Rewind seven years, and it's perhaps possible to see why Willett looks comfortable taking on the world's best players. One of his last events as an amateur was in the 2007 Amateur Championship at Royal Lytham, where he reached the final. Everyone at Lytham knew all about his opponent – a teenager named Rory McIlroy – but few had heard of Willett. Within six holes Willett was five up, eventually winning on the 17th. An English Amateur title followed, as well as a place alongside McIlroy at the 2007 Walker Cup, and when he turned professional the following May Willett was ranked the No.1 amateur in the world. Eight top-10s in his first European Tour season only further underlined his rich promise.
But then, a few years down the line, with the BMW International title ready to thrust him into the elite, his lower back began to ache. The complaint was traced back to an accident he had on a sledge as a nine-year-old, and was to blight his entire 2013 and the first half of last year.
Willett is still in managing mode, deliberately limiting his schedule in order to limit the stress he puts on his body. "I'm not 100 per cent, but it's massively improved," he says. "Physically it hurt, but mentally was the killer. When you know you're swinging quite well, supposedly in your prime, and the body won't let you rotate. It did hold me back, and I feel I'm now in the position I should have been a couple of years ago. But I've learnt a lot and can take the positives into what is going to be a really cool year, what with all the events I'm in. This is my seventh year on the Tour, and in itself it is a great achievement every year to keep doing what you are doing. It's all going in the right direction, and I've just got to keep working hard and hopefully keep getting better."
Willett is certainly going in the right direction – up.
Stay up-to-date: