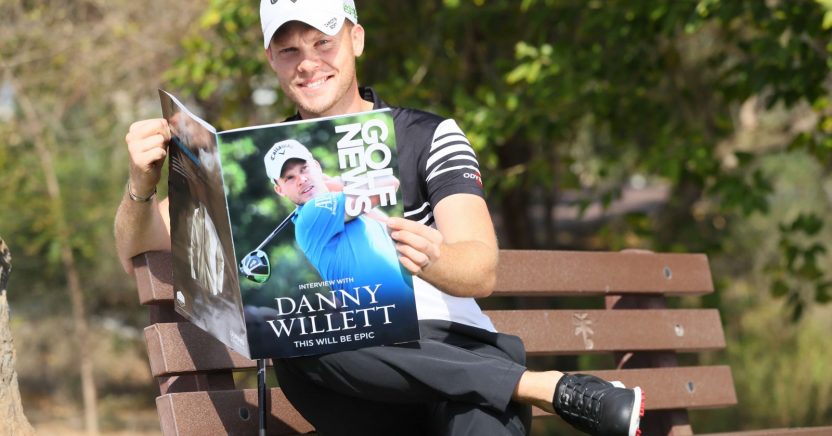 DANNY WILLETT

13 March 2017
After capturing the green jacket at Augusta last year, DANNY WILLETT has struggled to recapture the form that saw him break into the Major league, but the 29 year old from Sheffield is confident that hard work and patience will soon have him back in the winner's enclosure
Do you think you gave yourself enough credit for winning the Masters?
It's tough to kind of take the time out to assess that when you're playing all the time. I guess I need to do it a little bit more. But it's a tricky one. As a professional golfer, you're always trying to get better. You're always trying to train harder, practise harder. Even if you're playing great, and winning tournaments, it never seems enough. Even if it's the Masters, you're out there a few weeks later, trying to get better. But winning major championships doesn't happen very often, and I think it's one of those times when you do need to step back and reflect. Nic [Willett's wife] obviously tries telling me to do that that on a regular basis, and sometimes I'm willing to listen and sometimes I'm not.
How often do you look at the green jacket hanging in your wardrobe?
When I'd just won it, quite a few times. I'd just look at it, and think to myself, 'You know what, 86 guys have won the Masters, and you've got one hanging up in your wardrobe'.
It's quite common for first-time Major winners to experience a dip in form in the immediate aftermath. How conscious were you of that, and did it make things more difficult?
That's the thing – it's so crazy how your mind works with these things. You think that you should be able to play well every time, just because you've done what you've done, but it doesn't happen like that. There's 156 guys every week working hard and practising, and it's not as easy to win every tournament, as what you feel like it should be when you're playing well.
Having said that, any season in which you win a major should probably be considered a good season. I also won in Dubai, so two wins, but there have been nine months or so when I haven't been playing so great. I could have won in Italy, but Francesco [Molinari] played great in the final round and beat me by one. If I'd won that one, all of a sudden the last two months of the season might not have been as bad. It's just how things fall into place. The game has been average for a few months, and I'll just keep working hard, and hopefully I can come back out the other side and have a good spell again.
Obviously there are extra pressures and demands when you're a Masters' champion, with public appearances, media and sponsors' requests, and more travelling. How has that affected you?
The Masters was a phenomenal week, and, yeah, it changes your life massively, and, all of a sudden, life becomes a lot busier. People want a lot more of your time, and you need to travel around a bit more, and kind of do things that you haven't been used to doing. There were a few little scheduling issues – maybe I was playing too much and trying to force the issue, instead of just playing a limited amount and backing myself to do well in the tournaments that I normally play in. So yeah, it took me a while to get used to that. I'm now trying to reset the goals and looking to get to the form that I showed back at the start of last year.
Coming into 2017, is there any sense in trying to create the sort of routines that led to your success at the Masters last year?
No, I think that's virtually impossible. There are so many variables that go into playing good golf. The one constant in my book is hard work. And I believe if I keep working hard, then the inevitability of playing well is only just around the corner. You see that so many times in golf – guys that miss three or four cuts suddenly get a win. Just look at Graeme Storm last month in South Africa. It's just the nature of the game. You can be beating your head against the wall for months, and then, all of a sudden, you hit the jackpot. I think the only thing that you can really control is to work as hard as can. And if that leads to playing great, fine. If it doesn't, you're just going to keep working hard, and wait for the next chance that you get. If my win at the Augusta taught me anything, it's that if I keep working hard, when I get the chance, I feel like I'm pretty ready to take it there and then. To know that I have that within me provides a massive confidence boost.
Is there anything specific that you have been working on in your game?
I've been working on trying to take the left side out of the golf course out of play by hitting fades off the tee. To do that you need to aim left, but sometimes that's turned into a straight pull, which often leaves you in the rough, a bunker, or with no direct route to the green. Last year I had that safety valve, and we're just working on getting that back.
You've put Callaway's new Epic driver in the bag. What performance benefits did you find during testing that made you switch from your XR16 driver?
I put the Epic driver into play at the Hong Kong Open at the end of last year. I did quite a bit of testing away from the course before that point, working with Callaway's tour staff to dial in the numbers and see how they compared with the XR16. First and foremost, a driver, in fact, any club, has to fit my eye – look right and feel right – and the Epic did that straight away. It's upright and sits really nice and square behind the ball at address. I don't like to see the face at all closed, and if anything the Epic sits slightly open, which is perfect for me.
Performance-wise, I was getting a 1 or 2mph faster balls speeds off the face, up to around 169mph, which gives me a few extra yards, but what I really liked was its consistency across the face, especially in terms of its spin. With some drivers you lose or gain a lot of spin, depending on where you strike it on the face, but with the Epic those spin rates remain really consistent wherever you hit it, which makes a massive difference.
Will you be putting in any different combinations of clubs into your bag for the Masters?
I don't really change my club set-up to suit a golf course, or switch in other clubs. I did have a bit of a draw bias to my clubs at Augusta last year. People think you need to draw the ball to play well there, but if anything a fade is more important.
We can't talk about 2016 without re-visiting your first Ryder Cup. Looking back on it now, how do you reflect on the whole experience?
First and foremost, the team atmosphere was fantastic. Clarkey did a great job and unfortunately our golf wasn't up to standard. The American team played very well. They holed the putts when they had to hole the putts, and unfortunately we didn't. But the week as a whole, and how the guys bonded, and the friendships you make, was great.
The Ryder Cup has always been boisterous, but do you think things got out of hand at Hazeltine?
Whenever you've got 150-200,000 fans at a tournament, you're going to get the odd one or two that don't actually go there to watch the golf. That's a shame, but I don't think that's ever going to stop. Being in America, with their fans, and how much they wanted to help their team win, it was always going to be difficult to keep a lid on that. That's just how it is. But, as player, I don't think you should have people saying unpleasant things to your parents and your wife. I don't think that's our sport, that's not what we play for, that's not what we do. Unfortunately, that happened and there's no denying that it slightly tarnished my first experience of the Ryder Cup.
The whole affair over your brother's remarks in the press caused a bit of a stir. Did you feel that it in affected your performance on the course?
I was disappointed with what he wrote, and it obviously put a bit of a downer on my first Ryder Cup. Coming to America as a European, you're already a bit of a target, and it kind of focused the attention a bit more on me. There's some pretty rowdy American fans at every Ryder Cup, that's the nature of the beast. I spoke to Peter on the phone after I was made aware of what was said, and what had been going on. I told him that I was disappointed in what was said and what was written about the American fans that supported me fantastically at the Masters. It was tough to then concentrate, because you don't want people to think badly of yourself. I kind of wanted to get off the golf course and get it sorted, draw a line under it, and get back to what we were doing.
You played with Tiger Woods on his comeback in Europe in Dubai. What was that like?
I'd not actually met him properly before. At the Ryder Cup, I might have brushed past him and said 'hello', but nothing more than that. My first memories are of him chipping in at the 16th on Augusta in 2005, which is when I was really getting into golf. I remember him and his caddy going crazy. and the cameras shaking and the ball just dropping in. It's moments like that that he created for guys that are my kind of age. That really spurred me on to train harder and to practise harder, and to try and accomplish even a miniscule amount of what he has achieved.
You've set up a foundation to encourage youngsters into the game. Can you tell us about the thinking behind Wee Willetts?
I set up the Wee Willetts to get young kids from around the Yorkshire area involved in golf. If they've never picked up a club before, they can go along and give it a go. I was fortunate enough that my first coach, Peter Ball, up at Birley Wood, near where my mum and dad lived, was like that as well. He was brilliant with the kids' coaching, and he gave me my first half set of clubs, half a bag of practise balls, waterproofs and shoes, and he let me go up there and practise. He coached me for a few years when I was first starting. We didn't have loads of money. I do try and give a little bit back, but there is obviously still more that I can do, and I will try to keep that going. I am still relatively young within the golfing game, and I will keep trying to give back to the local area and the local people.
Stay up-to-date: