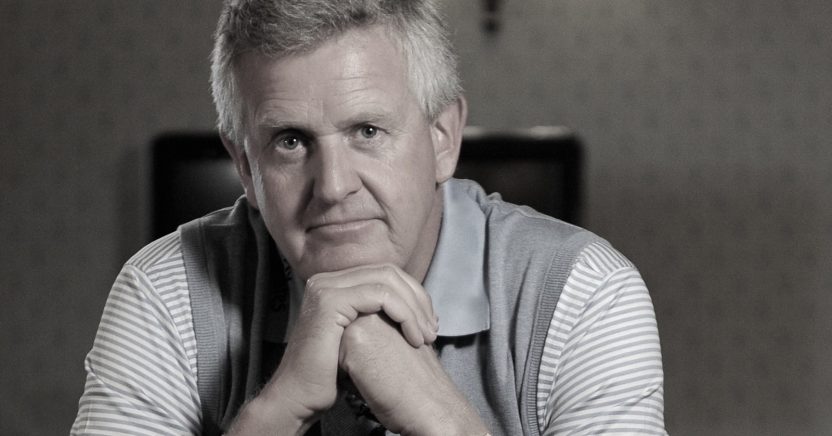 COLIN MONTGOMERIE

13 March 2017
Nick Bayly sits down with Colin Montgomerie for a chat about his 'second career' on the senior circuit, the future of the European Tour, the Ryder Cup, and why, at 53, he's never been happier with his life and his game
Back in 2013, when you turned 50, do you remember being excited about the prospect of playing seniors golf?
I didn't think I was going to play seniors' golf at all, I must admit. I wasn't excited about turning 50. Is anybody? I felt that I'd be walking the dogs around the pond at home. And then, when I did turn 50, I discovered that I still had the same ambition, the same drive, and the same competitive edge that I had when I was playing back in the 90s. So I wanted to do something to keep that all going.
I was losing length off the tee, and wasn't really competitive on the main tours. And the opportunity was afforded me through the Hall of Fame induction in 2013. I happened to turn 50 in June that year, so the timing was perfect. Yes, I've done reasonably well. Far better than I expected, so I'm thrilled with how things have turned out.
A lot of the guys tread water from 45 to 50, waiting for the day to play senior's golf. I wasn't one of them. I was playing on the European Tour and the odd major here and there and thinking, okay, I'll probably stop playing on the European Tour when I'm 55. But this has given everybody that comes out here a new lease of life, a new chapter in one's book, and in some cases a new book altogether.
You seem very happy in yourself these days. Does that translate to your form on the golf course, and how much are you able to draw a distinction between the two?
I'm thoroughly enjoying myself, and I think that, in anything, if you enjoy yourself, you're usually quite good at it, whatever you do, and I really am enjoying what I'm doing. The Champions Tour is a fabulous place to play. They said it was good. It's better than that. There are no great egos to contend with, no envy or animosity. We've all attained a certain standing to be out here in the first place. Everybody seems genuinely happy with anyone else's success, and it's just a very welcome place to be.
The American public seemed to have turned from treating you like a pantomime villain into a player they almost root for – certainly when there's not an American up against you. Does it feel like that to you when you're playing on the Champions Tour these days?
There's a lot in that. I think you learn and you mature as you go along, and I didn't embrace the American public possibly the way that I should have done earlier on in my career, and it hurt me when competing in the majors over there. I've embraced playing here since I turned 50. I really am enjoying it, and I think the golf fans are seeing that, and they are giving back. So it's a two-way street. There's a warmth that I haven't felt in the past, and I blame myself for that. Now I'm enjoying it. I was never a member of the PGA Tour in the '90s. So I am a fully-fledged, paid up member now, and I'm loving it.
How long did it take you to adapt to playing in tournaments without a cut?
With the exception of the majors, the regular tournaments are just three rounds. My game has always been based on not making mistakes, being consistent, par golf, which pays off over four rounds on tough courses, but when there's no cut and fewer holes it all becomes about how many birdies you can make. You can sometimes be two under after half a dozen holes and feel like you're already playing catch up. But these days if you're not scoring 66 you're out of the picture. I shot 65, 66 and 68 in a tournament last season and finished third. You'd expect to walk it with those scores, but the standard is bloody good. It shocks most people when they first start out. Langer was second last off at the Masters at 58 years of age, so these guys can still play.
Is there any part of your game that you feel is better now than it was back when you were winning all those Order of Merit titles on the European Tour?
As golfers we can always get better – I hope that I learn something about myself, and my game, after every round I play. Obviously, I'm not going to be hitting the ball any further at 53, but it's around the greens that I've most improved. I genuinely believe that I'm a better chipper and putter now than I ever was.
Pros never get up and down every time they miss the green, but I've been genuinely surprised by how well players chip and putt on the Champions Tour. I thought you were supposed to lose your nerve with a putter when you reached a certain age, but I was wrong about that. The putting is incredible on the Champions Tour, and so is the chipping. You watch Bernhard Langer chip and putt. I've watched him for 35 years. He takes long enough to do it – so there's plenty of time to watch him, shall we say. And it's amazing how he doesn't waste a shot, and that's key, and that's the momentum that keeps going for the next hole. It's the way that Phil Mickelson and Tiger Woods kept themselves going over those years when they were hitting the ball all over the place off the tee. Getting up and down saved them. And that's what I've got better at over the three years I've been playing on the Champions Tour.
How do your driving distances compare to in your youth?
I'm hitting it as far as I ever did on the regular tour. I was averaging 274 yards when I was No.2 in the world back in the 90s, and last year I was 275 – so no difference. The combination of innovations in ball and club design has obviously helped. Sadly, 275 yards won't get you very far on the regular tour these days, but it's fine at the senior level.
You won once last year and finished second in the money list. Were you disappointed not to win more often, given your high level of play?
It's very difficult to win out here, so while it was disappointing not to get more wins, I felt that I played ok. There's always someone who can have a better week than you, someone who gets a flier. I've always had the view that if I can't win, I'm going to finish the very highest I can, so whereas some players might back off when the chance of winning has gone, I've always tried to get the best possible finish, which is perhaps why I've finished second or third a lot of times, when others might have struggled for top fives and 10s. They all add up at the end of the season, and it partially explains why I won all those order of merit titles – my career has all been about consistency.
You've had 27 consecutive rounds under par – a record for the tour – does that give you a sense of satisfaction or are they just numbers?
The main satisfaction is that I beat the previous record of 22 set by Bernhard Langer! No, it's obviously nice any time you break a record of any kind. It's a reward for consistency, so I'm proud of that.
You play in front of some big crowds on the Champions Tour, does that help get the competitive juices flowing?
Yes – I've been blown away by the number of people that turn out to watch us. Over 250,000 came to watch the US Senior Open in Nebraska, which is incredible. The Champions Tour often goes to cities not visited by the PGA Tour, so there is a pent up demand from fans to see tournament golf and they come out in their thousands to support their local events. Of course, they're normally cheering for their favourites, or anyone American, but playing in front of big crowds is certainly better than playing in front of one man and his dog.
Did you always feel that your swing would have more longevity than most?
Touch wood, it has, and it will continue to do so. I've been lucky enough to remain injury-free for almost all my career. I'm not the fittest out there, but my swing has always been about a smooth, even tempo, rather than any big transitional movement, so it puts the whole body under less stress than some other more aggressive swings. It does take a little longer to warm up in the morning these days, but physically I'm in good shape – mentally, I'm a mess, but that's another thing entirely!
How much of an honour was it to hit the opening tee shot at The Open at Troon last year?
It was a huge honour. Not many pros get the opportunity to play an Open in their hometown, or at their home course, so it was a great honour for me. I made a big effort to be there, and I was delighted to get that third spot in final qualifying. I'm not sure I would have attempted to qualify had it not been at Troon. It was my last chance to play an Open there, and I was delighted to make it.
Do you think you may have played in your last Open Championship?
Yes, it could well be. I won't be retiring from it, and I will attempt to qualify this summer for Royal Birkdale, but at the same time, realistically, it could well have been my last appearance.
There are quite a few good players turning 50 this year that will be looking to topple you and Bernhard. Do you pay much attention to who's coming through the ranks?
Yes, there are some decent players coming through. Davis Love has got the Ryder Cup out of the way, and will be putting in the hours. Steve Stricker and David Toms are on board, and José Maria [Olazabal] is now eligible to play. It makes the tour ever the stronger and more marketable. The Champions Tours has done a good job of marketing itself. It's rather a shame that over in Europe we still call ourselves the Seniors Tour, as it kind of gives the impression that you're going to see Old Tom Morris in his plus-fours, rather than guys that have been winning European Tour events just a few years ago. The Champions Tour has a much younger brand. We've looked at other names for the European Seniors, like the Legends, Masters, what have you, but it certainly needs looking at.
Would you be in favour of lowering the entry age level to the Senior Tours to make the transition from the main tours a bit smoother, rather than leaving players in limbo for five or so years?
The tours have all talked about this. Perhaps taking a year off every year, so it becomes 49 in say 2018, 48 in 2019, and so on. So in five years time it will be 45. It would certainly help the European Tour. I was treading water between the ages of 46 and 50. The courses are 7,500 yards long and the playing field is no longer level.
With more European players switching to the PGA Tour, what do you make of the European Tour's decision to create a run of big money tournaments in Europe with the new Rolex Series?
Keith Pelley [European Tour chief executive] is doing what anyone in his position would try to do. He's looking at ways of trying to keep more of Europe's top players playing in Europe, or at least on the European Tour. All credit to Rolex for getting behind it, but it remains to be seen who and how many players will come back and play in them. Matt Fitzpatrick, Thomas Pieters and Andrew Johnston have all hinted they're going to be playing more in America this year, and they've really only just started out in their careers. In my day only Faldo, Seve, Ollie, myself, and Ronan Rafferty went over, but never on a full-time basis. I got to No.2 in the world playing in Europe, so it can be done – even more so now, with all the money from WGC events.
Given all the discussions over wildcards at the last Ryder Cup, and issues over tour membership, would you be in favour of the teams simply being reeled off from the top 12 in the world rankings?
Yes, it makes perfect sense. Why wouldn't you want the best players in your team? It's straightforward, there's no debate. There's no favouritism or controversy. Pick the top 12 from the world rankings and there's your team. And, all things being equal, it will be your strongest team. Should you have to be a member of the European Tour to be in the Ryder Cup? Perhaps not. Paul Casey would have been a huge asset to the team at Hazeltine.
Do you think it would be almost impossible for someone to beat your record of eight order of merits, given the global schedule of the top players?
It's going to be hard, but there are still a lot of events that count towards the Race to Dubai, so it has been shown that it's possible to win the Fed Ex Cup and the Race to Dubai in the same season, providing you play well in all the top events that count towards both. Rory won the Race to Dubai on the back on winning outside of Europe. Having said that, the sheer logistics of it means that it gets hard to do that over an extended period. I'm very proud of my record in Europe, and I obviously hope that it stands for as long as possible. If someone beats it, I'll be the first to shake their hand. I started at 30, so it was quite late in my career, but Rory has a good chance, having won it three times already. I was also lucky enough to remain healthy throughout my career, which contributed to my run. Not everyone is able to do that. Just look at Tiger, even Rory with his rib. Most players will have to battle little niggles along the way, but I – touch wood – managed to remain pretty healthy. I might not have always been fit, in an athletic sense, but I had no broken bones, torn muscles, or anything like that.
You've kept your hand in with the golf design business. What projects have you got in the pipeline for opening this year?
We've got two courses in Morocco about to open – one in Marrakech and one in Rabat – and another project in the south of France. It's not been the easiest time to be in the course development business, with the global recession, but there are signs that things are coming back.
Finally, you're obviously familiar the Twitter parody account @Darth_Monty. What do you make of it?
Yes, I've been told of it, although I'm not into social media myself. It's great. He always tends to copy what I'm saying. I like to think he's a fan – if so, he's probably the only one I've got.
Stay up-to-date: