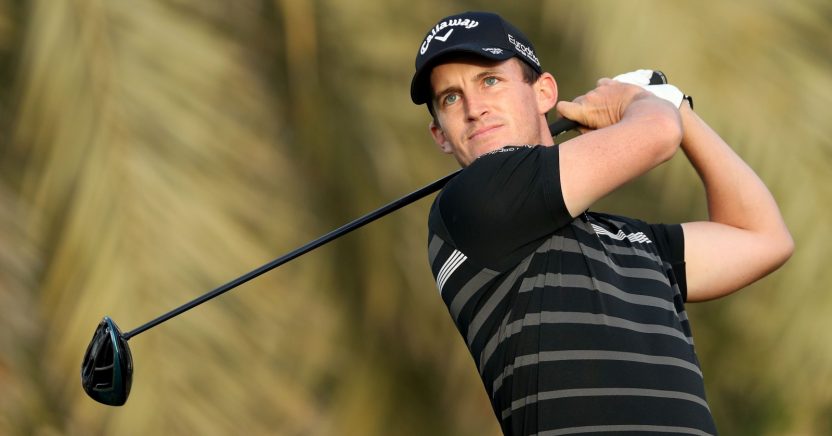 chris paisley

12 March 2018
Golf News catches up with Hexham's Chris Paisley, who has rocketed into the Ryder Cup reckoning after winning the South African Open and bagging two top-five finishes on the European Tour's recent Desert Swing
Professional golf can often be a cruel mistress, but it can also be one of the most rewarding careers out there, with the financial returns for a few good weeks' work being more than many people could ever dream of earning in a lifetime.
Few players know that better than Northumberland's Chris Paisley, who returned to his home in Stocksfield last month to celebrate four weeks of superb golf that has turned around his career.
After a spell on the Alps Tour in 2011, Paisley won his European Tour card in 2012 through the Challenge Tour rankings. Although he lost his card a year later, he showed his battling qualities when regaining it at qualifying school at the end of 2014. He has clung on to his card ever since – finishing 108th in the money list in 2015, 71st in 2016, and 112th last season – but the 31 year old desperately needed a change of luck. After missing the cut in five of his previous seven tournaments, most recently at the Australian PGA in December, he was desperately hoping that the New Year would bring about a revival in his fortunes. And so it proved.
Arriving in Gauteng for the South African Open, Paisley had little belief that this was going to be the week where his life would change. And with his American wife Keri acting as his caddy – his regular caddy Sean Russell was on holiday – he could have been forgiven for treating it as a chance to enjoy a few days in the South African sunshine with his lady love by his side.
But whether it was the comfort of having a familiar face accompanying him on the fairways, or feminine intuition for correct club selection, four days later the happy couple found themselves posing for photographs on the 18th green with a trophy between them and a winner's cheque for €198,000 on its way to the bank.
After going toe-to-toe over the closing round with local favourite Branden Stone, no-one sounded more surprised than Paisley to finish the week at the top of the leaderboard. "Even I didn't think I was capable of playing that well," he said, with refreshing honesty. "Going head-to-head against Branden, in his home country, with pretty much everyone in the crowd on his side, was tough, but I just played pretty flawless golf. I stuck to my game plan of being aggressive off the tee and conservative into most of the greens, and got the job done. It felt quite easy while I was in it all, which sounds so odd looking back at it now.
"To come out on top was nothing short of amazing. I'm just so happy, not only for myself, but for Keri, and for everyone else that has stood by me and supported me over the years," added Paisley, who met his wife while on a golf scholarship at the University of Tennessee in America in 2008.
Paisley is quick to pay tribute to his stand-in caddie. "I just can't say enough about how good a job Keri did that week, and how important she is to my life in general. She doesn't know that much about golf, so I had to do all my own yardages, but she knows me really well, and she knows when I'm going a little quicker than I usually am or getting a bit tight. She really helped me relax, and it was great to have someone to talk to about other things than golf during the round. Coming up the last fairway with her next to me was just incredible. We were both in tears."
While many golfers enjoy their fives minutes in the spotlight after winning a tournament and are never sighted again, Paisley was adamant that he wasn't going to let that happen to him, and rather than take his foot off the pedal, he was straight back into the heat of competition the following week, at the altogether more competitive Abu Dhabi Golf Championship, where all the big guns traditionally return to action at the start of the new season.
"I was determined to continue my good form after such a big result in South Africa," said Paisley, whose win instantly secured his European Tour card for the next two seasons. "I made a concerted effort to kick on, because I didn't want that to be the defining moment of the year, or my career."
Far from being overawed by the elite competition, Paisley raised his game once again, shooting rounds of 69, 67, 66 and 69 at Abu Dhabi Golf Club to finish fifth, five shots behind defending champion Tommy Fleetwood. Having banked a further €94,876 in prize money, and some vital Race to Dubai points, Paisley then moved on to the Dubai Desert Classic, where he continued his rich vein of form when shooting another four rounds in the 60s to bag another fifth-placed finish, this time finishing six shots behind China's Haotong Li, who outgunned Rory McIlroy to take the title.
Pressing on to Malaysia for the Maybank Championship, Paisley admitted to feeling the strain of all the travelling, but still opened up with a 65 to share the first round lead. But, as his energy levels dipped, so did his game, and he ended up finishing tied 27th after weekend rounds of 72 and 71. A €21,500 payday brought an end to a run of four consecutive events that had secured almost €482,000 in prize money, and a 200-place rise up the world rankings from 282 to 82. The stats make for impressive reading too, with 13 of his 16 rounds yielding scores in the 60s, while he was also 66 under par for those 288 holes.
"In Abu Dhabi and Dubai I wasn't quite as sharp as I was in South Africa, but Sean, my caddy, was fantastic, and my game was still in excellent shape. By the time we got to the weekend in Malaysia I was exhausted and made two silly double bogeys on Saturday, which was disappointing. Without a doubt, that four weeks was the greatest run in my career so far."
Taking a well-earned rest, he returned home to Northumberland with Keri to catch up with friends and family, and celebrate a life-changing month. "It was great to go back home and celebrate with all the people who have supported me over the years," said Paisley, who was welcomed home like a conquering hero at Hexham Golf Club, where his brother Andy is the head PGA professional, and also Chris's putting coach. "The reception I received from everybody has been amazing, and I'm so grateful for all the support."
He added: "It's been nice to reflect on the past few weeks. It has been surreal having the attention on me, and being congratulated by great golfers such as Rory [McIlroy] and Ernie Els, and it was incredible to share the win with Keri, because she played a big part in it."
Asked what had led to this dramatic turn around in his fortunes, Paisley says: "There were a lot of contributing factors. I've been guilty of spending too much time looking over my shoulder rather than looking forward. Without realising it consciously, I had become happy with just keeping my card, and being a bit of a journeyman. Generally, I'd start the year slowly, step it up in the middle, and then fade away at the end. This season I've made a conscious effort to change my mindset, and have more belief in my abilities. From then it was about bringing more pressure into my practice, which helped me feel sharp as soon as I turned up in South Africa.
I spent five weeks practicing over the winter in Orlando, working with my with my coach, Andrew Nicholson, on some big swing improvements, simplifying things and strengthening my impact position. The last piece in the jigsaw was putting 12 new clubs and a new ball from Callaway in the bag. The new Rogue driver is so straight and so easy to hit – it's really improved my confidence off the tee. I also changed my equipment setup to get four wedges in the bag to focus my mind on sharpening my short game and get it back up to where it should be – as it has always been a big strongpoint in my game."
Everything seems to have fallen into place at the right time, and rather than worrying about keeping his card, Paisley has now set his sights on much higher goals, including reaching the world's top 50, which would earn him an invitation at the Masters in Augusta in April. He is currently fifth in the European Tour's order of merit, and if his excellent form continues, he could even enter into Thomas Bjorn's considerations for the European team in September's Ryder Cup.
But for now, he is concentrating on keeping the good form going and not getting too carried away with a run of results that has surprised him more than anyone. His new lofty ranking earned him a place in the WGC-Mexico Championship – by far the most high profile tournament he has ever played in – where he shared second place on day one with a 65, before dropping down to tie for 37th – while he's also set to partner European No.1 Tommy Fleetwood in next month's Zurich Classic of New Orleans, a new pairs event on the PGA Tour that comes with million dollar first prize.
"I'm just going to try and carry on riding the wave," he says. "My confidence has obviously gone up considerably over the last few weeks, and I know that when my game is on, I have what it takes to compete with the best. In the past I've almost been apologetic about being successful, but it's time to push on and show the world what I can do – even something like getting into the Ryder Cup team feels achievable right now. Having got a taste of winning, I want to do it again. There's no more looking over my shoulder."
Stay up-to-date: