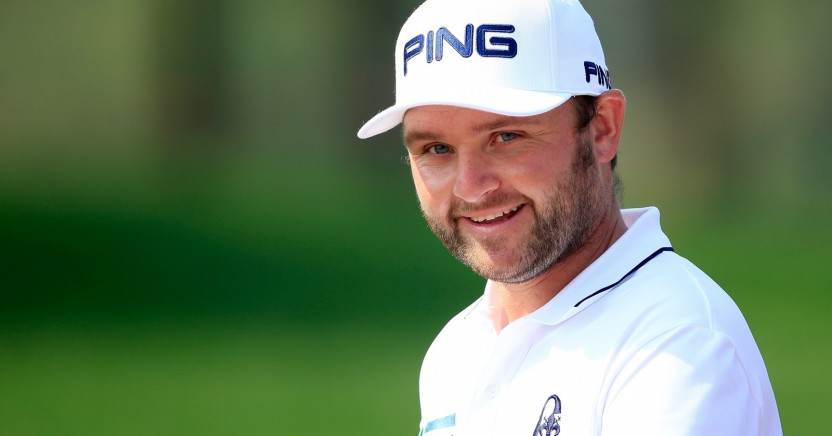 ANDY SULLIVAN

16 March 2016
There are plenty of stories of struggling tour pros who have endured a series of 'normal' jobs before striking gold on the professional golf tour, from Simon Khan's days as an Essex taxi driver, to Lee Slattery's shifts in a men's clothing shop in Southport, and all manner of making-ends-meet employment in between.
Having a rubbish first job is a rite of passage for legions of today's top pros, many of whom left school at 16 to focus on their playing careers. And it is a fear of returning to those low paid jobs that often drives them on to become good enough at golf that they need never have to go back to those days of delivering post, driving minicabs or, as was the case with Andy Sullivan, stacking shelves in his local supermarket.
Currently ranked 30th in the world, and all but nailed on for a spot in Darren Clarke's starting 12 at Hazeltine in September, it's hard to believe that that the 28-year-old Midlander spent the best part of two years doing the early morning shift at Asda in Nuneaton.
"If you ask them, they'll probably say I was only there for about six months, because I was asleep in the changing room half the time," Sullivan jokes. "I had to go in at five in the morning and finish at 10, so I could play golf, so a few times I turned up with a bit of a hangover, seeing as I had to work from Thursday to Sunday."
But those tough times between 2009 and 2011 proved to be the making of Sullivan, who looks back on those days every time he begins to think about complaining about the comfortable life he has made for himself and his family following his rapid rise up the rankings over the last four years.
Sullivan had even more reason to recall his shelf-stacking days when an envelope bearing a Georgia postmark dropped on his doormat at home last December. Inside was a letter inviting him to play in the 2016 Masters – the realisation of a boyhood dream.
"As soon as I saw the Augusta stamp on it, I thought to myself 'I know what this is'," says Sullivan, who secured his invitation on the basis of his lofty world ranking at the end of the 2015 season. "I was like a kid at Christmas opening it," he adds.
Sullivan's journey from supermarket shop floor to the brink of making his debut in the most famous golf tournament in the world is one to warm the coldest of hearts. Inspired to take up golf after watching fellow Midlander Lee Westwood when he was at the very top of his game, Sullivan enjoyed a solid amateur career, winning numerous club and county events, before going on to international success with wins in Argentina, Australia, and the Scottish Amateur. Controversially overlooked by England selectors for many international events, he made the decision to turn pro at the relatively late age of 24 – but not before finishing off his amateur career by playing a leading role in GB&I's Walker Cup victory at Royal Aberdeen in 2011.
At the end of that year he earned a debut campaign on the European Tour having finished third at qualifying school, but was back there again in 2012 after coming 145th in the Race to Dubai. Ever the fighter, Sullivan battled back to take third in the six-round marathon, and was determined to do better in 2013.
He certainly improved, and clung onto his card by finishing 98th in the money list, although a win still seemed a long way off. The following year, 2014, saw Sullivan grab his best finish, third in the KLM Open in Holland, where he stole the headlines when winning a trip to space after bagging a hole-in-one. In typically understated fashion, Sullivan admitted that he 'wasn't a good flyer' and would have preferred the more traditional prize of a new car – a far more practical gift for a tour pro than a trip to the stratosphere.
Spaceman or not, Sullivan's career has since enjoyed a meteoric rise in the last 15 months, with three tournament victories – South African Open, JoBurg Open and Portuguese Masters – in a 10-month stretch from January to October that took him from 150th in the world rankings to 47th.
After missing the cut in his first major, the US Open at Chambers Bay, by a single shot, he rounded off last year by pushing Rory McIlroy to the wire in the DP World Championship in Dubai, bagging second-place prize money of €820,000 to take his season's earnings to well over €2m, and gaining him eighth place in the money list. This season has seen him start where he left off, finishing second in last month's Dubai Desert Classic to add €200,000 to a Ryder Cup points tally that currently puts him in second place behind McIlroy and almost guarantee him a place in the European team at Hazeltine.
A gutsy player, with a hugely competitive edge, Sullivan put in a solid performance in January's EurAsia Cup – which is widely regarded as warm-up match for the Ryder Cup – where he showed Clarke that he is very much a man for the team format by winning a maximum three points from his matches, beating Thongchai Jaidee 4&3 in the singles, and combining with Shane Lowry to win both his foursomes and fourballs.
Asked whether the Ryder Cup is looming large on his radar, Sullivan is typically coy about his chances. "It is definitely a goal of mine, but there's a lot of good players that are not in the rankings yet that will be pushing hard to get in it. So I know that I've got to keep my foot to the gas and try to keep pushing on. Hopefully come September, I won't have to have to wait for that phone call to hear Darren saying that I'm not in. If I just keep improving, and try to keep my feet on the ground, I'll give myself the best chance of making the team."
While happy to potter around with his mates at Nuneaton Golf Club, when he's not racking up cash on the European Tour, Sullivan's new high world ranking has elicted offers to expand his horizons, and last month saw him make an eagerly-awaited debut on the PGA Tour, when he teed it up at the Northern Trust Open in Los Angeles. After answering a few questions to local media about who he was and what he was doing there, Sullivan fired three rounds of 71 and a final 75 to finish 68th – representing a solid, if unspectacular, start to his Stateside career, as he prepares to launch his first assault on Augusta next month.
A stocky figure with an uncomplicated golf swing, Sullivan is coached by 50-year-old Jamie Gough, a respected teacher who also looks after a host of tour players, including Miguel Angel Jimenez, Greg Havret, Peter Lawrie and Richard Sterne. A natural drawer of the ball, Sullivan has been working with Gough on developing a controlled fade to help him target pins tucked on the right-hand side of greens. The lessons have paid off handsomely, and with a deft chipping touch and a confident putting stroke, Sullivan looks very much like the consummate pro, or he would do, if it weren't for the fact that he looks like he's enjoying himself way too much.
Sullivan stands out from the crowd of identikit tour pros by playing golf with a smile on his face. It's a happy-go-lucky mentality that he's even managed to turn into a brand of sorts, with his legion of fans from Nuneaton – including his devoted parents – regularly turning up at tournaments wearing those smiley T-shirts that were all the rage at raves during the 1980s. He's even had a new logo created with the initial 'AS' underlined by a swoosh-like smile. Eat your heart out Ian James Poulter.
Asked about his upbeat demeanor on the golf course, Sullivan says: "I just love playing golf, and doing it for a living is something I dreamt about ever since I was a little boy. So to be doing what I'm doing is incredible. It's just hard not to smile; I'm living my dreams and I'm just enjoying every moment."
With that kind of attitude, matched with a steely temperament, the likeable Sullivan looks destined for greater things. And while most players would be happy to win three tournaments in their entire career, let alone in 10 months, Sullivan's appetite for success grows bigger every day.
"I don't want to finish my career and think I only had three wins," he says. "I want more than that; I want to finish up there in the majors and have a chance of winning them. The way my career has developed over the last four years, from amateur to pro, has been very gradual – little steps at a time. I was never going to be the guy that went out there and made an instant impact. It was always going to be small stepping stones. So, hopefully I'll keep on going, and I'll keep on taking those steps."
Watch out world, Sulli's on the march. It might be a slow march, but it looks like he'll get there in the end.
Stay up-to-date: