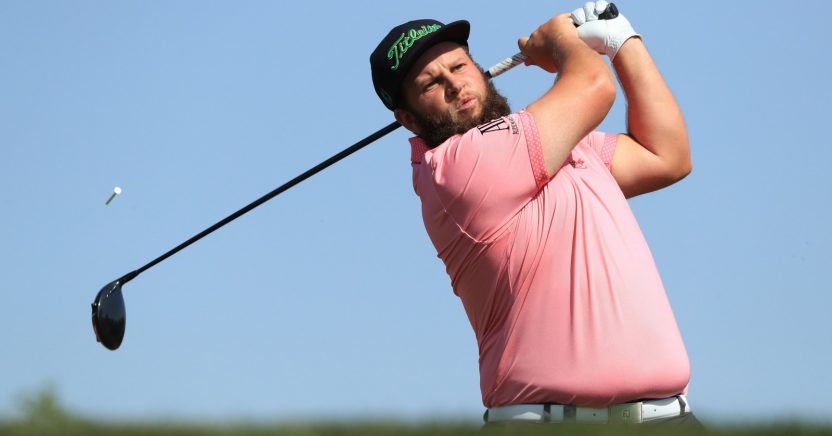 ANDREW JOHNSTON

12 February 2018
After suffering a slump in form last season, and facing questions about his professional attitude on tour, Andrew Johnston is looking to rebuild his career and silence the critics in 2018
It's something of an understatement to say that 2017 was not the year that Andrew 'Beef' Johnston was looking for.
Following his breakout 2016 season, which included his first European Tour win at the Valderrama Masters, and a career high ranking of 74, the 28-year-old from North London decided to chance his arm, like so many up-and-coming players had done before him, and play a dual schedule in America and Europe.
Having signed a sponsorship deal with US burger restaurant chain D'Arbys, there was no doubt a certain amount of pressure to bring his unique brand of self-effacing optimism to the States, where the company has all of its outlets, but the plan didn't quite come off. Flitting backwards and forwards across the Atlantic took its toll on his performances on both tours, and saw his world ranking drop from 85th at the end of 2016 to its current low of 161st.
Limiting himself to just 19 starts in 2017, he managed only one top-ten finish, which came at the Puerto Rico Open, and missed a total of seven cuts. He ended the season 116th in the European Tour's Race to Dubai rankings – only keeping his full card because of his win in Spain – and 189th in the PGA Tour's FedExCup standings. He ended the year hurling his 3-wood into a lake at the RMC Classic in Georgia after shooting rounds of 75 and 77.
The sudden drop in form led to criticisms in the media that he was just a flash in the pan, and that he had taken his eye off the golf ball in an attempt to cash in on his new-found fame off the fairways. Johnston is the first to admit that things 'got a little crazy' last year, and that he found it hard to not only adjust to his transatlantic schedule, and the variety of course conditions he faced, but also the demands being placed on him as a sponsors and fans' favourite.
"Last year was a bit nuts, and it was too easy for me to get distracted," he said ahead of his return to European Tour action at last month's Abu Dhabi Championship, where he finished tied ninth – his best result in over 16 months. "I simply didn't put the work in and I got the results I deserved. I was burning the candle at both ends, and when I got to the end of the season I had to sit down and think about what had just happened."
After talking to his closest friends, and having had the time to reflect on the decisions he had made, Johnston gave himself a strong dressing down.
"After finishing last season back in November, I had time to reflect on everything over the Christmas break, and I sort of said to myself, you know, you've got to keep quiet, keep disciplined and get on with your work," he says.
"I'm a social person. If I go out with friends or I get invited to something, I'll have a beer, but I probably had a few too many beers, to be honest, and it reflected in my golf, and I was disappointed looking back at it. I want to turn that around now, get back to doing the basics right, knuckle down and practice, and hopefully I'll have a good season."
Johnston was particularly stung by a poll that aired on talkSPORT Radio midway through last year's Open Championship that asked the question: "Is Andrew Johnston an inspiration or a clown?"
The results came back 60% in favour of him being seen as an inspiration, but it still meant that 40% viewed him as a clown. TalkSPORT host Mike Parry said it was 'disgraceful' that Johnston – whom he labelled 'a grinning jabbernacker' – should be allowed to detract 'from the dignity of golf' with his behaviour, and added that "He [Johnston] forms himself like a clown, looks like a clown, performs like a clown, and is referred to as a clown'.
Johnston, quite naturally, reacted angrily to the suggestion that he was somehow playing the role of a pantomine fool, or that his willingness to engage with fans on the course and on social media made him any less serious a player. He was also upset by personal comments aimed at the way he looked, with Parry calling him a 'bushy big-teethed clown'.
"It annoyed me. It really did," says Johnston, who currently has a following of over 143,000 on his Twitter feed @BeefGolf. "If I'm a clown for enjoying my work, then so be it. I had a few people message me who said, 'You should listen to the show'. So I did, and it was actually worse listening to it. I don't mind being criticised for my golf – I think it's good to listen to people's opinions, to see what you can do better, you know – and if they put a poll out saying maybe if I didn't spend so much time with the fans would I play better, I'd understand that, I'd totally get that. But when they took the p*** out of my face, my teeth, and stuff like that, I thought it was bang out of order."
So will the Beef of 2018 be all straight-faced and boring? "No. That's not who I am," he says. "I'm not going to change in that respect. I'll always just walk around with a big smile on my face, because I never dreamt of being in this position and having this kind of life, and the kind of support that I've got. I've always fed off the energy that the crowd provides, and love holing putts and hitting good shots to get the fans going. Golf is how I make my living, but it's also an entertainment business."
The early signs for Beef 2.0 are good. Three tournaments in and he's yet to miss a cut, and on top of his top ten in Abu Dhabi, he finished 45th in Dubai and 27th at the Maybank Championship in Malaysia.
It's perhaps too soon to talk of a turnaround, but the man himself feels like things are falling back into place. "I came out to Dubai a week early, and put in some solid practice and it really paid off," he says. "I feel so much more at home out here, and I'm in a much better place generally. I'm happy, I'm relaxed and I'm looking forward to what the future holds."
That sounds more like the Beef we know and love. Relaxing and chilling, while also being pretty good at chasing a small white ball around a field.
Stay up-to-date: