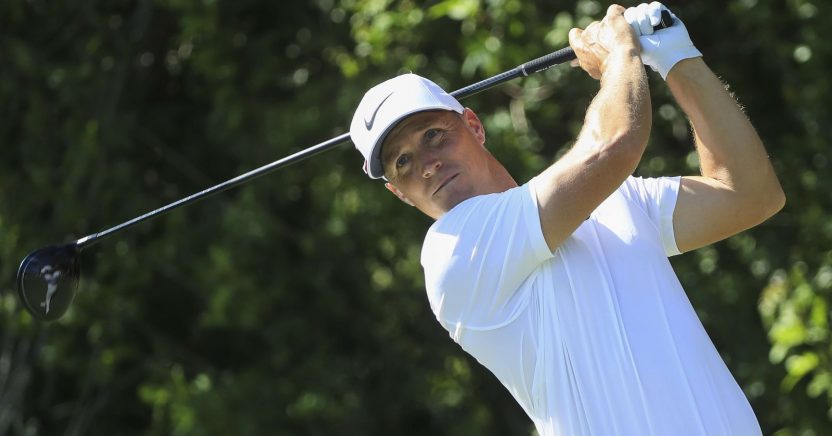 ALEX NOREN

16 April 2018
Golf News catches up with Swedish star ALEX NOREN to talk about his stunning start to the season on the PGA Tour, his upcoming defence of the BMW PGA Championship, and his hopes of making a Ryder Cup debut in September
You've had a fantastic start to 2018, with a playoff defeat to Jason Day at the Farmers Insurance, a third in the Honda Classic, a third at the WCG Match Play, and a move up to in the world rankings. Barring a win, things couldn't be going much better, could they?
Yeah, definitely. I'm really happy with how things are going. I went over to the States to play some more American-style courses, get firmer greens, more rough, and to improve my driving and my long game. I've managed to improve all areas of my game, so it's been great.
The second place at Torrey Pines was a highlight, even though I was disappointed not to win. I feel like I maybe beat myself there a little bit in the final round, whereas at theHonda I just came up against a couple of stronger finishers.
My goal coming into the season was to compete with the best players on the best courses, and to prove to myself that I could do it. I feel like I'm in a position to do that now, so we're having a lot of fun, and I just need to continue to push on.
Do you feel like you've got a better understanding of what's required to compete and win on the PGA Tour?
A lot of people kept telling me that I was ready to play well at US-style golf courses, but, in all honesty, I didn't think my long game was good enough. My strength has always been my putting and chipping. But this year my long game stats are so much better. And therefore, I've been able to compete better. That's given me a real confidence boost.
As far as getting comfortable goes, I spend the winters in Florida, so I'm used to the conditions – especially playing in the wind on firm courses, and the target-golf style of play. When it's firm, you've often got to land the ball very short when playing downwind, and hit a lot of good iron shots coming into the greens. You've to hit the right spots, because if you short side yourself in a bunker when the greens are firm, you're not going to get inside six feet. It's all about fairway and greens on the PGA Tour, and not trying to force it too much.
How are you finding playing both tours?This is the first year that I've really had the opportunity to play both, so it's still a bit of a learning curve. I want to get used to playing in the States and get more familiar with the courses, so I've only played in the US so far this season. I don't want to keep flying back and forth, so I've put in a good stretch of tournaments in the US in the early part of the season, and will head back to Europe in the summer for all the big events.
You've had a good run in the Dell Match Play, losing to Dustin Johnson in the quarters last year and making the semi-finals last month. What is it about match play that suits your game?
I think it is the intensity. When it's a straightforward 18-hole shootout, every round, every hole, and every shot is so important – it really gets the adrenalin going. You can't make up ground. If you shoot an average score on Thursday in a stroke play event, you know you have got three more rounds ahead of you to get back into it. But in match play, you have got to step it up from the off. I think all players get a bit more intense in match play. You want to beat the other guy so much. You want that win, however it's done. Normally, if a guy makes birdie, you are happy for him, but in match play it's about trying to win every hole. Maybe that's the kind of attitude I need to bring into stroke play events as well, and maybe be a little bit more aggressive in those early rounds.
Losing a semi-final is never fun, but how pleased were you to beat Justin Thomas in the third-placed play-off?
I was very angry after losing the semi-final. I thought I had some great opportunities on the back nine to take the lead, but it didn't happen. And then Kevin [Kisner] rolled in some good putts, and that was that. I was devastated – it was one of the hardest losses probably ever for me. The third-placed play-off was a weird one, as we were both upset about losing our semis, but there is still a lot to play for. I'm happy with the way I played, and to beat one of the game's hottest players felt good, but it wasn't much consolation for losing the semi.
You suffered tendonitis in both your wrists in 2014, which put your career pretty much on hold for a year. How are you feeling physically now, and how has it changed the way you practise?
I'm feeling great. I don't have as much time to practise now, so I'm less likely to get repetitive strain injuries. I'm trying to practise better now, rather than more. I also find that it's better to play a regular schedule, and to keep playing, rather than taking four or five weeks offer in the middle of the season to practise. Last year, I took six weeks off and tried to improve by just practising, but this year I'm going to be playing a bit more often.
You're coming back to Wentworth next month to defend your PGA title. Where does your tournament-winning final round 62 rank in your list of career rounds?
It's probably my best ever. Wentworth is a tough course coming down the stretch, both mentally and technically. It's not super narrow, but if you're a little bit wayward it can cost you. I putted the best I've ever putted that day – everything dropped.
What else do you remember about that week, and what did the win do for your confidence?
I remember coming off the course after the third round in a really bad mood, as I'd chipped it into the water on 18 and made a double bogey. I pretty much thought I was out of the tournament. I was seven shots behind the leaders and was something like 20th, so I didn't have any expectations about the final round, other than shooting the best score that I could and trying to take some confidence into the following week's tournament.
Even after I birdied three of the first five holes, I thought I was playing well, but I was still hoping for a top ten at best. In fact, even after coming off the course, having shot 62, I thought it wouldn't be enough to win, so I kind of felt quite relaxed. The whole week was very special – the PGA Championship is a very special tournament and, as European Tour players, we all like to come back to Wentworth, the tour's headquarters.
I've always liked the West Course, and, although the weather isn't always great, it's just a nice place to come and play golf. The crowds are great, and I always seem to get lots of support from British fans. To win on such a tough course, against a world-class field, gave me a lot of confidence going forward.
What do you remember about your eagle at the 18th hole?
Well, sometimes you like the yardage, and you like the hole where the wind is, how the lie is, and things like that, and everything about the shot set up nicely in my mind. I had around 230 yards to the pin, but I needed only to pitch it about 210, and let it roll out. I knew a 5-iron would carry the front, and I couldn't hit it over the green, even if I tried, so that kind of gives you a lot of confidence in a shot. So when I stood over the ball, I was kind of nervous, but I knew that if I caught it cleanly, and didn't hook it, it would be ok. Then it came off really nicely and went straight at the flag, and that was it.
As ever, there is some pretty stiff competition for places in the European Ryder Cup team. What are your thoughts on potentially making the team?
The Ryder Cup is still quite a long way off from now, so it's in the back of my mind, but it would be amazing to be in it. I know I have to play so good week in, week out to get in the team, so it has been a focus of mine. I'd love to be in the team and will be trying my hardest to get there.
Looking back to 2016, how upset were you not to receive one of Darren Clarke's captain's picks for the matches at Hazeltine?
Of course it was disappointing, but I didn't get enough points to make the team, so it was out of my hands. A lot of people came up to me saying, 'Don't you wish you were at the Ryder Cup? I'm like, 'Maybe zero.' I don't ever dwell on it.
You've put the new Callaway Rogue driver and fairway wood in the bag this year. How are they performing for you?
I first put the Rogue Sub Zero driver and Rogue fairway wood into play at Torrey Pines at the end of January. I finished second there, so they performed right out of the gate. I had tested the driver during the off-season, and at Torrey Pines I worked with Callaway's tour guys to dial in the weights on the head to add a little spin. This increased my carry distance, but also created a tighter dispersion off the tee, which has helped me find a lot more fairways this season. I've got it set up with a neutral bias, and the shaft is cut down to 44.75-inches, which helps with control.
Finally, you became a father for the first time 18 months ago; how has that affected your golf and your general outlook on life?
It has been a wonderful experience. I find that I am a lot more relaxed. You realise that there are far more important things in life, which I find helps centre me when I'm out on tour. My daughter Iris and my wife Jennifer are the stability that my life needs. Before, when I was on my own, my whole life was golf. If I played badly, I was sad. If I played well, I was really happy. My entire mood was dependent on my golf game. Now it's a combination of knowing where you are with your golf, and having something else that's really important in your life. That makes the wins less fun, but the losses less bad.
ALEX NOREN FACTFILE
AGE: 35
TURNED PRO: 2005
WORLD RANKING: 17
EUROPEAN TOUR APPEARANCES: 248
WINS: 9
PRIZE MONEY: €13M (EUROPEAN TOUR)
RACE TO DUBAI RANKING: 5TH (2018), 8TH (2017), 3RD (2016)
BEST MAJOR FINISH: T6TH (2017 OPEN CHAMPIONSHIP)
DRIVING DISTANCE: 302YARDS
FAIRWAYS IN REG: 65%
GREENS IN REG: 68%
SCORING AVERAGE: 69.4
WHAT'S IN ALEX'S BAG?
DRIVER: CALLAWAY ROGUE SUB ZERO (9°)
FAIRWAY WOOD: CALLAWAY ROGUE 3+ (15°)
HYBRID: CALLAWAY APEX (18°)
IRONS: CALLAWAY APEX PRO 16 (4-9)
WEDGES: CALLAWAY MACK DADDY 4 (46°, 50°, 56°, 60°)
PUTTER: ODYSSEY O-WORKS 1W
BALL: CALLAWAY CHROME SOFT X
Stay up-to-date: