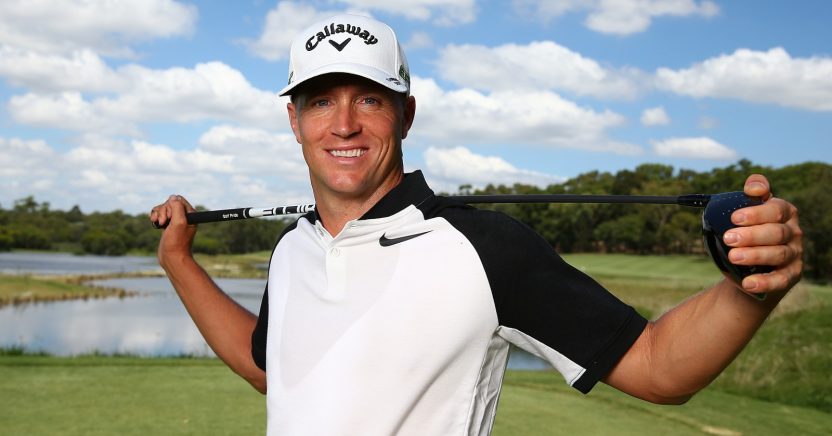 ALEX NOREN

13 March 2017
Four wins on the European Tour in 2016 have catapulted Sweden's ALEX NOREN into the world's top-10, and set up a tilt at the game's biggest prizes, and perhaps a potential date in Paris next year….
How hard has it been to get back into the routine on tour again after such an incredible 2016?
I had quite a bit of time off over Christmas and the New Year, perhaps a little too long, maybe. I took a month and a half or even more, and it probably would have been good to have thrown another tournament in there somewhere, just after Christmas or something, just to get back at it. Maybe I'll change that for next year.
So coming into Abu Dhabi and Qatar, I perhaps didn't feel as good as I did last year. I did a lot of training, but not all of it really worked out the way I wanted to. But you know, once you get back into the normal routine, you soon get back to the style of golf that you are used to playing. I find that not trying the shots that you would like to pull off, but instead relying on those that you know you can play usually work better for me.
What kind of shots were you working over the winter?
I've always played with a bit of a fade, and I tried to straighten it out, and also worked on getting some more distance. I also spent a little time working on my chipping with my coach, Matt Belsham. It's a long process to make a big change to your swing. To do that probably takes a few years. Obviously my game was great last year, but I always want to get a little bit better.
I've also changed my approach to practice. Now I'm trying to play more actual golf on the course, focusing on getting the ball round in good scores, rather than spending hours on the range working on my swing and technique. I've dedicated more time to my whole game as well – so I'm practising wedges and my short game a lot more, rather than just getting stuck out on the range hitting drivers.
Can you put your finger on why everything clicked for you in the second half of the season with those four wins?
Well, it was down to a few things. I've been working with my coach for about three years now, and it's gradually been getting better and better. We both have a little bit better understanding of my swing, and rather than always trying to change it, we've stopped trying to constantly tinker with it.
For me, the turning point in the season came when I played in the US Open at Oakmont. I missed the cut there, but playing such an unbelievably tough golf course was a real eye opener. I came to France, and I've always had trouble in France, and it felt so much easier to cope with compared to what I just experienced at Oakmont. So I finished eighth in France, and won the Scottish the week after, and that gave me a lot of confidence to move on from there. It was easier in Crans, and then again at the British Masters. Confidence breeds confidence.
When you look back at your victory in the Scottish Open at Castle Stuart, how important was that win that sparked the great run? And will you be back to defend the title this summer at Dundonald?
Yeah, it was huge for me to win the Scottish Open, especially coming down the last two holes. It was quite a tough wind, and being able to par those two holes felt like I could stand my ground under pressure, which is always a confidence boost. That made it a lot easier the next time I had a chance to win, because I was a lot more nervous over those last few holes than I've ever been. I think the Scottish Open will be even better this year, with it being part of the Rolex Series. I'm looking forward to defending my title.
One of the reasons behind the Rolex Series is to try and keep young players like you in Europe, and not have them go to the PGA Tour. What effect do you think it will have going forward?
I think if you have all those $7 million tournaments – and they said they are trying to get even more – and then you have the WGCs and the majors – that's a great schedule. As a European, I love playing in Europe, and Asia and Africa and the Middle East, but also I love playing in America. But it would be great to have a competitive schedule that allows us to live in Europe. I think the European Tour is great, and I love where it is heading. So, if you want to live in Sweden, you can do so, and still have a great schedule.
You purposefully didn't change your schedule to have a better chance of the making the Ryder Cup team last year. Are you still comfortable with that decision, and how important was that decision in where you are in the game today?
Changing my schedule by adding one or two more tournaments, just to get a pick for Ryder Cup, wasn't part of my plan, so I can honestly say I didn't have any regrets about the decisions I made. All I'm trying to do is get a game that can compete with the best players in the world, and I think I have a good plan how to do that. A lot of people came up to last year me saying, 'Don't you wish you were at the Ryder Cup? And I'm like, 'Maybe zero.' Golf is so punishing all the time. I don't ever dwell on it. There's so much to look forward to.
Have you given much thought to the Ryder Cup in 2018?
It isn't really on my mind. Now that I'm inside the world's top 50, there are so many good tournaments for me to play, and I'm just trying to focus on them and my game, rather than looking too far ahead. Of course, it would be amazing if I could make the team in 2018. I watched the Ryder Cup at Hazeltine, and I think it's an extraordinary event. You don't see the guys that pumped up at any other event. I got the goosebumps when Rory made his putt against Patrick Reed in the singles. It affected me a lot, and you can see how much it means. It's about so much more than yourself when you're playing in a team, and I think that brings an extra dimension to it.
Do you think you've moved on to another level as a player?
Well, when I compare myself to all those other guys that I'm trying to beat, I can see a lot of weaknesses in my game, and also a few strengths. I don't think I'm such a different player from what I was before. It's more like I'm more aware of my weaknesses and my strengths, and I can strategically play to them. So I don't feel like my skill level has increased dramatically. It's more that I just know my game better. So I'm not going for shots that I have quite a low percentage of making. My bad shots aren't quite so bad. It's more relaxing to play when you don't have those really errant shots. With regards to my ranking, I don't give it much thought. I never think 'Hey, I'm a top 10 player now, or what have you.
You've put Callaway's new Epic driver in the bag. Can you talk about the testing process that you did in the off-season and what sort of performance benefits you saw that made you make the switch from your XR16 driver?
I've tried both Epic drivers, and liked them both, but the one that suits me best is the Sub Zero. It has a little bit of a smaller head than the standard model, which suits my eye and feels a bit more upright. It also creates less spin, which allows me to have more loft, around 9.5 degrees, rather than 8, which lets me fade or draw the ball a little bit more easily. I didn't do a lot of testing on Trackman on the range with it, as I generally prefer just to take a new club out onto the course, play with it a lot, and see how it performs under different conditions, such as downwind, upwind, and on different types of holes. I've not played with a more consistent driver than the Epic, and what's really impressed me most is the way it performs when I don't quite catch the centre of the clubface. Even low impacts, or those marginally off-centre hits, still get the ball out there, which is a huge performance benefit for me.
Have you tried Callaway's new Chrome Soft X ball?
I've tried it on the driving range and on short game practise, and really like the way it shapes up. It really holds its line in the wind and generates lots of spin around the greens, so I'm really happy with the way it performs across the board. I was playing the Chrome Soft ++ last year, which was a firmer version of the Chrome Soft. I've always preferred a firmer ball, which flies really well through the wind, and this is exactly what the Chrome Soft X offers.
Do you think becoming a dad for the first time has changed your outlook on your golf?
My whole life used to be golf. If I played bad, I was sad. I was really happy if I played well. Now it's a combination of knowing where you are with your golf and having something else that's really important. That just makes the wins less fun and the losses less bad. Having a baby has actually helped my golf a lot. It's just relaxed me a bit. Looking after my little one has made me focus on something other than golf, which has been beneficial to my overall game.
What's the biggest thing you've learned about yourself and your game in the last 12 months?
I think the most interesting thing for me, is that I now understand that you don't have to hit every shot perfect to win. You watch TV and you see these amazing players not missing a shot, but that's not actually true. As long as you manage your game, and miss it in the right places, and hole enough putts and chip good enough, you've got a chance. I think that's been the difference – trying not to be perfect.
Stay up-to-date: