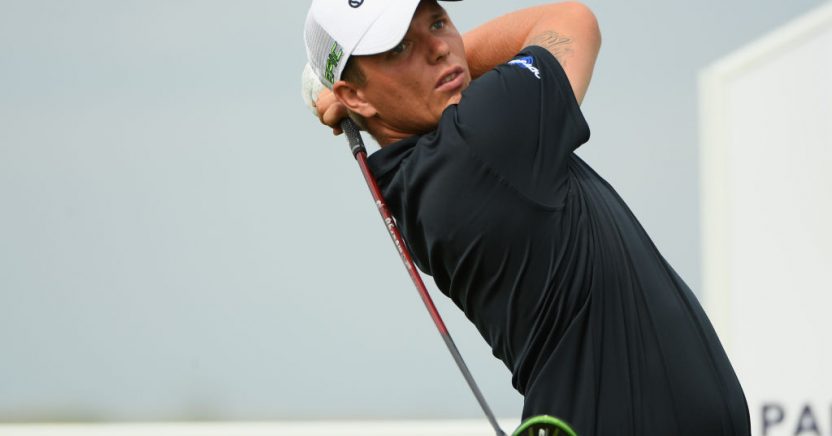 CALLUM SHINKWIN

12 March 2018
Now in his third season on tour, Hertfordshire-based player Callum Shinkwin is hoping for a breakthrough win in 2018, following his near miss at last year's Scottish Open
Interview by Jeremy Ellwood
Last year was an interesting season for you, with one massive result making up a big chunk of your winnings. Would you have preferred to have been in the top 20 every week?
I think most players would say they would rather have one or two wins a year and the rest missed cuts! It you have one or two good results a season, it earns you a lot of money and gets you noticed.
You had a great chance to win the Scottish Open last year – how disappointed were you that you didn't managed to seal the deal?
At the time I was very pleased just to have a top finish, but when you look back, a win out on tour is massive, with all that it brings you by way of exemptions and so on. Looking back now, I'm gutted, but at the time I was very pleased to do what I did that week.
Did the nerves get you at all on the 18th hole?
Of course it was a pressured situation, but it was nothing like what everyone probably thinks. I hit a great second shot in and finished in a divot on a down slope of the bunker. I had no shot, really. But it's all a learning curve, and, obviously, if you win, you have to have luck on your side. It wasn't there for me.
Did you blow any of your winnings on a treat?
Yes – I bought my first property with it. It costs a lot of money to get in the housing market down south, where I live, so I've invested those winnings to get my first step on the ladder.
Are you a big links fan or is there something about links golf that suits your game?
I played a lot of links golf as an amateur, so I guess I just know how to get it round a links course.
You played quite well in Ireland too…
Yes, I finished 30th in Ireland the week before at Portstewart, and eighth in the Scottish Open the year before, when it was up at Castle Stuart, so I seem to raise my game a level on links tracks.
So you should be all set to do quite well in the Open Championship at some stage…
Well, you'd think so, but I've played in two Opens so far – at Troon two years ago and Birkdale last year – and missed the cut both times!
Every year on tour so far you've managed to improve your ranking. Where are you in the mix in terms of where you thought you'd be?
I'm very relaxed about it all really. Nowadays it's much, much harder, and the competition is much stronger on tour than it was, say, ten years ago. So if you can progress every year, then I think you're doing ok.
What do you most and least enjoy about tour life?
I enjoy the weather. This sort of temperature [in Dubai] is perfect for me, but anything too hot is not nice. What I least enjoy is the travel. I think everyone would say that the travel is the most boring part, and is not fun at all. You catch a lot of germs on planes too, so you're constantly battling with coughs and colds.
So you wouldn't go to somewhere like Malaysia?
I went there last year, so I have experienced it, but I didn't like it one bit – the long-haul flight and the heat. If I had to go, I'd go, of course, but if I've got a choice, then no. And also the schedule doesn't work very well to go to Malaysia either.
Are you a goal-setter?
No, I never set goals. You can always set them, but you risk failing if you set them too high.
What do you see as your main strengths, and where would you say you need to improve most from watching other pros?
I think everyone who looks at my game knows I'm a good ball-striker and have a solid long game. I'm pretty good around the greens, but from 100 yards and in is where I need to raise my game. It needs to be a lot sharper and stronger.
At this stage of your career is the Ryder Cup even remotely on your radar?
If it happens, it happens, but it's not something I lie awake thinking about. If it happens this year, then I will have had an amazing season, and if it doesn't, I'm still young and I've got a lot of time on my side.
Let's just get to the end of 2018 – when you look back then, what needs to have happened for you to be able to class it as a good season?
I don't know – it's hard to say really. I'd like to get that first win – that would be great. But even just finishing high on the Race to Dubai would be great, and getting into the top 50 in the world.
Stay up-to-date: