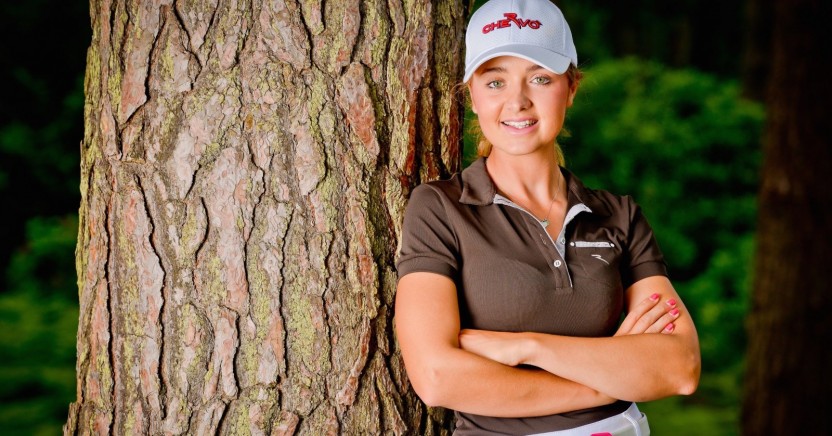 ALEX PETERS

17 August 2015
GolfNews meets high-flying rookie Alex Peters, the 21 year old from Nottinghamshire who is enjoying a strong start to her professional career
How have you found the transition from the amateur ranks to the professional game?
I haven't found the transition that difficult, as I felt ready to turn pro and start a new chapter.
What has surprised you most about the switch between codes?
The consistency of everyone's short game. All the players on tour are really good around the greens, and from 100 yards in. This is the biggest difference between the amateur and professional game.
Who do you travel with on tour?
I travel a lot with different people. I like to have a family member or close friend with me, as it makes life a lot easier and more comfortable. 'Team Peters' includes my swing coach, Peter Baker, and my strength fitness trainer, Chris Hall.
You shot 63 at The Buckinghamshire during the European Masters. What was it like to play so well in front of a home crowd, and what specifically clicked for you that day?
To shoot 63 was an amazing feeling. As a golfer it is a great feeling to get over a shot and just know exactly what is going to happen – that day was my day. I played solidly from tee to green, hit it close to the pins and gave myself chances for birdies – seven of which I converted.
What did you take away from the overall performance that week?
That I have to stay patient and not chase the score.
What was it like having your brother as your caddie at The Buckinhgamshire?
It was great having Ed on the bag, as he knows my game and the way I like to play. Unfortunately, it isn't a long-term plan, as he works full-time.
What do you regard as the main strengths of your game?
My biggest strength is my driving. I hit a lot of fairways.
What do you think are the key areas for improvement?
I am always working at improving all aspects of my game, but in particular my short game is a priority.
What equipment do you have in the bag?
Ping G30 woods (D, 3W, 5W, Rescue); Ping I25 irons (4, PW); Ping Anser wedges (52, 58); and a Ping My Day putter.
Have you managed to secure any sponsorship deals?
I have had a few offers, but I'm still in talks with a few companies, so there's nothing to announce on that front just yet.
How old were you when you first took up golf and who first introduced you to the game?
I started playing when I was seven. My family all play the game, so there wasn't much chance of me not at least having a go!
How much support have you received from Shifnal Golf Club? Do you practise there?
Both Shifnal and Notts Ladies have been great, with both clubs allowing me to use the facilities whenever I like.
You became the only woman to have ever played in the Halford Hewitt in 2013? What was that experience like, and what do you think UK golf clubs have to do to make golf more attractive to young girls and women in general?
It was a great experience to play in the Halford Hewitt. Everyone made me feel very welcome. Golf is very expensive, and unless you are really serious you are probably not going to pay the fees that golf clubs demand. Also I think clubs need to look at the cost of membership for golfers between the ages of 18 and 45. This can be a difficult time financially for many reasons, such as going to university, buying a house, or starting a family, so to maintain younger members, clubs have to address the cost of membership.
Have you treated yourself to anything special since joining the paid ranks?
No, I haven't. I am saving as much as I can to keep myself on tour.
Who is your favourite tour player?
My favourite player is Luke Donald. I also really like Jordan Spieth – he is a great player. It's very motivating and inspiring to see someone the same age as you dominate like he has in the last six or seven months.
What are your goals for the remainder of the season?
To keep making cuts, and try to improve my position on the LET Order of Merit.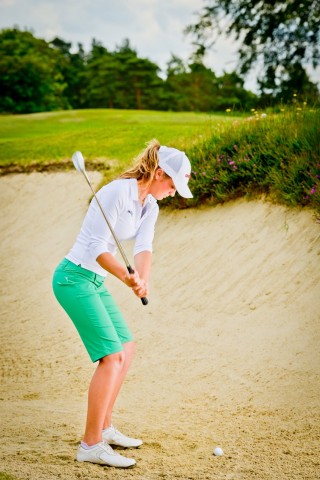 When it comes to your clothing, how important is its performance when you're out on the course?
Look good, feel good, play good – that's my motto. Chervo clothing certainly allows me to do just that with their chic-tech concept, which combines ultimate style with the best performance. The technologies they have running throughout the range mean that I always feel great.
How does having the right clothing make a difference when you're playing competitively?
It makes life a lot more comfortable, as well as giving you confidence to play well. If you know you're looking good, then of course your confidence is going to be higher, and that can make such a difference.
Alex Peters is an ambassador for Italian golf clothing brand Chervo. For details of its latest collection,
visit www.chervo.com.
Stay up-to-date: