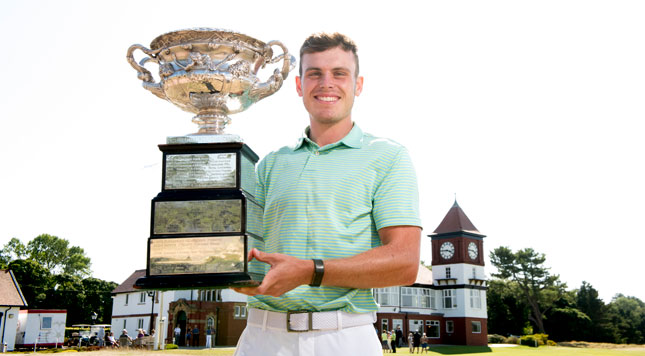 Thurloway triumphs at English Amateur
Featured News
5 August 2018
Sussex's Tom Thurloway won the Amateur Championship after beating Gloucestershire's Joe Long 6&5 in the 36-hole final held at Formby Golf Club.
The 20-year-old from Chatham Park arrived at the Lancashire links in fine form, having won the Walton Heath Trophy the previous week and the Sussex Amateur the week before that, but he topped those impressive performances at Formby, running away with the final to write his name in record books alongside the likes of Danny Willett, Tommy Fleetwood and Paul Casey, all of whom are past winners of the tournament.
"The Walton Heath Trophy was my biggest win, but this has just topped it," said Thurloway. "I've been pushing and pushing, and over the last few weeks I've got into the right frame of mind to be winning – and winning on a big stage. It's a massive result for me."
Thurloway matched his long hitting with very some very impressive approach play in the final, and was eight-under par for the 31 holes he played before wrapping up the match, while Long was three-under.
The Chartam Park man opened up the morning round with six pars and three birdies to reach the turn 4up. But Long, from Lansdown Golf Club, hit back on the back nine, winning the 11th, 13th and 16th with birdies to narrow the margin to one hole. However, Thurloway went in for lunch 2up after playing a superb approach to the 18th, which hit the pin and settled within a couple of feet to set up an easy birdie.
In the afternoon round, the great play continued from both finalists, with the 21st and 22nd halved with birdies. But it was Thurloway's day, and he pushed steadily on, making the most of his power play and his accuracy. If he did find trouble, as he did on the 26th, where he was knee deep in brambles, he had the strength to extricate himself and then the precision to hit his third to within a couple of feet on the pin – and again he walked off with a birdie, halving the hole with Long.
He hit very close to the pin on several occasion, but also holed a 25-footer for birdie on the 27th, to turn for home six up. Long won the next two holes, with his own birdie on the short 28th and taking advantage on the 29th – where Thurloway drove almost 400 yards, but missed a short putt. The Sussex man came straight back with a winning birdie on the 30th to return to 5up.
He played conservatively off the tee on the 31st, avoiding the bunkers which caught Long's drive. The policy paid off when Long's par attempt missed and the title was conceded.
Now Thurloway plans a couple of week of rest before he returns to America to transfer to Jacksonville University in Florida.
Stay up-to-date: