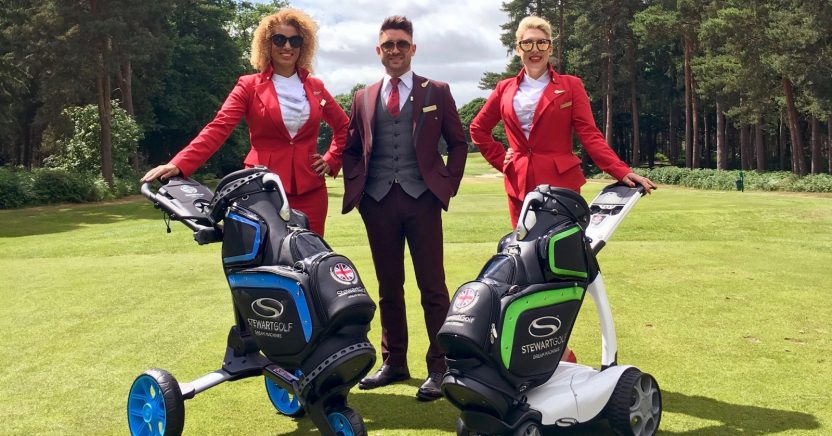 STEWART GOLF RENEWS PARTNERSHIP WITH VIRGIN ATLANTIC FLYING CLUB SWINGERS
Featured News
11 January 2018
With the highly anticipated 15th season of Virgin Atlantic Flying Club's Swingers Golf programme due to start early in the Spring, it was announced today (Jan 11) that longstanding partner Stewart Golf will once again sponsor the event in 2018.
As well as providing prizes for all the golf events associated with Flying Club Swingers, Stewart Golf is the title sponsor of one of the website competitions which forms part of the programme.
Each month, registered Swingers submit nominations for those who work or volunteer in the golf industry, and who they think deserve to be rewarded for good service and commitment to their role. It could be the pro at the club, or a member of the bar staff. The winner receives the Stewart Golf 'Good for Golf' trophy, while the nominator receives a £100 voucher to spend on Stewart Golf products.
In addition, this year Stewart Golf will be involved in three of the club's UK society days, where one Swinger on each day will receive a very special opportunity which will be announced soon.
Tournament Director Paul Rockett said: "Stewart Golf is one of the UK's fastest growing golf brands, and its superb range of trolleys is widely regarded as the best in the business. It's a real honour to partner with the forward thinking and friendly team at Stewart Golf, and we've got some exciting plans with them for the new season."
Mark Stewart, Stewart Golf CEO, added: "We've been supporting the Virgin Atlantic Flying Club Swingers for many years already and we're excited about continuing our association. It's a truly exclusive club, and we have some new things planned for 2018 for its members."
The 2018 season launches in early spring, with entry for UK society days already open. To find out more, visit www.flyingclubgolfleague.com.
Stay up-to-date: