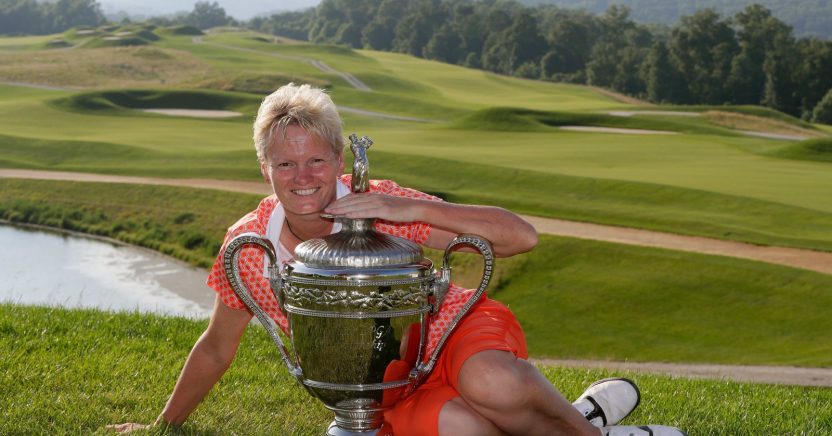 JOHNSON'S ON THE PROWL WITH LYNX GOLF
Featured News
5 March 2018
Lynx Golf has added eight-time Solheim Cup player Trish Johnson to its team of tour ambassadors.
Johnson, 51, is the reigning Senior LPGA Champion, and will defend her title on the Legends Tour this season, as well as competing in the first US Senior Women's Open, which is being held at Chicago Golf Club in July.
Bristol-born Johnson has bagged 25 wins in her 30-year career to date, including 19 on the LET and three on the LPGA Tour. She has recorded 74 top-10 finishes in Europe, where she has played in over 280 tournaments since turning pro in 1987.
Steve Elford, Lynx Golf's co-owner, said: "Having a player like Trish representing Lynx in two Senior Majors this year is fantastic, especially at a time when we are re-introducing Lynx to the US market. Trish has a high profile there and, of course, in Europe, so she is a great addition to our team."
Johnson lines up alongside other LET stars Laura Davies, Becky Brewerton and Lydia Hall on Lynx's tour staff.
Johnson carried out extensive testing and custom fitting before deciding to put the new Lynx Prowler Forged CB irons and Parallax woods in her bag for 2018.
Said Johnson: "The Lynx kit is fantastic. I'm not a player who chops and changes my equipment very often. In fact, I hadn't been fitted for ages, and had played the same driver and woods for donkey's years. But when I started testing the Lynx equipment I was so impressed.
"I've been getting significant distance gains with the irons and the driver, and I'm hitting my fairway woods better than ever. The Prowler irons really suit my eye perfectly, they're such a lovely shape, and the feel is fabulous, so I can't wait for the season to start."
Added Elford: "Trish is very particular about the equipment she uses, so having her on board, and playing with Lynx gear, is a huge endorsement for what we are trying to achieve as a company. She was impressed by the quality and range of the equipment we are able to offer and we will be finalising what's in her bag after being fitted at our custom fit centre in Weybridge. She also loves the fact we are a family-owned, British golf company, with a commitment to achieving outstanding quality across the board – from initial product development to customer service."
Stay up-to-date: