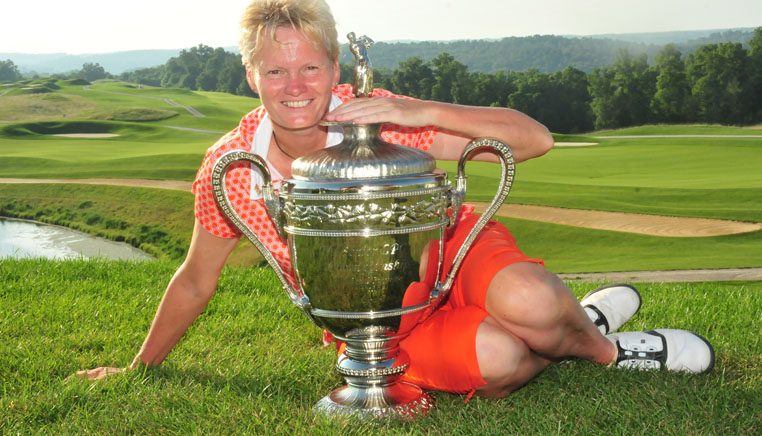 JOHNSON WINS INAUGURAL SENIOR LPGA CHAMPIONSHIP
Featured News
14 July 2017
Trish Johnson won the inaugural US Senior LPGA Championship after finishing three shots clear of the field at the French Lick Resort in Indiana.
The 51-year-old former Solheim Cup star, who lives in Wiltshire, shot a final-round 73 on the Pete Dye Course, to go with earlier rounds of 67 and 72, to finish on four under par for the 54-hole event.
Johnson finished three shots clear of America's Michele Redman, while Laura Davies shot a final round 68 to finish in a tie for third with Helen Alfredsson and Wendy Doolan.
Johnson won 19 times on the Ladies European Tour, with her most recent victory on the main circuit coming at the Ladies Scottish Open in 2014, although she has tasted success at French Lick before, having won the Legends Tour Championship there in 2016.
"Hopefully, this is the first of many," said Johnson, who won three times on the LPGA. "This is so well deserved, because all those girls playing for $2 million on the LPGA right now is because of these people here. This is huge and very special."
Asked about the key to her 26th professional win, which came with a $90,000 first prize, Johnson said: "I hit my driver so well all week. I was quite long, so I was hitting a lot of short irons in. Some of the greens were pretty wicked, so hitting short clubs in to them was a major advantage."
Davies, who was delighted to back in the heat of competition, said: "Although none of us are quite as good as we used to be, it is still quite competitive. It is fun to see how good everyone still is and people still want to win tournaments. I never give up. Sometimes it may look like I'm slupping around, but I'm always trying to get the extra shot out of the round. I hate to walk away from a tournament knowing I left something out there. Six-under on the weekend is never a bad thing."
Stay up-to-date: