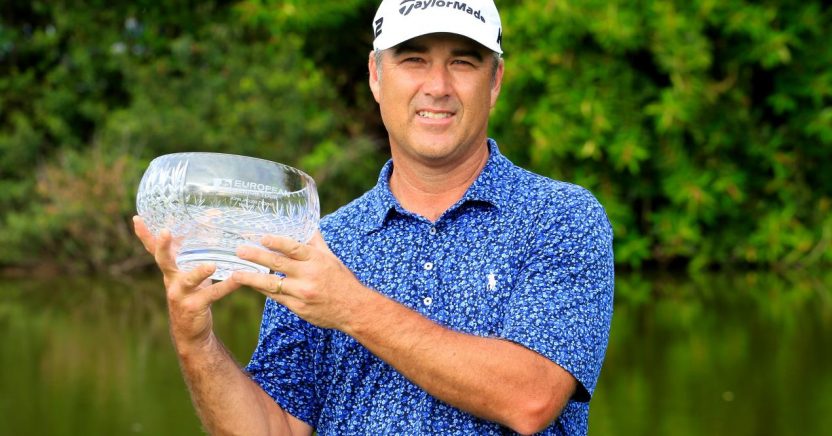 Dennis wins European Senior Tour Order of Merit
Featured News
11 December 2017
Clark Dennis became the first American to win the John Jacobs Trophy for topping the European Senior Tour Order of Merit.
The 51-year-old American, a two-time winner this season, accumulated earnings of €222,055, more than €30,000 ahead of South Africa's Chris Williams.
Dennis earned his card at Senior Tour Qualifying School in February, and became one of the Tour's most consistent performers during his rookie year. After winning his first title at the Senior Italian Open in September, he then secured his second victory the following month at the inaugural Dutch Masters.
Dennis was presented with the John Jacobs trophy after the conclusion of the MCB Tour Championship at Constance Belle Mare Plage, Mauritius.
"It was a great way to end the season," said Dennis. "It has been a great year and it couldn't have ended any better. To be the first American to win the John Jacobs Trophy is fantastic. I have a feeling there will be a few more coming over to try and win it."
After a top-20 finish at the first event of the season, the Sharjah Senior Golf Masters, Dennis would finish inside the top five at the next three regular Senior Tour tournaments. He finished second at the Travis Perkins Masters, and then defeated Peter Fowler in a play-off to win the Senior Italian Open.
Less than a month later, he won the Dutch Masters, and then finished second at the inaugural Farmfoods European Senior Masters.
With the John Jacobs Trophy still to play for in Mauritius, as many as seven players could topped the money list, but Dennis finished fifth, ensuring a first-place finish on the Order of Merit.
"I had my eye on the leaderboard during my final round," admitted Dennis. "I tried to not think about it and maintain the process; I was able to play a nice round and had a good finish. I got off to a really nice start with birdies on one, three and four and that settled me down. I knew if I played well I would have it wrapped up. It was such a nice feeling walking down 18 knowing that I had it and that I could relax."
Stay up-to-date: