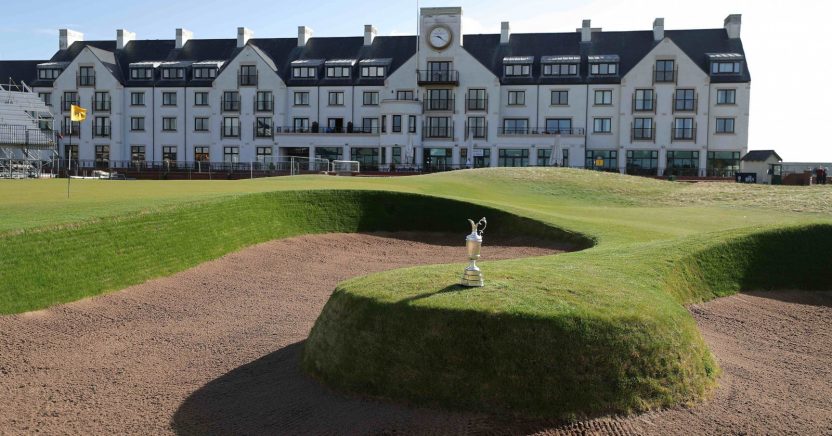 147th OPEN championship BETTING PREVIEW
Featured News
10 July 2018
Nick Bayly assesses the form of the favourites lining up at the 147thOpen Championship at Carnoustie from July 19-22
Who you decide to invest your hard-earned cash on to win this year's Open Championship depends much on your view as to how Carnoustie should be played as it does on the current form of any given player.
Do you opt for a steady performer who manages to avoid bogeys and holes a few putts, or do you gamble on an eagle-hunting glory seeker who takes out the driver whenever possible and eyes up every flag, regardless of the deep bunkers and punishing rough that lies in wait?
There are plenty of players that fit the bill in either camp, and some that have a foot in both, so the cautious investor might be wise to spread their investments thinly if they're to cover all the bases.
Looking down the odds lists at betting.com, defending champion Jordan Spieth currently holds sway for favouritism with world no.1 Dustin Johnson at 10-1, with Rory McIlroy sitting just behind the front two at 12s.
Spieth, somewhat surprisingly, hasn't won since lifting the Claret Jug in such memorable fashion last year, but the world no.5 has chalked up no fewer than ten top-10s in his last 20 tournaments, giving rise to the belief that he's quietly ticking over without ever quite finding sixth gear. Still, Spieth is clearly the man for the big occasion, and his Open record of having made the cut in all five appearances points to a player who loves the links challenge, and we know he has the necessary skill and the will power, as he showed when battling his demons – and Matt Kuchar – en route to victory at Birkdale last year.
Johnson boasts a very consistent Open record, having enjoyed five top-15 finishes in the last eight years. His closest call came at St George's in 2011, when he finished second behind Darren Clarke, but he's a much better all-round player now. The big hitter from South Carolina has won twice this season, and by big margins – eight shots in Hawaii and six at last month's FedEx St Jude Classic – and comes to the Open as serious contender, although his lack of experience around Carnoustie counts against him in my book.
McIlroy has been quite frustrating to follow over the last 12 months, certainly if you've been betting on him. Clearly a class act, he has only won once since finishing seven shots behind Spieth at Birkdale, capturing the Arnold Palmer Invitational in March with a final round 64 to beat a very strong field. But otherwise it's been a case of what-might-haves and oh-so-nearlys, with runner-up finishes in three tournaments, and a disappointing final round at the Masters, when he had Patrick Reed in his sights, but let him slip away with a lacklustre closing round at Augusta.
With an Open win in 2014, and top-five finishes in 2016 and 2017, another Open title is clearly within Rory's scope, and I for one believe that he has all the necessary skills to add to his major tally, which has been stuck on four since his PGA win in August 2014. He's not offered at particularly generous odds given his foibles, but would you offer him higher if you were a bookmaker?
Olympic champion Justin Rose is also high up the odds list (16-1 generally), and with good reason. At 37, this seasoned campaigner only just seems to be reaching his golfing peak, and with four wins in the last 10 months, and 11 other top tens, Europe's highest ranked golfer is without doubt one of the hottest players on the planet at this moment in time, and is only one win away from claiming the world no.1 spot.
Strangely, the Open hasn't been the happiest of hunting grounds for the amateur hero of Birkdale in 1998, with a sixth place at St Andrews in 2015 his best result in 16 appearances. Still, he's too good to discount these days, and an each-way bet for a top-five finish could yield a healthy profit.
Call me a fool, but I'm dismissing the chances of current world No.2 Justin Thomas out of hand, and the same goes for Rickie Fowler and Tiger Woods. That may sound churlish, but the latter isn't going to win another major, whatever anyone tells me to the contrary, and while the others probably will, I don't believe it will be at Carnoustie in 2018.
I much prefer the chances of Europe's No.1 in 2017, Tommy Fleetwood, who showed his love for Carnoustie when skipping round in 63 at last year's Dunhill Links. Although the Open is a very different proposition, I like the chances of this likeable lad from Southport, who plays with the kind of carefree attitude that will serve him well at a course that can get under your skin if you let it. A straight driver, and a superb iron player, Tommy can also get the putter going, so a dabble at anything around 20-1 or more is well worth a pop.
I'll also be having a saver on Francesco Molinari at 40-1, as this automaton of a golfer is maturing into a world-class player, and although his price has contracted considerably since his two wins this summer, he is still generously priced for a world No.16 who is in the form of his life.
Sergio Garcia will have his supporters to get his revenge over a course that he prospered so well on in 2008, but came up agonisingly short. A decade on, the 2017 Masters' champion may well get into the places again, but I'm not convinced we'll see the Spaniard collect the Claret Jug he so desperately desires.
So get your bets on early, plump up the cushions of your favourite armchair – or beat a path to Carnoustie if you can – and settle down to enjoy the action at golf's ultimate test of skill, stamina and self-belief.
ODDS: 10 Spieth, D Johnson; 12 McIlroy; 14 Fowler; 16 Thomas, Woods; 18 Rose; 20 Rahm, Day; 22 Garcia; 25 Fleetwood, Stenson; 28 Matuysama; 33 Noren, Mickelson, Molinari, Koepka, Reed; 40 Casey, Leishman, Grace; 50 Kuchar; 66 Fitzpatrick, Poulter, Pieters, Watson B, An; 80 Cabrera Bello, Johnson Z, Wood, R Fisher.
Stay up-to-date: