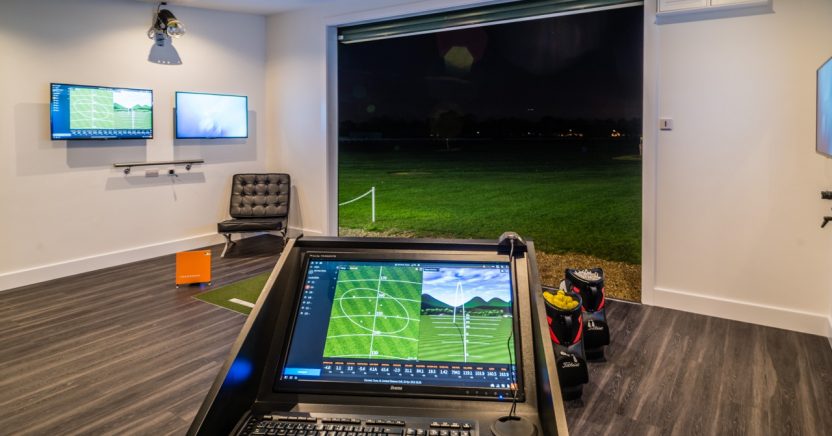 UNDER STARTER'S ORDERS AT NEW SANDOWN PARK SWING STUDIO
Club News Featured News
22 June 2016
If you're looking to sharpen up your swing this season, then The Dominic Toms Golf Performance Studio at Sandown Park Golf Centre is the place to do it
Although some visitors to Sandown Park Golf Centre might be a tad disappointed to find that the resident teaching professional is not the winner of the 2001 US PGA Championship, those who regularly beat a path to this popular Surrey venue are delighted to put their trust in another
D Toms – Dominic – when it comes to fixing their golf swings.
Toms has dedicated over 25 years of his life to improving the swings of amateur golfers – the last 11 of which have been at Sandown Park – during which time he reckons he has given over 40,000 hours of lessons.
Needless to say, Toms has seen it all when it comes to swing mechanics, or lack of them. Having worked in Germany for over a decade, where golfers are obsessed with the fundamentals of the game to the extent that some refuse to venture out onto a course until they've mastered them, Toms has an expert eye that has succeeded in transforming the fortunes of thousands of players.
Although he has worked across the complete spectrum of skill levels, from absolute beginners to wannabe Tour pros, Toms's new state-of-the-art studio at Sandown Park, which officially opened on May 1, is focusing on offering his services to experienced golfers of all ages who are serious about taking their game to the next level and beyond.
Annexing two of the driving range's pre-existing bays, Toms has built a high-tech private studio that is kitted out with all the very latest swing analysis systems, including the most up-to-date versions of Trackman and GASP.
The studio itself is the very essence of minimalist chic, with stylish black and white images of Seve framed on the white walls, a single black leather chair in one corner, and a console in the other, from which Toms controls the vast array of technology at his disposal. Miniature high definition cameras are all focused in the direction of the Huxley artificial surface in the centre of the room from which golfers hit their shots, while a bank of wall-mounted flat screen monitors provides the vital visual feedback from the vast amounts of data that the cameras capture.
Despite the room being packed with gadgetry, it is a very calm and uncluttered space in which to clear your head of all negative thoughts and concentrate on the task in hand. The double-width bay, which is protected by shutters, looks out over the driving range, where numerous targets are provided to add structure and focus to any practice session.
"Player development is going through a period of tremendous change, and technology is a central component in this transformation," says Toms, who has built up a large and loyal following of pupils over the years he has been teaching at the centre. "Technology empowers coaches to monitor swing changes over time and allows the effective development of technique."
Toms is not in the business of offering quick fixes, and prefers to develop long-standing relationships with his pupils, no matter how often he sees them. "I see some of my pupils once or twice a month, others maybe only two or three times a year, but they keep coming back because they know I understand what makes them tick. They see the improvements that they are making."
As well as making them better golfers, Toms also teaches his pupils the art of effective practice, and is adamant that those who come to him for lessons should see them as just a part – albeit an important one – of their self-improvement. "It's no use coming to lessons once a month and expecting to get instant results, you've got to have the self-discipline to build effective practice into your overall game. Working with each player's circumstances, I help develop the correct practice routines, so they can go away and work on specific drills in their own time, whether that be on the range, in the back garden, or even in the office."
As mentioned, Toms has invested heavily in the very best swing analysis systems, which help him extract the data from which tweaks to set up and swing mechanics can be made. One of the key systems is TrackMan, whose latest model, TrackMan 4, is widely regarded as one of the most effective coaching tools in the business. It takes the ball flight monitoring radar technology of its predecessor and adds a second ultra-high frequency radar focused exclusively on the clubhead. The second radar provides enhanced data on parameters such as clubhead speed, face angle, attack angle and dynamic loft. The dual radar system enables more detailed data to be gathered at the moment of impact, and provides the perfect foundation for analysis and diagnosis, with conclusive data delivered in an easy-to-understand format. It can be connected to as many as six external cameras and has an accuracy of plus/minus 1.5 feet at 160 yards.
Where your weight is at any given point in the swing, and the ability to efficiently transfer it from one foot to the other, is also a vital element to all good golf swings, and this is where the SAM force/balance plate comes into its own. The plate, which is fitted under the artificial turf, has over 2,500 sensors, which measure data across both feet, as well as the centre of gravity and the downward pressure exerted on the floor. The force plate is also integrated into the GASP Lab 4 camera system, where you can view the data from the force plate along with the video data, at high speed or normal frame rates with other statistical information like launch and tracking data.
Says Toms: "Many mistakes in the swing are created by having a poor weight position at the start of the swing, or ineffective weight transfer during it. The balance plate gives an accurate and easy to understand assessment of where your weight is at any given point, and when viewed in relation to all the other performance date, can give a clear indication of how incorrect weight transfer can impact on power and ball flight."
Toms operates purely on a one-to-one basis, so golfers can be guaranteed his undivided attention – and with rates starting from just £40 for a half-hour session for adults, and £35 for juniors, it's also an affordable option for golfers who are serious about improving their game. For the price of a round of golf, or a dozen premium golf balls, you could iron out your swing faults for good. And that's something you can't put a price on.  
To book a swing assessment with Dominic Toms, call 07795 664509, email dominictomsgolfatsandown@mail.com or visit www.dominictomsgolf.com. You can also find him on twitter @TomsDominic
Stay up-to-date: